Applauding Walla Walla's go-to tasting rooms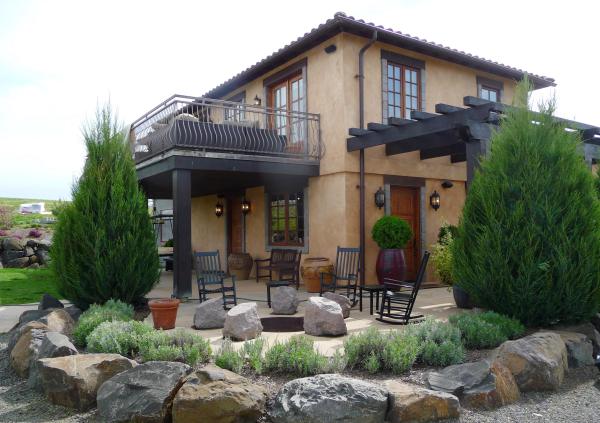 Walla Walla has no shortage of tasting rooms but the options are greatly reduced mid week. Never fear, there are still several wineries to be applauded for their commitment to being available every day of the week.
Walla Walla's Eastside has the distinction of several tasting rooms on their airport grounds, many of which occupy World War II buildings once used by The 91st Bomb Group (think Memphis Belle). One can literally fly into the Walla Walla Regional Airport and walk to a dozen wineries.
Eleganté Cellars, owned by a retired school teacher-turned-winemaker, makes an excellent first stop for some education and a unique treat. Although Doug Simmons' 2007 Malbec was my favorite due to its boldness in taste and appearance, his ode to summers spent working in the strawberry fields is a gem. This strawberry wine will not be found anywhere else in the region. Its off dry characteristic literally tastes like crushed strawberries in a glass with none of the syrupy thickness one might equate to a fruit wine.
Adamant Cellars occupies the old mess hall and its tasting room is presided over by co-owner, Debra. I found all four wines poured to be extremely approachable as sipping wines but gaining in complexity with appropriate food pairings.
Our final stop on our mid week tour of the Eastside was Dunham Cellars. It goes without saying that they had many wonderful wines in their tasting line up. What was a surprise was the event space which can double as their tasting room when accommodating people like Nate are pouring for customers. Set in a World War II airplane hangar and adorned with winemaker Eric Dunham's art, this space has something new and fantastical to cast your eyes on with every quarter turn. The setting marries perfectly with each pour although my favorite was the aptly named Trutina – Italian for balance.
Driving SR 125 (also known as 9th Ave) on the way to the Southside vineyards, you'll pass the upscale sandwich shop Graze, a perfect place to purchase a picnic lunch. They even offer a convenient drive up window. Less than 10 minutes down the road you'll see why lunching in this area fits perfectly into the day. Unlike most of the tasting rooms on the Eastside or Downtown, these wineries are surrounded by acres and acres of picturesque vineyards.
Northstar Winery's signature is their Merlot and it's a fun education to enjoy a side by side tasting of their Columbia Valley vs. Walla Walla varietals. Northstar also sells cheeses to enjoy on their patio or larger options of meat and cheese picnic packs.
Back down the road is Va Piano, featuring four families of vineyards; Bruno, Va Piano, Estate label and Black label. Father Bruno Segatta is an artist, designs the Bruno  labels, has art displayed in the tasting room and visits from Italy a few times each year. While attending Gonzaga University, the Va Piano winemaker, Justin Wylie, met Father Bruno during a study abroad program and they've woven their friendship into this business venture. The Bruno label is intended as a more every day wine price point and they do a fine job meeting this goal. One can certainly taste the complexity increase through the labels.
Rounding out our sampling of Southside vineyards was Basel Cellars. We were told by Nate at Dunham Cellars, that this was an excellent choice for their wine, of course, but the estate is exquisite. Visitors are greeted by a wrought iron horse-adorned gate and the not-to-be missed wood carved entry door to the main house that cost $100,000 on its own. Yes, this was originally a $22 million private residence when it was built in 1995 and became a winery in 2002. The tasting room is set up in "one of the garages" near the main home. As one can imagine, these wines better hold up to the grounds they grace and they do an excellent job of that. What is a surprise is that their wines are considerably more affordable than most other wineries we've visited in the Walla Walla area. They proudly make a $20 bottle of Estate wine to compliment their higher price point portfolio and it is a delightful Claret.
Far more of the downtown (or Northside) tasting rooms are open daily. We chose Trio Vintners but, alas, they must have changed their hours since the 2013 guide went to press. I imagine this happens rarely but it's something to be aware of. Directly next door were two other options. We strolled into Locati and our hostess, Alicia, was accommodating and amicable. Locati is actually an Oregon winery with a Washington tasting room so they're considered a "specialty shop". As such, they must carry another product so they feature an Oregon cider which introduces some to the promise of a cider tasting or two across the Stateline. Also available in their tasting room is a nice round up of cigars.  Of our five tastings, I especially liked the 2008 Sangiovese though their red blend, Innovation, was pleasant, as well.
Making our way back to our home base in Kennewick, we rounded out our day at a couple Westside wineries. Having enjoyed a nice Three Rivers Cabernet Sauvignon a couple nights ago, Three Rivers Winery on Old Highway 12 was an easy choice. With a Par 3 course onsite and free equipment available, this is a fun pre-dinner stop. Enjoy a glass of wine, kick around the Par 3 and soak in your beautiful surroundings. While Walla Walla is better known for their reds, most wineries do offer some nice white wines, as well and Three Rivers' 2011 Sauvignon Blanc was one of my favorite whites of the day.
At Waterbrook, they're excited to be pouring #71 of Wine Spectators Top 100 Wines of the World; a 2009 Reserve Merlot. That is quite a distinction but their Malbec with its wonderful peppery finish won my heart.
With over 100 wineries in Walla Walla to choose from, the options can be daunting. Ergo, a mid week visit is an excellent idea; fewer choices but no fewer fabulous wine experiences and a lot more elbow room at the tasting tables.