The Portland Jazz Scene mourns the passing of Dick Berk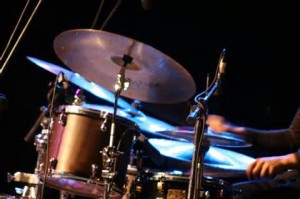 Dick Berk passed away Saturday, Feb 8. He was 74 years old. Berk was an internationally recognized jazz drummer who those of us in the area were blessed to be able to enjoy in the cozy jazz clubs of Portland these past several years when he relocated to the City of Roses.
My husband and I happened upon this legend when we strolled into Clyde's Prime Rib Restaurant & Bar one night. He was backing up Laura Cunard on vocals rounded out by the upright bass and sax. We thoroughly enjoyed the performance but had no idea of his history until it was revealed to us. Berk has played with everyone who's anyone in the jazz world. He played with Charles Mingus, Herbie Hancock, and Cal Tjader, to name a few. He even played with Billie Holiday for a few years in the 50's before she passed away.
Berk was also a movie star in his own right, playing in New York, New York starring Robert De Niro and Liza Minnelli as well as a handful of other movies and being included in the sound tracks for several others.
We took some friends to a now-defunked jazz club and restaurant on Alberta Street about a year after hearing Dick for the first time. Again, he was accompanying Laura Cunard. Most recently he'd been playing with a jazz trio that included Laura Cunard on vocals at Coyote's in Hillsboro. A tribute to Dick is set for Tues, Feb 18 at Coyote's, in fact.
Dick Berk's passing is a great loss to his loved ones and loyal following yet he is one (very fine) example of the rich jazz world we have available to us in the Portland/Vancouver area. On any given night there are fantastically talented solo artists, trios, and other ensembles from Tommy O's and Charlie's Bistro in downtown Vancouver to Ivories Jazz Lounge and Jimmy Mak's in Portland and that's just barely scratching the surface.
For a comprehensive jazz lounge listing (many of them all-ages until 9 pm or 9:30 pm), go to www.jsojazzscene.org. Even this calendar, while well-maintained, does not account for the plethora of opportunities that abound for fans of what has been dubbed America's first music.