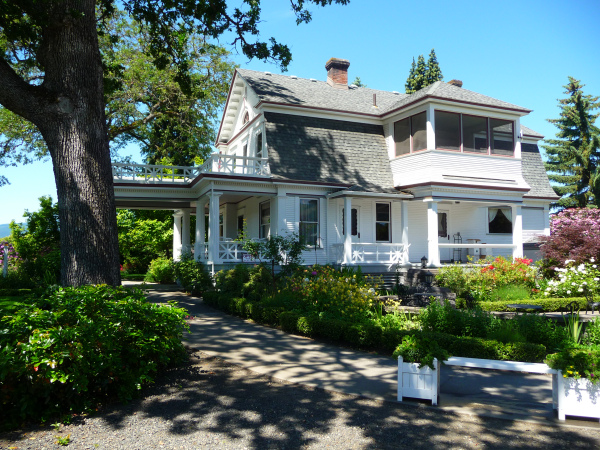 Last June my husband and I spent a very full day winetasting in Hood River. We couldn't have ordered better weather in the Gorge though, if we were windsurfers, we might've be disappointed. The water was like glass and it reflected all the hues of the rocks surrounding it. This time of year, lovely days can be had, just verify that the weather service isn't predicting icy conditions or keep this idea until Spring.
Our first stop at The Gorge White House was a fantastic introduction to all this area has to offer. Self dubbed the Visitor Center of the Gorge, The Gorge White House carries wines from all over the Columbia Gorge so, riding on the coat tails of a New Yorker who visited earlier and bought a case, we could've tasted 16 different wines at $1 per taste. What's particularly convenient is we were able to taste several wines from the Washington Side in one location. Aniche Cellars has a stand out Albarino that traditionally pairs nicely with paella. Albarino is not a wine you see often around here.
Viento's 2006 Vento was a big, beautiful, bold blend of Sangiovese, Barbera Grenache and Syrah. Bestill my heart. The blend lover that I am, we chose a bottle of The Pines 1852 2010 Big Red made with Syrah, Merlot and Cabernet Sauvignon. Our pourer, Joanne, was knowledgeable without being pretentious and attentive without being overbearing. The welcome mat to the Gorge has been well placed with Joanne and The Gorge White House.
A few bonuses on The Gorge White House property are u-pick flowers, a food cart that's kicking out great lunch fair and beer and cider tastings (ciders made on site).
Just up the road on Hwy 35 sits Wy'East Vineyards looking a bit like a very large produce stand from the outside. They've added terrific outdoor seating and you can bring your own picnic fixings to enjoy with their pastoral view and wonderful wines. Never claiming to be a white wine lover, I did enjoy their 2011 Tilly Jane probably because it was a blend and on the tarter side. True to form, however, their 2010 Cabernet Sauvignon drew me in. I'm a Cab girl. The tasting room here is well designed; cozy interior for brisk days and fantastic outdoor space for the sunshine we were enjoying.
Mt Hood Winery, also located on Hwy 35, has a grand tasting room. Glass front A-frame with vaulted , wood-lined ceilings studded with skylights and supported by stout wood beams. This winery is definitely event-focused. The reds here were consistently terrific. From the Grenache with a hint of pepper, to the spice in the Estate Pinot Noir to the perfectly balanced Summit Red blend, to the smoke in the Malbec to the smooth mouth feel of the Syrah with an intoxicating nose.
Our next stop was providence because all the information we had told us they wouldn't be open. Marchesi Vineyards was open…and then some. Sandy was our pourer and hostess. She is the wife of the Italian winemaker who came to the area years ago, fell in love, purchased this land and the rest is our good fortune. Delight in the space as well as their Italian varietal wines. It's like sitting in a green house in the middle of a garden. As Sandy sliced salami with a 105 year-old meat slicer shipped from Italy by the winemaker's father before he died, it was nearly enviable how content she was with the life her and Franco have made for themselves here in Hood River. Dolcetto, Barbera, Primitivo, Nebbiolo/Barbera blend…these are not wines you consistently taste at one winery and certainly not common varietals in the area. Of course, the 2009 Sangiovese did me in. Turpentine, pepper, fig and dark berry flooded my cheeks and I was suddenly craving spaghetti with a chunky sauce.
Now we've been to Pheasant Valley Winery a couple of times but it'd been quite a while. We were met by their arthritic winery dog. Even still, he obliged us by sitting as still as he could on the slippery concrete floor so we could ooh and aah over him. The owners and staff at Pheasant Valley have a huge heart for dogs and dog rescue. Pheasant Valley's Old Vine Zinfandel is made from the oldest vines in Hood River which is an impressive note. I do enjoy the Pinot Noirs in the Columbia Gorge more than the Willamette Valley. They have a softness to them with hints of vanilla, toast and cherry that I prefer. Their Barbera flirts its potential but needs time in the bottle to soften its edges. The Tempranillo, as I've found in other places today, clings to the teeth like tea steeped too long and really needs to be paired with food to appreciate what it has to offer. Probably my favorite was their 2009 Syrah with a big berry, deep spice and heavy plumb taste complimented by a dark chocolate nose.
The Pines 1852 has a tasting room located in downtown Hood River so we high tailed it over before they closed. The gal who greeted us said we were her first customers all day and we were there 30 minutes before she closed. Regardless, she was very nice and informative. Sadly, I do not have my tasting notes for this location but would certainly recommend it since we purchased a bottle of their 2010 Big Red at the The Gorge White House. I understand they're relocating to a smaller space but will still be in the downtown area.
Of all the pourers we visited that day (and we met some stellar people), Kate at Springhouse Cellar won the gold ribbon. She was absolutely delightful…or was it all the wine we'd already had? No, it was her. She was just the kind of gal you'd sit and enjoy a bottle of wine with. Their 2009 Petitie Syrah and 2011 Sangiovese took me over the edge. Full bodied, food friendly and some pepper in the Sangiovese…just the notes my mouth craves. Springhouse Cellar has a couple features that make them truly unique. They're housed in a "turn of the century fruit cannery and distillery" so from inside you look down on the old walls of the distillery and that's where they hold some spectacular outdoor events. The old roofless walls make for terrific acoustics and transport you to Italy…well, by the second or third glass, maybe. Additionally, they have 10 wines on tap. It's a funky set up that was the perfect ending to our whirlwind Hood River winery adventure.