Unconditional Battle Creek Cellars' 2011 Pinot Noir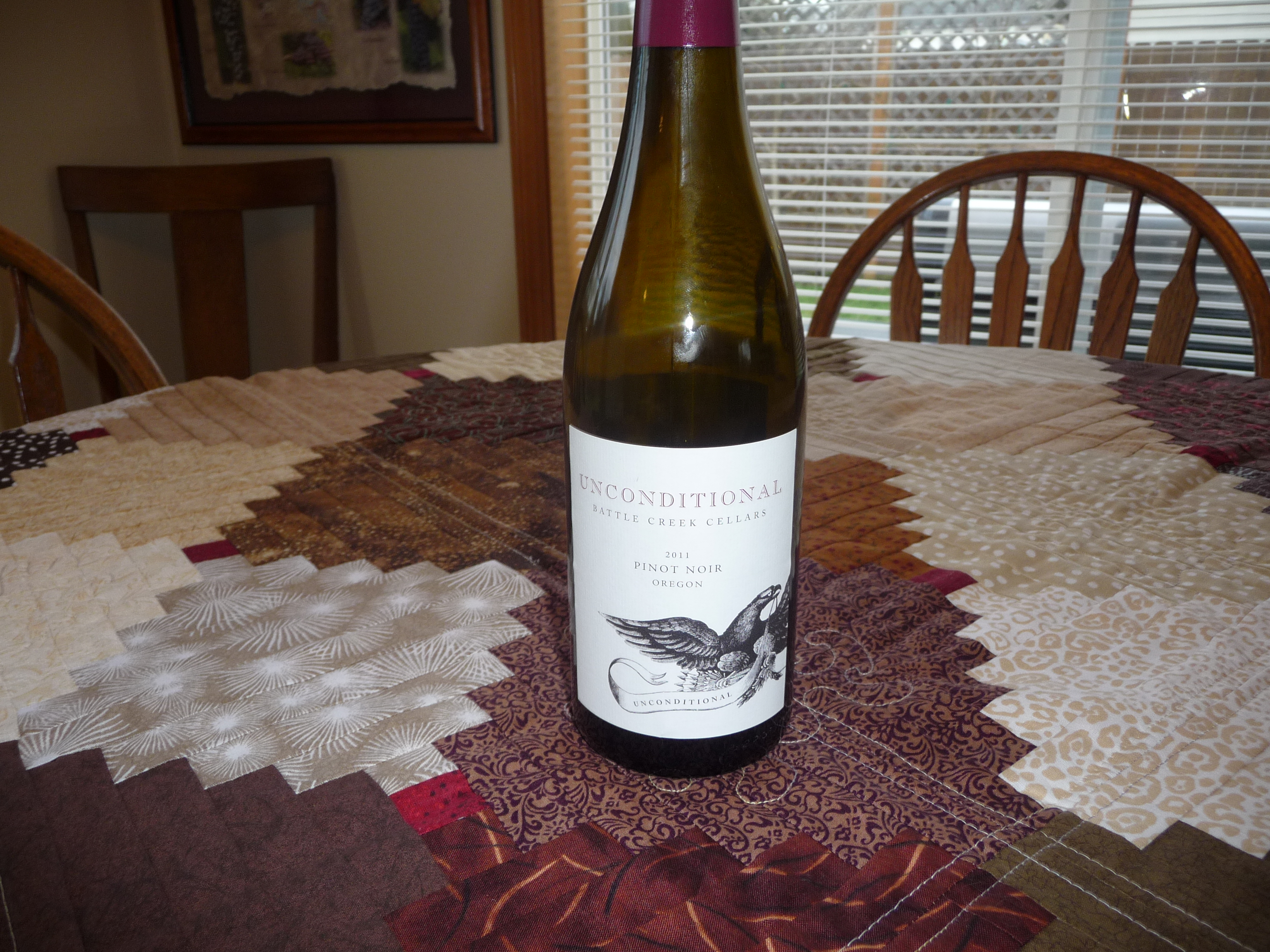 We met the new Vehrs, Inc. account executive for the Vancouver area last Friday night at Battle Ground Produce's free wine tasting event.
Vehrs is a domestic and import beverage company. The previous executive, Brian Gray, moved on to be a sales rep for Orlison Brewing. Hops was his first love but we will miss him. Rein (sp?) seemed like a terrific guy with a passion for wine. He had great things to say about his competitor, Andreas, as well which is always the best sign of a true gentleman.
We used to go into Battle Ground Produce for their Friday night tastings more regularly but they started holding them sporadically and that was more than my brain could juggle.
Then I realized I can just go on their Facebook page and see if they're holding one. Yeah, I'm a little slow sometimes. Often times they even post exactly what they're tasting.
Friday night dinner at our house is typically grilled tuna sandwiches. While it's not the end of the work week for either of us, it's a throw back from when I used to work a Mon-Fri job. One sandwich night a week is just simple; very little thought or prep work. So, while Unconditional Battle Creek Cellars'  2011 Pinot Noir was not the best wine we tasted Friday night, it was the best pairing for grilled tuna.
It was light with blueberry notes and the characteristic low tannins. Frankly, on its own, this 2011 Pinot Noir is a bit uninspired but, again, it made a great food pairing. That's the wonderful thing about wine. Every bottle has a purpose. Battle Creek is actually one of several wineries under the umbrella of Precept Wine "The Northwest's largest family-owned wine company". Precept is also responsible for Canoe Ridge, Chocolate Shop and Sagelands, to name a few.
By far the Decoy Zinfandel was our favorite tasting tonight. It had a full mouth feel, big and bold with a little pepper, just the way I love a wine to taste. As much as I thoroughly enjoyed it, it would've drowned out my much-anticipated grilled sandwich so it really helps to know what flavors marry well when choosing wine or what flavors marry well to your palate, anyway.