Simple home-made ketchup recipe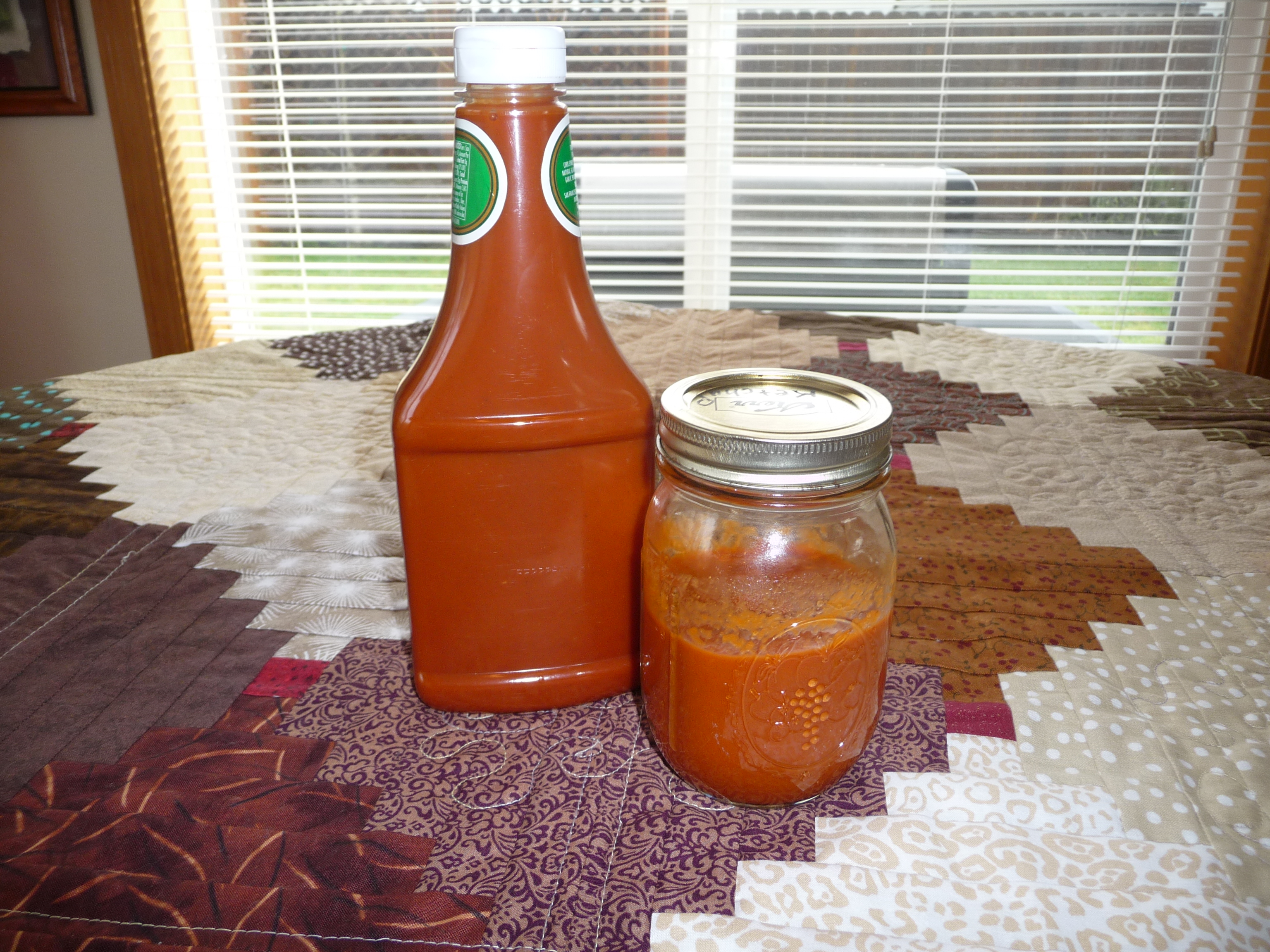 I've wanted to make my own condiments since I read the Bea Johnson book that I've now mentioned several times. My first attempt was Dijon mustard. It tasted good but it didn't really taste like Dijon mustard so maybe I should've started with a solid home-made mustard first and expanded from there.
We did make a fantastic ketchup last night. I'd been looking at various recipes that were complicated and time-consuming. This was simmered on the stove a bit but that's not something that requires much effort on the part of the cook. I'm not a big ketchup person but it'll be hard to keep away from this stuff. It tastes so tomatoey, nothing like what we've been buying in the store for years. I cleaned out the ketchup bottle we had because it's easier to use the squeeze bottle but I put the extra in a jar.
This recipe says it'll store in the fridge for one month. I'm hoping it'll store longer because I don't think we'll go through it all in just one month. We make a terrific barbecue sauce and it stores for about three months very well. Hopefully the creator of this recipe was just being cautious.
I love that I know what's going into the ketchup now and we won't be contributing to the making of plastic ketchup bottles. They're recyclable but the caps aren't and there's a lot of oil that goes into making all the plastic we package things in.
Home made Ketchup
2 1/2 cup water
1/2 cup tomato paste
2 tablespoons olive oil
1 cup yellow onion, chopped medium
1 teaspoon garlic, grated or minced
1/2 cup dark brown sugar, lightly packed
1/4 cup apple cider vinegar
1 teaspoon sea salt
1/2 teaspoon ground mustard
1 pinch ground cloves
1/8 teaspoon cayenne pepper
Heat the olive oil in a medium sauce pan over medium heat. Add the chopped onions. Stir and saute 8-10 minutes until the onions are soft but not browned. Add the grated garlic. Stir, until you can smell the garlic, about 30 seconds. Immediately add the remaining ingredients. Stir to combine. Bring to a boil, reduce heat and simmer 45-60 minutes, stirring occasionally. After 45 minutes, check the consistency of the ketchup and continue simmering as needed. Pour the ketchup into a blender. Blend for 1-2 minutes until smooth. Taste and adjust the seasoning (ie salt) as needed.
*Straining is not necessary. Just pour the ketchup into a jar. Seal and refrigerate overnight. Yields approx 2 cups.
**This ketchup has no preservatives or stabilizers. It must be kept refrigerated and will stay fresh for up to one month.
Recipe taken from: http://www.instructables.com/id/Homemade-Ketchup/