Tuna Slop to feed a pity party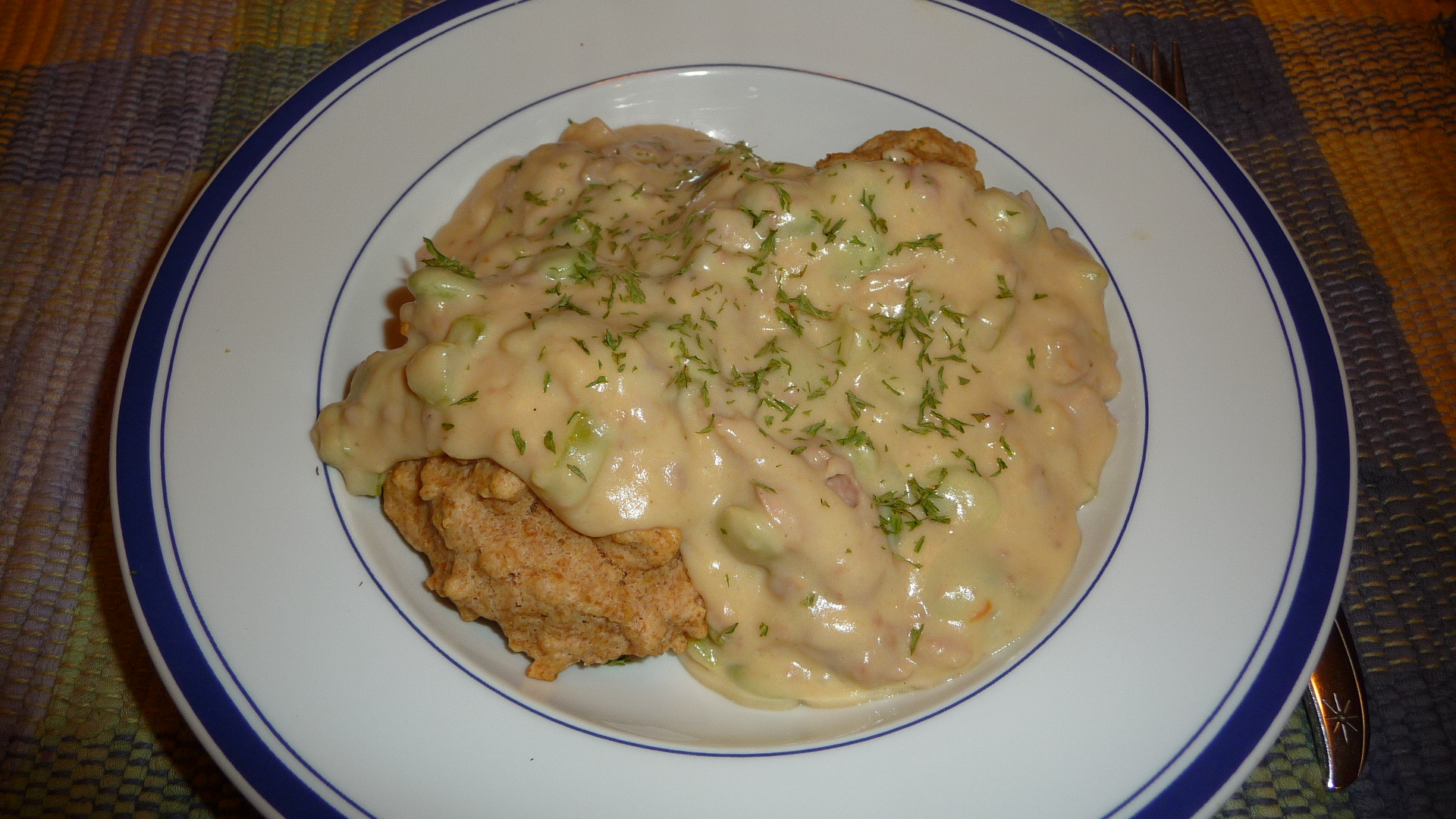 I was feeling pretty melancholy most of the day and evening yesterday. I write for a community paper and this weeks' assignments aren't working out as I'd hoped. I let that get to me, I suppose.
Of course the only practical way to combat my pity party was to eat comfort food for dinner. I've never served in the armed forces but, apparently, what I made for dinner last night is a dish people who served long ago do not like. I call it Tuna Slop but it's been known as Poo on a Shingle.
Really, it's affectionately referred to as something else but I don't curse…not even when my husband dropped my sister's Elliptical on my fingers a few months ago. It's just something I stopped doing in the fourth grade. Boy did I have a sailor's mouth back then, though. As I've mentioned before, I'm a little backwards.
My mom used to make this dish when I was a kid but she used chipped beef or something salty like that. It was comfort food back then, too. Carbs…they're great for that.
Baking-Powder Biscuits
2 C unbleached flour **I actually use 1 C unbleached flour and 1 C whole wheat flour
3 tsp baking powder
1 tsp salt
1/3 C shortening
¾ C milk
Preheat oven to 450F. Mix flour with baking powder and salt in a medium bowl. Mix shortening and milk in a mixer. Add flour mixture and blend until the dough is moist enough to leave side of bowl and form ball. Drop dough onto lightly greased cookie sheet; bake at 450F for 10 minutes or until golden-brown. Makes 8.
Adapted from The New McCall's Cookbook red edition
Tuna Slop
3 Tbsp butter or margarine
4-6 Tbsp flour
1 can evaporated milk
1 ½ C milk
2 vegetable bouillon cubes (1 cup portions)
1 C uncooked peas
2 – 6 oz cans tuna, drained
In a saucepan over medium heat, melt margarine and stir in flour to make a paste (rue). Add the next 3 ingredients; stir until thick and incorporated. May have to add more flour to thicken. Add peas and tuna. Cook until heated through. Serve over biscuits or toast points.
**Can add diced celery to this dish, as well.