Cornbread-Dressing Balls and Cranberry Sauce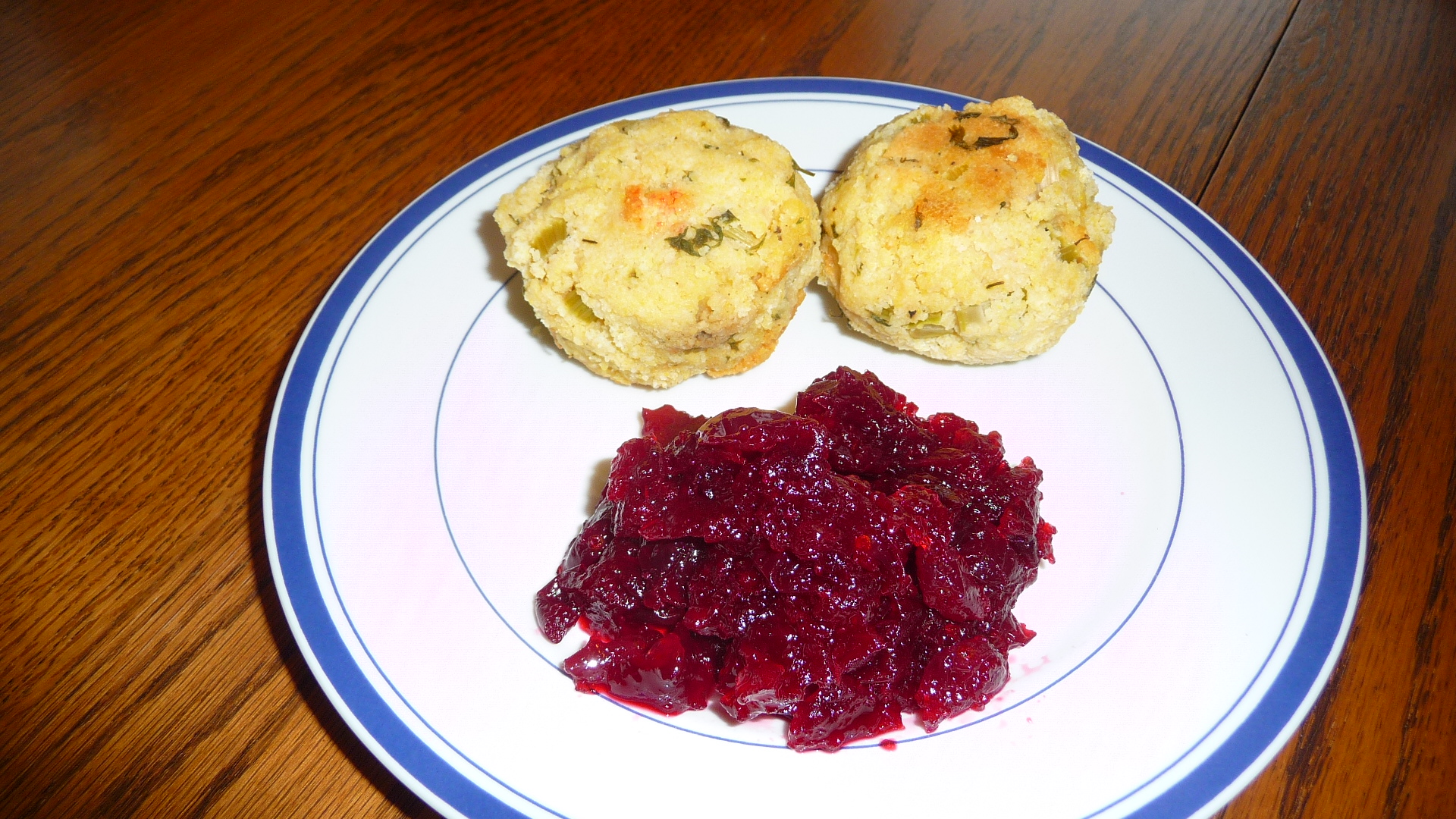 I realize that Thanksgiving dinner has passed and many people are probably still eating off the leftovers. My husband took his raved-about turkey and made chili with it. He's a huge chili fan when it comes to packing for his lunches throughout the week.
Regardless, Christmas dinner is just around the corner and I tend to make several similar recipes for both dinners when I'm bothering to cook anything special just because they're about the only two dinners throughout the year that I make these recipes so I don't feel there's much redundancy in making one recipe twice a year.
A lot of people make traditional stuffing but, I believe, my mom made stuffing balls at least a few times growing up when I was a kid so I lean toward a similar recipe out of familiarity and it's what I like, frankly. I've never made traditional stuffing with white or wheat bread. The below Cornbread-Dressing Balls recipe might seem time-consuming but it absolutely is not. I make a batch of cornbread a day or two before Thanksgiving and then crumble it up into the rest of the ingredients when it's time. Shaping the stuffing into balls is super simple and the recipe can cook in the oven right alongside the meat so long as it's being slow-cooked at a lower temperature.
I developed the Cranberry Sauce recipe six years ago when my sister and niece decided to go organic, vegan. After perfecting the amount of sugar (so many recipes call for too much sugar), I feel silly that I ever bought canned cranberry sauce because making it yourself is SO SIMPLE and you know what you're putting in your body. It's like home-made apple sauce but even easier because you don't have to peel, core and chop the fruit.
A couple things to note about the Cornbread-Dressing Balls that I do a bit differently. As I said, I make my own cornbread instead of using a package. I always have. To me, it's just as easy and I like that there's 8 basic ingredients instead of preservatives I can't pronounce. Also, I use a vegetable bouillon cube and hot water in place of canned chicken broth.
Cornbread-Dressing Balls
1 pkg (10- or 12-oz) cornbread mix
½ C butter or margarine, melted (I use butter)
1-½ C chopped celery
1 C chopped onion
¼ C chopped parsley
½ tsp rubbed sage
½ tsp dried thyme leaves
1 tsp salt
¼ tsp pepper
1 egg
½ C canned condensed chicken broth, undiluted
Make and bake cornbread as the label directs. Cool in pan, on wire rack, 25 minutes; then crumble into medium mixing bowl. Preheat oven to 325F. Heat ¼ C butter in medium skillet. Add celery, onion, and parsley; saute, stirring, until celery and onion are tender-about 5 minutes. Add to crumbled cornbread, along with seasonings, egg, and chicken broth; mix well. With hands, lightly form mixture into balls, using about ½ C for each. Arrange in greased shallow baking dish. Brush with rest of butter; bake, covered, 30 minutes. Remove cover; bake 15 minutes longer, or until browned on top. Makes 10 servings. Note: Dressing balls may be baked in the oven with the turkey.
Recipe taken from The New McCall's Cook Book First Edition (red).
Cranberry Sauce
12 oz fresh cranberries
1 C brown sugar or turbinado (turbinado is what I use)
2-4 Tbsp water (to get things started)
Mix in a pan and simmer gently for 20 minutes with the lid on the pan (give it an occasional stir with a spoon, add water if it's too dry). Should give a nice thick jam-like consistency; add water to thin.