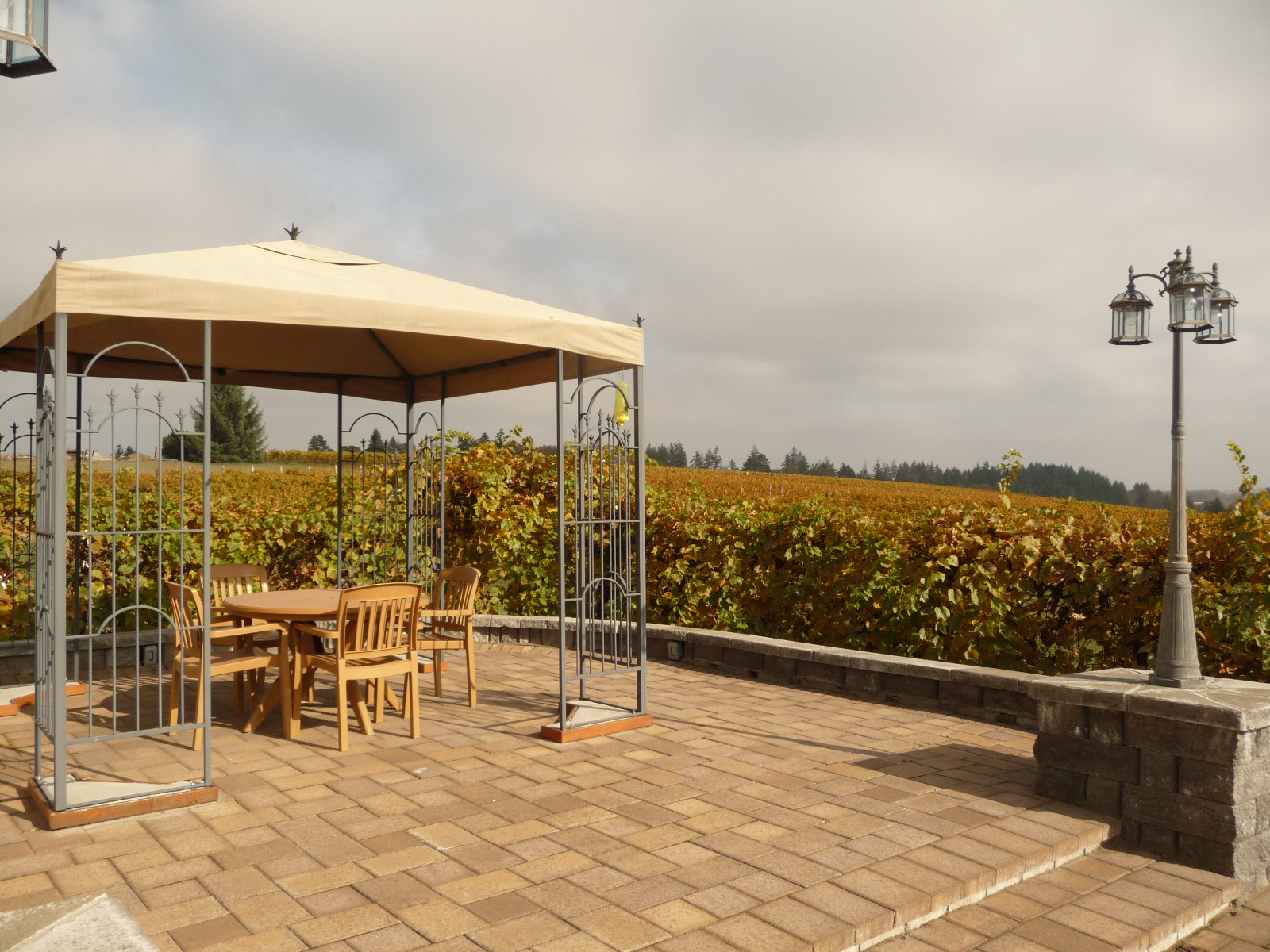 My husband and I spent last Friday and Saturday in the Willamette Valley with our closest friends celebrating her birthday and we had a terrific time.
The stand-out winery for me was Chateau Bianca which is located in Dallas, Oregon. Our pourer, Rick, spent a lot of time with us and Chateau Bianca has a nice mix of white wines as well as red which is not always easy to find (particularly in Pinot-heavy country) but being a German-style winery explains that abundance. We decided on a bottle of the 2006 Estate Reserve Pinot Noir which was too amazing to pass up. I wish we could've afforded more but, at $38/bottle, one was all we could splurge for. You could put this wine down for another few years, probably, but it was so delightful as it was. Lots of fruit, vanilla and toast. As bold as it was, it was smooth enough to appreciate in the tasting room on its own. We're really looking forward to opening this on New Year's Eve (if we can wait that long).
The other bottle we chose at Chateau Bianca was their 2010 Oregon Triumph which is 100 percent Maréchal Foch. We liked their 2009 Pinot Blanc Estate and 2011 Obsidian Tempranillo, as well. Our friend walked out with three bottles, if memory serves.
Rick informed us that their 2011 Pinot Gris recently placed 6th IN THE WORLD and Costco promptly bought all their bottles. So, if you're fortunate enough to find this wine at a Costco, buy a bottle or two and enjoy it with your Thanksgiving meal.
I'm of the impression that Chateau Bianca is an under-appreciated winery. It's directly off Hwy 22 but it was the furthest winery for our tasting last Friday so we went to it first. It's not in the midst of several others and a lot of really nice winery stop are forgotten if they're not in spitting distance to a couple others. Honestly, it was only 15 minutes from the wineries in Amity and the drive was absolutely lovely. Aside from having so many approachable wines and Rick being a wonderful guide and educator in the tasting room, Chateau Bianca still has an affordable and realistic tasting fee which is becoming more and more difficult to come by in the Willamette Valley. For $5.00 you can choose five tastings and the fee is waived with a $20 bottle purchase.
The majority of Willamette Valley wineries have adopted a $10 tasting fee and some are charging $20. To top it off, a lot of these wineries aren't waiving the tasting fee with a purchase or your purchase must be $60 or more. I understand trying to discourage tourists from drinking their way through the Valley but these policies just don't seem customer friendly. The Willamette Valley is becoming too big for its britches particularly since Hood River and Walla Walla still offer predominantly $5.00 tasting fees and their wines are just as delightful and, in many cases, more varied due to their climate not being as cool.
If you happen to be in the Willamette Valley, though, do take the time to visit Chateau Bianca's tasting room. It's absolutely worthy your time. You'll find them at 17485 Hwy 22, Dallas, OR 97338 or www.chateaubianca.com. Cheers!