Split Pea and Zucchini Soup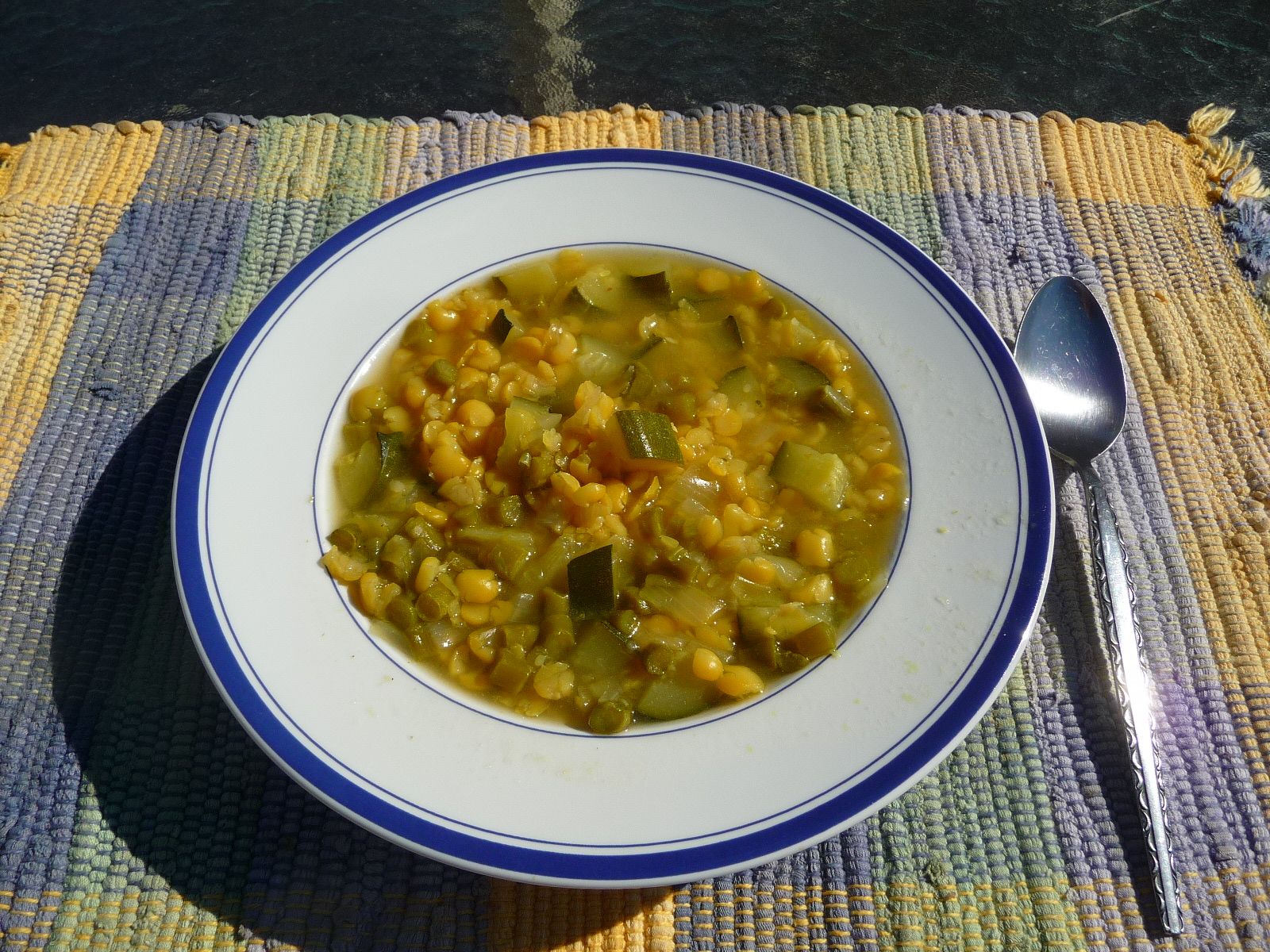 I know what you're thinking; soup, is she crazy? But, I made it this morning while it was still cool in the kitchen and then we'll reheat it to go with dinner. I like soup all year long and have lots of recipes I really enjoy.
To answer the crazy question, I'll let you decide. When I was a kid I would go to my friend's house when she wasn't home to clean her play house because it bothered me that it was dirty and disorganized. One of my favorite things about cruise ships is the work out room. Seriously, they're at the bow of the boat, all windowed, 180° view while you're exercising off your last buffet. I've been known to laugh at funerals much to my husband's dismay. These things can be SO DEPRESSING. I really hope people feel comfortable to laugh at mine. In fact, I should add that to my funeral wish list; play Laughin' in Rhythm by Slim Gaillard to set the mood. Oh, and, yes, I have a funeral wish list. Ha, ha, ha, ha!
Wine pairing: Due to the earthiness of the split peas and zucchini, I'd go with a fruit-forward Chardonnay or, for a red choice, a Pinot Noir. Chardonnays can be too oaky which makes them, typically, one of my least favorite white wines but I am fond of Simi Winery's Chardonnay. It's not all about the butter or oak, just a crisp Chardonnay with a mineral flavor and a hint of toast in the nose.
Split Pea and Zucchini Soup
6 oz (2 C) yellow (or green) split peas
1 medium onion, finely chopped
1 tsp sunflower oil *I use 1 Tbsp; 1 tsp seems too little
2 medium zucchini, finely diced
3 ¾ C vegetable stock
½ tsp ground turmeric
Salt and freshly ground black pepper
Crusty bread, to serve
Place the split peas in a bowl, cover with cold water and let soak for several hours or overnight. Drain, rinse in cold water and drain again. Cook the onion in the oil in a covered pan, shaking occasionally, until soft. *Reserve a handful of diced zucchini to use later*. Add the remaining zucchini to the pan. Cook for 2-3 minutes. Add the split peas, stock, and turmeric and bring to a boil. Reduce the heat, cover and simmer for 30-40 minutes. Season. *When the soup is almost ready, bring a large saucepan of water to a boil, add the reserved diced zucchini and cook for 1 minute. Drain and add to the soup.* Serve hot with warm crusty bread. Serves 4  Taken from Vegetarian by Linda Fraser
*Note: I skip the steps in asterisks and put all the zucchini in the pan at the same time.