Photo clutter…and a tofu stir fry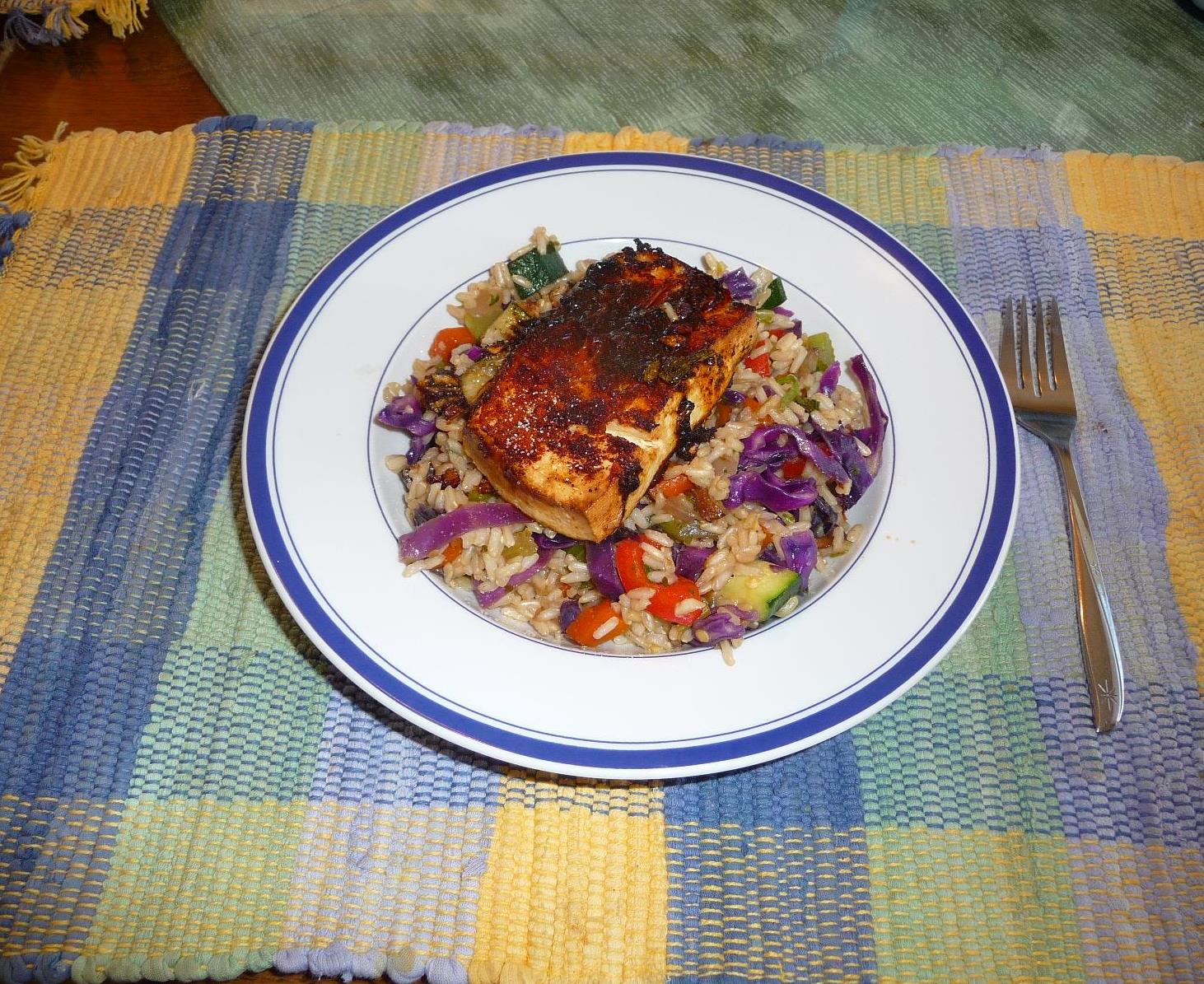 In my opinion, the most challenging clutter anyone possesses is photos. Do you remember when you used to go on vacation (alone or with your folks) with four rolls of 24 exposure film and that was that? You had 96 opportunities to capture your weeks' worth of memories. Many of them didn't turn out because someone was cross eyed or the photo was overexposed so you ended up with, say, 85 or less. Did you ever come home thinking "Gosh, I wish I had more photos?" I never did and, growing up in a family of 6, I never heard anyone else say that, either.
Fast forward to 2013 and people can literally take thousands of photos on a trip. Shucks, there are people snapping on their cells beyond the speed of life. A moment can come and go and just be enjoyed for what it is. Take a photo of it and, bam, you are stuck with the responsibility of keeping it until the day you die. There is no way, come heck or high water, you'd consider tossing an image burned digitally or otherwise. Isn't that a crazy concept?
How many photos of the same dog laying on the living room floor does any family need? Or, cats? I've personally had over 100 cats in my life time. I'll let you guess how many cat pictures I've taken. Yes, they are beautiful, soft balls of love and snuggle but, seriously, they don't change much over the 3, 9, 17 years they live with you. And, trust me, your grandkids are not going to care one iota what Fluffy looked like while she was sleeping. News flash, your friends really don't either.
There was a time when the yearly school portrait, maybe a Christmas photo, Easter picture, some vacation shots were enough of our children for a 12 month period. Now we take five minute videos of them eating ice cream and hundreds of snaps of them doing basic, random things. There is nothing more frustrating than being around someone who has their face plastered behind a digital fixated on capturing "the moment". Do you realize that while you're doing that, you're not actually in "the moment"?
So, that is my latest project; weeding out my albums and discs. In just one photo album, I threw out 194 pictures (my mom is probably recoiling right now)…and I still have images that captured every moment that's important to me . What I noticed, though, was if I kept one great picture of an event, it jogged my mind and all kinds of memories flooded into my head. See, I don't need 50 pictures of Christmas 2007 to remember Christmas 2007. Just one or two representing everyone who was there is enough.
Wine suggestion: Kemblefield 2012 Sauvignon Blanc. Another New Zealand Sauvignon Blanc from the Marlborough region. Admittedly, I didn't care for this Sauv Blanc as much as Starborough's but, for variety, it's always nice to try another winery's interpretation. I prefer the refreshing green apple in the Starborough but Kemblefield's certainly scores high with other peoples' palates and it is a good value for $11 a bottle at Total Wine & More.
Regarding the Vegetable Stir Fry we ate last night, if you don't care for tofu substitute organic, range free chicken but give tofu a chance. It is a wonderful protein option. My husband sprinkled his with red chili powder (I'm trying to make up to my mom for purging photos. Is it working?) but I'm not the kind of gal who likes the spice.
Vegetable Stir Fry
2 Tbsp olive oil
4 garlic cloves, minced
1 large onion, chopped
2 C red cabbage, julienne
2 C carrots, diced
2 C mushrooms, chopped
1 red pepper, chopped
1 C celery, chopped
1 zucchini, chopped
3 Tbsp Bragg's -or- soy sauce
Vegetable bouillon cube to make 1 C vegetable broth (for seasoning)
1/3 C parsley
2 C water
1 C brown rice
Vegetable bouillon cube to make ½ C vegetable broth (for seasoning)
¼ tsp red pepper flakes
1 Tbsp olive oil
6 oz tofu, firm
In a medium sized skillet heat oil over medium heat. Add garlic and onion and cook for 3-4 minutes. Set about 2 Tbsp of the mixture aside. Add the next six ingredients and cook until tender; approximately 10-15 minutes. Meanwhile, in a 2 quart saucepan, boil 2 cups of water. Add brown rice, vegetable cube and red pepper flakes. Return to boiling, reduce heat to medium and cook, covered, for 18 minutes. In a small skillet, heat one tablespoon olive oil over medium heat. Add the sautéed garlic/onion mixture that you set aside earlier. Add tofu and let it cook, undisturbed, for 8 minutes on each side. Add Bragg's (or soy sauce), vegetable bouillon cube and parsley to the vegetable mixture. Keep on medium until parsley wilts. Turn heat to low to keep warm (if rice or tofu is still cooking). Incorporate cooked rice into vegetable mixture. Split mixture between two bowls. Divide tofu & top rice mixture with 3 ounces of tofu each. Makes 2 servings. Recipe taken from the brain of Dan Eierdam.