A healthier version of Meatloaf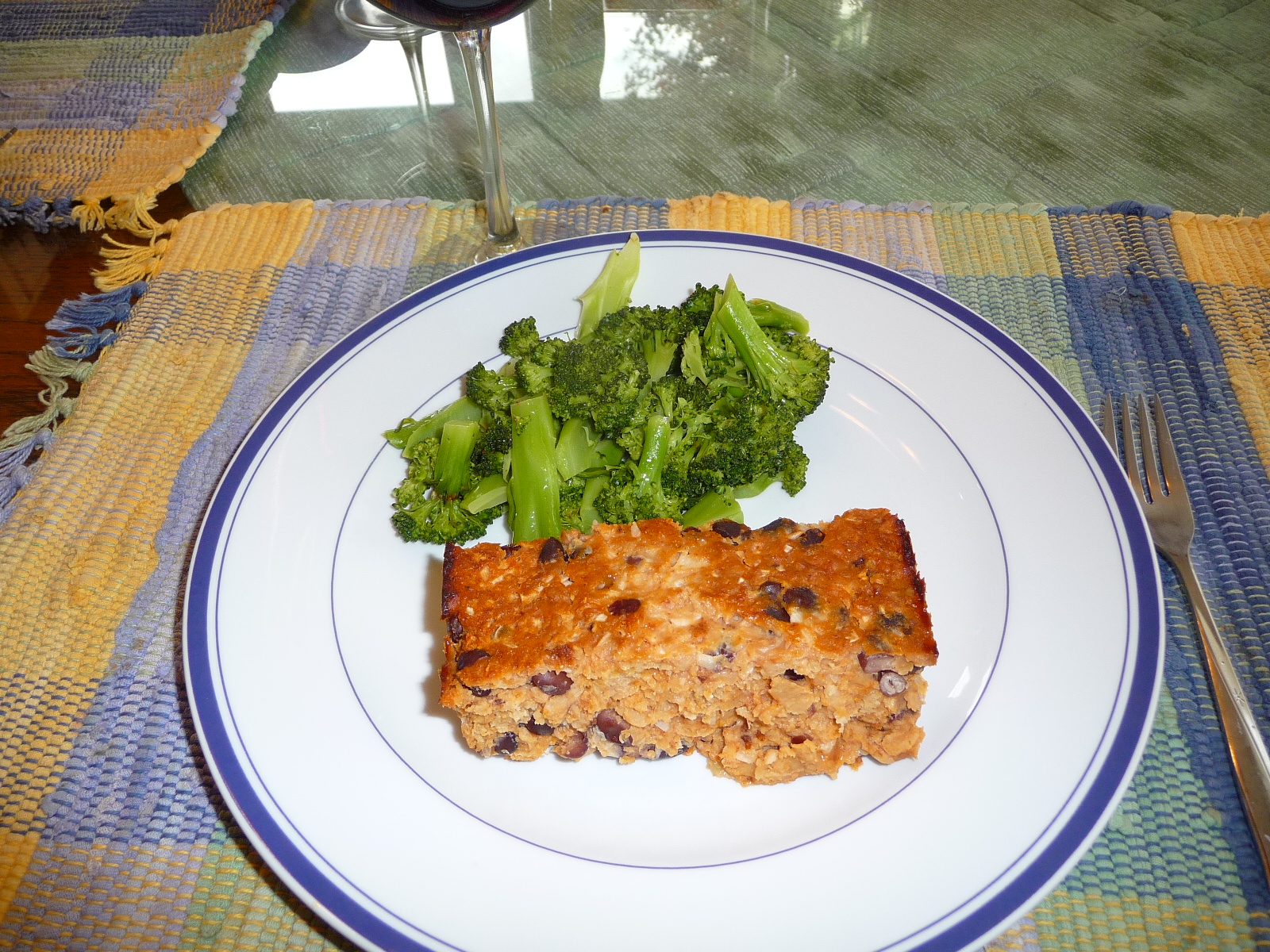 The irony of the fact that I'm writing a food blog is that I'm not really a 'foodie'. I like kalamata olives, Cerignola olives, goat cheese, Pecorino Toscano Stagionato (particularly dipped in fig jam) and radishes paired with hummus. That's about as wild and crazy as I get, though. A lot of our meals are the good ole' tried and true. Tacos, sloppy joes, mashed potatoes, grilled tuna sandwiches.
Granted, tacos and sloppy joes are made with vegetarian meat patties and have a lot of red cabbage in them. The mashed potatoes are sweet potatoes not white and I love them with black truffle oil. Seriously, if you've never hand mashed your potatoes with black truffle oil, find a good brand and try this. One of my nephew's fell in love with the taste when he was 13 (?) but, then, I'd actually classify that kid as a 'foodie'. He's always enjoyed foods most kids would never touch. I love that about him. My sister's daughter, Madi, is the same way. They're an absolute kick to eat with.
Obviously, in this weather, no one's excited about turning their stove on for 50 minutes but, when it cools down, here's my basic meatloaf recipe. Actually, it's so easy to prepare, you could make it early in the morning before outside warms up too much and reheat it in the microwave for dinner. To be honest, I've been making this recipe for so long that I have no idea where I originally acquired it from. So, if anyone recognizes it as the exact recipe from a particular site or author, please feel free to comment.
Wine suggestion: Zinfandel. Choose an 'Old Vine Zin' from California. Zinfandel is one of my favorites and it works particularly well with the addition of black beans in this meatloaf or if you wanted to add some sautéed mushrooms to the mix.
Meatloaf
1 ½ lb lean ground beef*
1 C soft bread crumbs
1 egg
½ C chopped onion
1/3 C ketchup
½ tsp salt
1/8 tsp pepper
*I use 9 vegetarian patties
**I also will cut down the vegie patties to 6 and add in a can of black beans, drained and rinsed
***I also will add 6 oz tomato paste and ¾ C oatmeal
In a large bowl, combine all ingredients; mix well. If using veggie patties, defrost patties in the microwave and break up into chunks to mix with the other ingredients. Pat meat mixture firmly into 5" x 9" loaf pan. Bake in 350° oven for 30 minutes. Remove from oven; drain excess fat (this isn't necessary if using veggie patties). Return to oven; bake an additional 20 minutes or until meat is cooked through. Makes 6 servings.