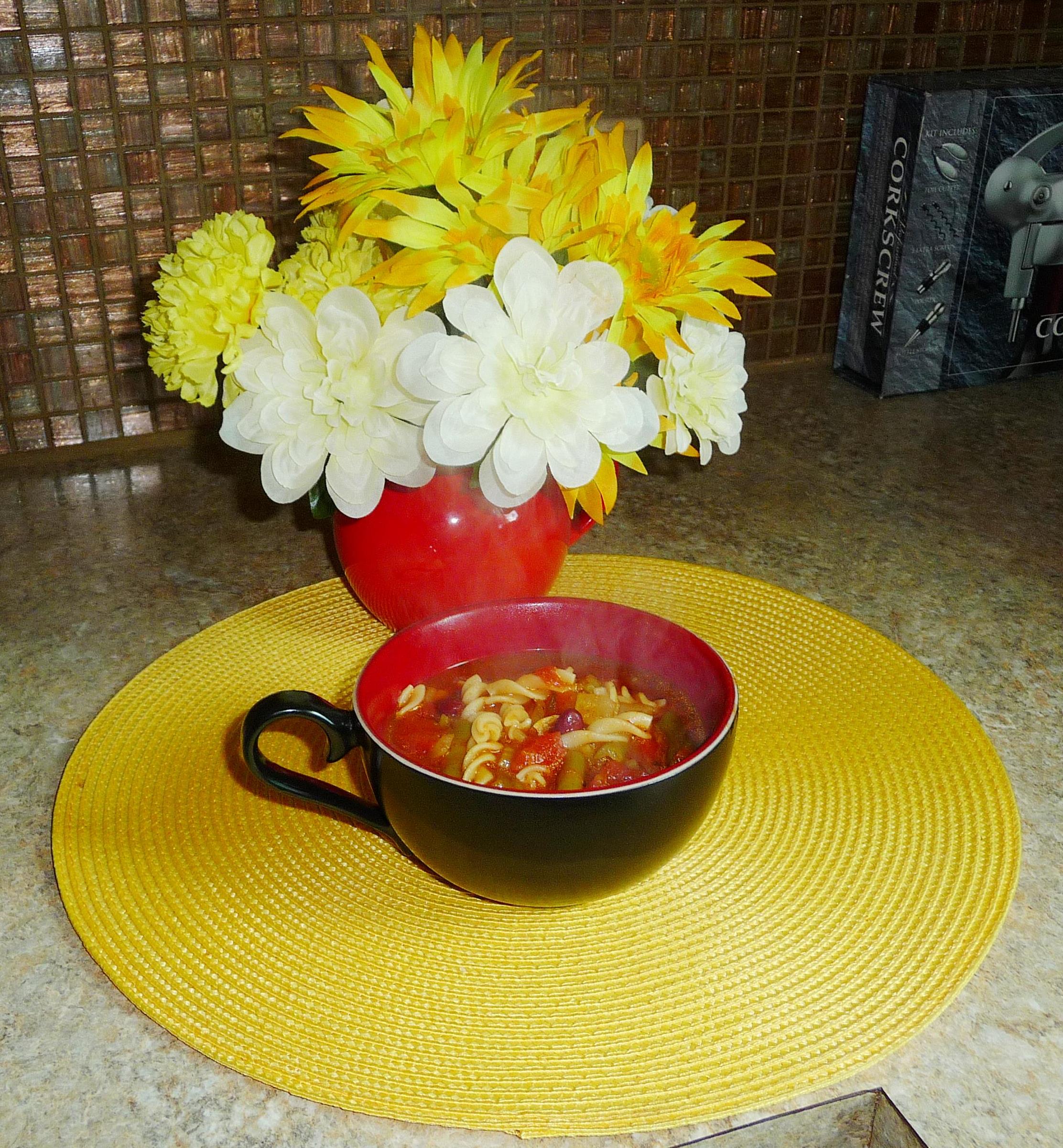 There's nothing quite like coming home even if home is not where you grew up. Home is where family is so, for me, it feels like coming home when I visit my mom and her husband in Bellingham, Washington. Ross and mom are family and when I'm sleeping under their roof, I'm taken back to the carefree days of my youth (no jokes about how long ago that was) and it's a rest I can really only equate to when I was a kid.
In the spirit of coming home and the comfort that brings with it, welcome to soup and sandwich night; minestrone soup with grilled tuna sandwiches. What better fare is there for dressing down into sweats and plopping onto a sofa while watching a wine-inspired movie like Bottle Shock with the fam?
Grilled Tuna Sandwiches
*This seemed self explanatory to me but I worked with a lady years ago who'd never heard of grilling tuna sandwiches. She tried it one night and it quickly became one of her and her husband's favorite comfort foods.
1 can 5 oz tuna for 1-2 people, drained *We always use one can of tuna per person
Mayonnaise *Whether that's Vegenaise, Best Foods, Miracle Whip
Dill pickles
Roasted tomatoes
Celery, chopped
Butter (your version of that, mine's real butter)
2 pieces bread per sandwich
*Put in anything; sweet pickles, dill seed (crushed), dried cranberries, olives, sliced almonds. One of the things I love about grilled tuna sandwiches is they're so versatile.
Mix all ingredients together in a bowl. Heat counter griddle or put large pan on stove heated to medium. Butter one side of each sandwich lightly or liberally. Put one piece of bread, butter side down, on the griddle or pan and scoop tuna mixture onto bread. Top with second piece of bread. Cook for 5 min or so on one side, flip over and cook for 5 min or so on second side. Serve with freshly washed lettuce leaves, tomato slices or alone.
Spicy Minestrone Soup
1 med onion, chopped
2 cloves garlic, minced
2 stalks celery, chopped
2 Tbsp olive oil
*1 qt water
1 can small kidney beans or chickpeas
Various fresh veggies including carrots, zucchini, green beans, wax beans, potatoes, peas, cabbage, okra and/or turnips
2/3 tsp basil
2/3 tsp oregano
2/3 tsp paprika
2/3 tsp rosemary
6 oz can tomato paste
15 oz can stewed tomatoes
½ C pasta (spirals, bows, shells)
Tabasco
Lemon juice
Salt & pepper
Using a large pot, sauté the celery in the olive oil. Add onion and carrot pieces and sauté until they are soft. Wash and cut all vegetables in bite size pieces, add them to the pt. Add water and stewed tomatoes, salt, pepper and herbs. Simmer for 30-45 min. Add tomato paste and a bit of water if the soup seems too thick. Add the pasta and cook until past is soft. Season to taste with salt and pepper and Tabasco and lemon juice. Serve with a lovely crusty bread. If you have soy parmesan cheese, you can sprinkle a bit on top as you serve. Note: My mom uses 6 cups of vegetable broth in place of water. Serving size: 4
Recipe taken from Vegaliciousrecipes
Wine pairing: Pairing a wine with this combination is a bit tricky because the Minestrone Soup can handle a bolder red than the grilled tuna sandwich but a good one to settle on would be a young Syrah or Sangiovese. I stress young. Cheers!