Wheat Berry Salad makes good picnic fair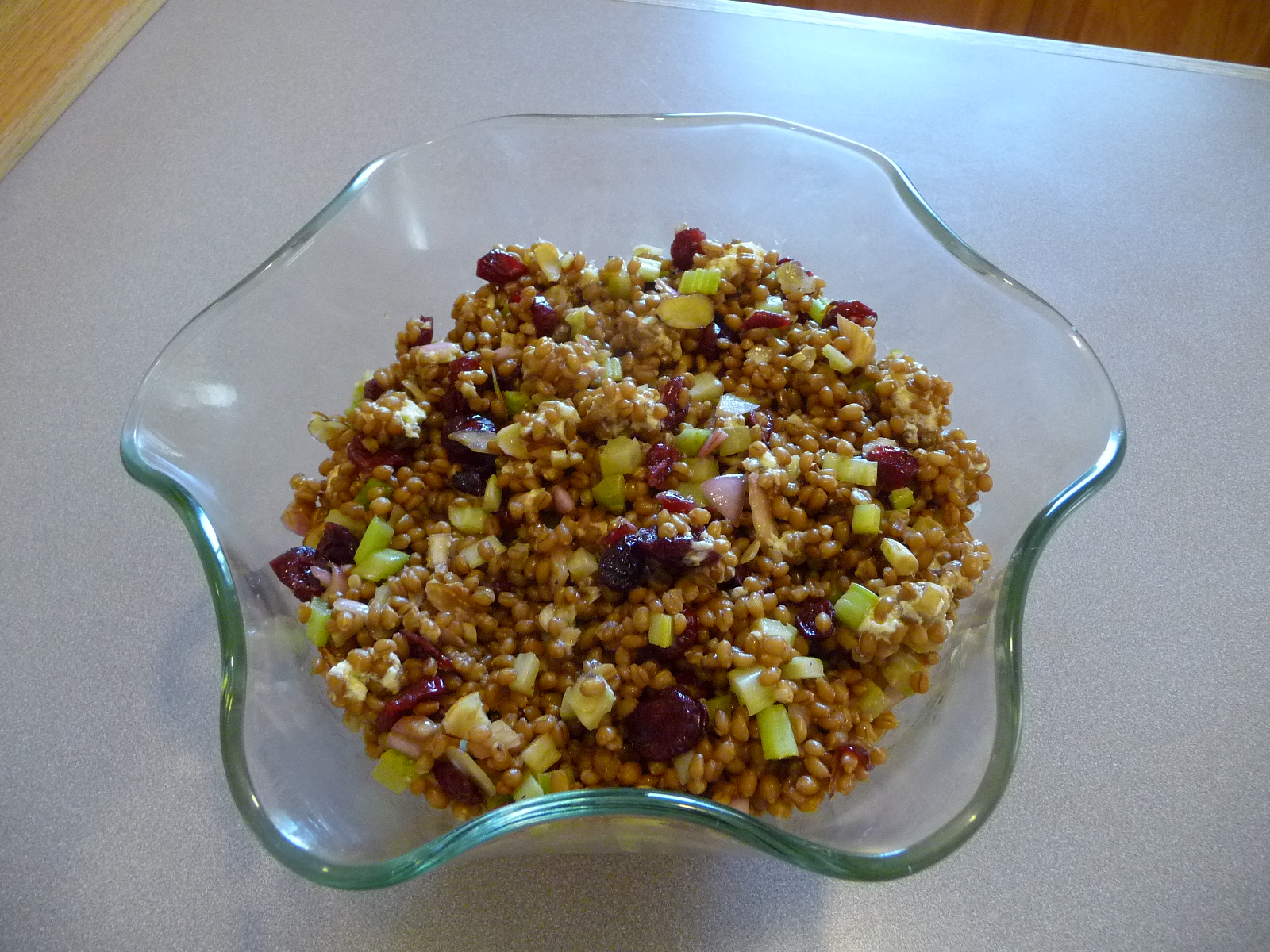 I love to try new recipes but I'm known to be a minimalist and, in that vein, if a recipe sits on my counter for more than two weeks, it's pitched in recycling whether it looks wonderful or not. Piles of recipes (or anything for that matter) lingering about take up valuable countertop real estate and weigh me down mentally. "So much to do and, yup, haven't gotten to that, either" is what it makes me think.
My husband and I take a lot of day trips and, although we love local restaurants and restaurants we spy on our drives, nothing beats a picnic for spontaneity. That's how I knew this Wheat Berry Salad recipe would become a favorite of ours; I already had it packed in a cooler in our trunk before I actually made it and did it. Recently we drove to visit family in the Tri-Cities. It was a beautiful day and, instead of taking time to find a restaurant and all that goes with that, we pulled off at a rest stop overlooking the scenic Columbia Gorge  and drank in the view that paired perfectly with our meal.
My cat loves this recipe, as well, because it contains one of his favorite foods; goat cheese.
I'm not an advocate of giving animals people food but, when Queequeg turned 16 years old last year and our vet proudly exclaimed that "he's amazingly healthy for his age", I decided it was high time he enjoyed some of the finer things in life. He'll be 17 on June 1st and a couple months ago his vet gave him another astoundingly clean bill of health. Maybe the secret is in the goat cheese!
Crunchy Wheat Berry Salad with Cranberries & Goat Cheese
2 C wheat berries, dry ¼ C balsamic vinegar
3 celery stalks, sliced 2 Tbsp maple syrup
1 large shallot, diced salt and pepper to taste
2/3 C dried cranberries 3 oz soft goat cheese, crumbled
2 garlic cloves, minced ¼ C sliced almonds
1/3 C olive oil
Bring 5 cups of salted water to boil. Rinse the wheat berries in cold water and then add them to the boiling water. After adding the berries, bring the water back up to a boil before reducing the heat. Cover the pot and allow to simmer for 1 hour. Strain and set to the side to cool. While the wheat berries are cooling, chop the celery and shallots. Add them to a large bowl with the dried cranberries. Combine the garlic, olive oil, balsamic vinegar, maple syrup, salt and pepper; whisk until well combined. Add the cooked wheat berries and then pour the dressing over top and combine with a wooden spoon. Add goat cheese and almonds; toss lightly. Refrigerate or serve immediately. Servings: 10 (1/2 cup each)
Note: I read somewhere to try this recipe with other whole grains such as barley, farro or bulgar. I tried oat groats and preferred the wheat berries for their texture.
Recipe taken from Relish  with a wine recommendation of a Sauvignon Blanc due, most likely, to the ingredients of goat cheese and balsamic vinegar which are tamed with a bit of maple syrup.