Vancouver Brewfest starts today!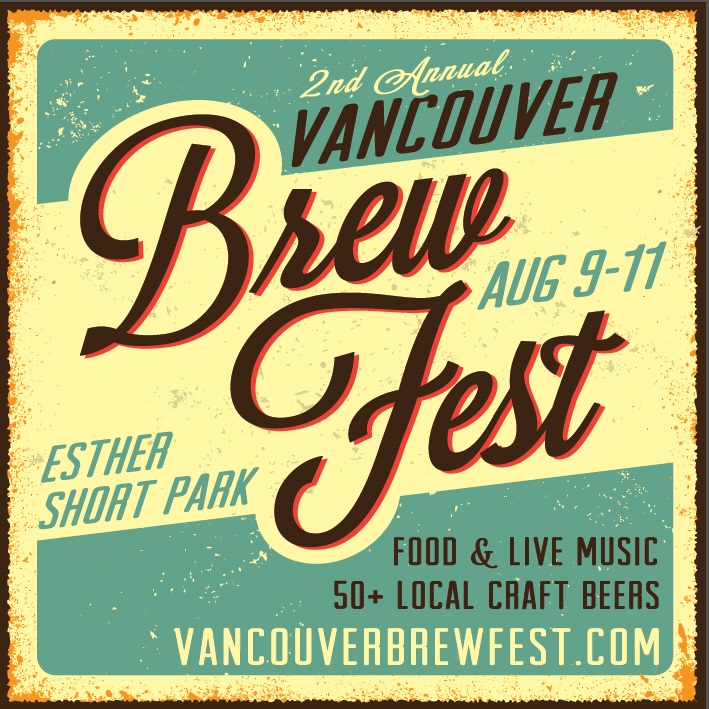 The Vancouver Brewfest starts today! Here's our story in The Columbian and some details:
By Sue Vorenberg
Columbian staff writer
A lot has changed since the Vancouver Brewfest first appeared in Esther Short Park last summer.
When it launched in 2012, the fledgling festival had five Clark County brewers as part of its 25-brewery lineup — which was pretty much all the ones in the county.
This year, it has 11 Clark County brewers as part of its 30-brewery lineup, with even more hoping to participate in 2014, said Cody Gray, one of the brewfest's organizers.
"There are more coming, like Dirty Hands Brewing Co., but they're not quite ready yet because they're just starting operations," Gray said. "So we'll have at least three more next year, we hope."
Gray and partner Andy Stromberg built the Brewfest with the goal of fostering local beers and local companies. All the brewers, charities, food vendors and musicians are from Washington or Oregon, and most are from Clark County and Portland.
Every Clark County brewery that wants a spot at the festival will get one, no matter how big it grows, Gray added.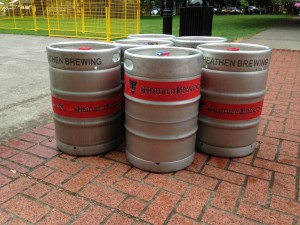 "We also have two wineries, Confluence and Moulton Falls, that are both from Clark County," Gray said. "We want to be as locally focused as possible."
The Vancouver Brewfest is the largest of four new outdoor brewfests that have appeared in Clark County since early 2012. And all the festivals have been helpful in growing the beer scene here, said Rodney Stryker, co-owner of Vancouver's Heathen Brewing, which recently won the Battle of the Brews competition at the Oregon Brewers Festival in Portland.
"Beer culture here is gaining steam," Stryker said. "And the Portland market is starting to recognize us. People in Portland are saying 'there's beer in Vancouver now?' And then they try it and they've been pleasantly surprised."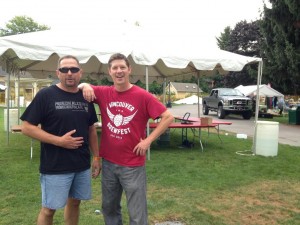 Vancouver actually has a longer beer history than Portland. In the 1800s, there was a beer boom around Fort Vancouver catering to soldiers' needs. And brewer Henry Weinhard started out on this side of the river as an apprentice at John Muench's Vancouver Brewery.
And though it wasn't really up to snuff by modern craft beer standards, Vancouver was also home to the mass-producing Star Brewery, which was also called Interstate Brewery and Lucky Larger Brewery at various times in its history.Lucky Lager closed its brewery in the mid-1980s, making such next-generation brewers as Heathen, Loowit Brewing and Mt. Tabor Brewing a relatively new development in the scene — with brews that offer a bigger draw for gourmet beer enthusiasts.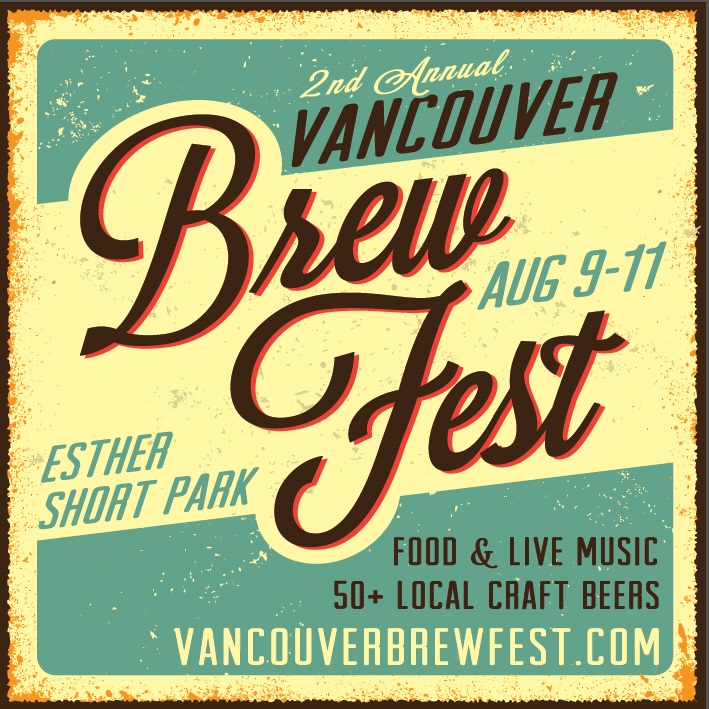 Heathen will serve its Transcend IPA and Blackberry Hefeweizen at the festival. The company also made a beer with Northwest Liquid Gold, a bottle and growler fill shop in Orchards, called Heathen's Gold Pale Ale, which has been selling well and will be available at the festival.
And, working with Gray and Stromberg, Heathen has created the official Vancouver Brewfest beer, which will be named through an online contest.
"It's a light beer with a velvety texture, lightly hopped, with citrus and floral aroma," said Erin Griffin, a spokeswoman for the festival. "We decided to make an official beer because we wanted to make the event unique and give it a real local flavor."
The beer is a good, mild, summer brew that's around 4.8 percent alcohol with not much bitterness, Stryker said.
"Cody and Andy, they came out to the brewery one day and we were tasting a little bit here and there, and they pitched the idea of a Brewfest beer," Stryker said. "They talked to us about what they liked, and we all decided it should be a light, sweet blonde ale."
Heathen Brewing will celebrate its one year anniversary in September. The exposure at festivals here and in Portland has been great for the business, said Sunny Parsons, the brewery's other owner.
"We're a young brewery, and we have a lot to learn, but the credit is great," Parsons said.
About 5,000 people attended the two-day Vancouver Brewfest last year, enough that the organizers decided to add an extra day, Sunday, this year.
"Each brewery has two beers, so if people come over the three days, they can try up to 60 beers," Gray said.
Last year's winners of the People's Choice awards were West Highland Brewing, which took the gold medal for its Mango Ale; McMenamins on the Columbia, which earned the silver for its beer What's Wheating Gilbert Grapefruit; and Heathen Brewing, which hadn't yet opened at the time, with the bronze for its Malice IPA. All three brewers will return this year.
"That was our debut last year, and it really got us off the ground," Parsons said.
The other Clark County brewers are Amnesia Brewing, Beerded Brothers Brewing, Ghost Runners Brewing, Laurelwood Brewing, Loowit, Mill City Brew Werks, Mt. Tabor and Railside Brewing.
The nonprofit festival benefits four charities, three of which rotate each year. Disabled American Veterans will always be the main festival charity, since Gray and Stromberg are both veterans, they said.
The other three this year are the Humane Society for Southwest Washington, the Children's Center and the Metropolitan Performing Arts Academy.
The festival will also have seven Clark County food vendors and an assortment of tribute bands performing over the three days, with lineups that mimic Aerosmith, Loverboy, AC/DC, Journey, The Cars and Led Zeppelin.
"A lot of people who drink beer will like those bands," Gray said.
And the festival will have an ongoing badminton tournament, which is new this year.
"That's Andy's genius right there," Gray said. "We'll have an official umpire and it's a fun thing to do and to watch outside in the summer."
The festival also has arrangements for discounted cab rides and designated drivers, and a free bike parking corral.
Gray said he hopes people from across the region will come to Clark County and give the festival a try.
"It's the best kegger party in Vancouver," he said.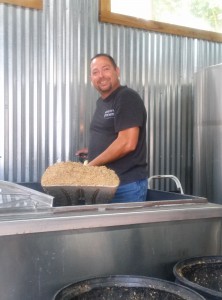 If you go
What: Vancouver Brewfest, a festival featuring several local and regional brewers, live music and food vendors that benefits four local charities.
Where: Esther Short Park, West Eighth and Columbia streets, Vancouver.
When: 3 to 9 p.m. Friday, Aug. 9; noon to 9 p.m. Saturday, Aug. 10; and noon to 7 p.m. Sunday, Aug. 11.
Cost: $21 at the gate covers all three days, includes eight tickets for 4 ounce samples and a commemorative mug. Extra tickets are $1 each. Cash payments are strongly encouraged; there will be ATMs on-site.