Mint Tea — Sanctuary for Body, Mind, and Spirit
The VancouvEATER has been doing too much "research" lately for this blog.  Last week, I found myself at Old Navy trying on sweat pants.  At that moment, I realized I needed to modify my eating habits. I did some research on healthy places to eat in Clark County and came across Mint Tea.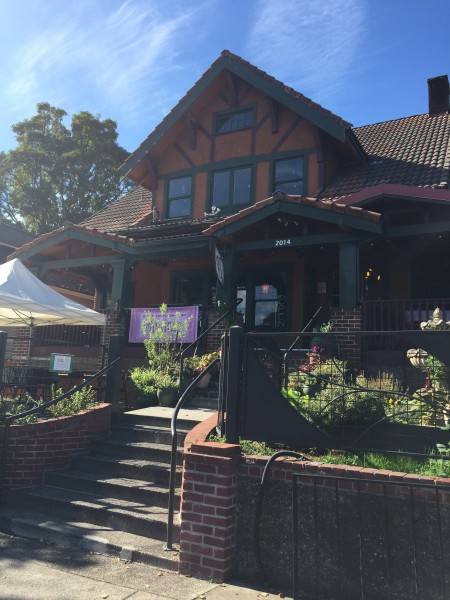 Mint Tea is located in this beautiful Victorian home in the uptown village neighborhood of Vancouver. The inside is decorated with imported goods from all over the world.  There is a mellow, peaceful vibe to the place.  Looking for a past life regression group, guitar lessons, or a Halloween dinner with your dead ancestors?  All these things and many more can be found on the community announcement board by the door.
The menu is focused on local and seasonable foods; so, it is constantly in flux.  The lunch menu typically includes a soup, salad, mint tea plate, sandwich, and daily bowl options.  The beverages include soft drinks, coffee, tea, beer and wine.  I got a cup of the soup (greens with curry), a half salad (Thai forbidden rice with a maple balsalmic vinaigrette), and a cup of the housemade kombucha.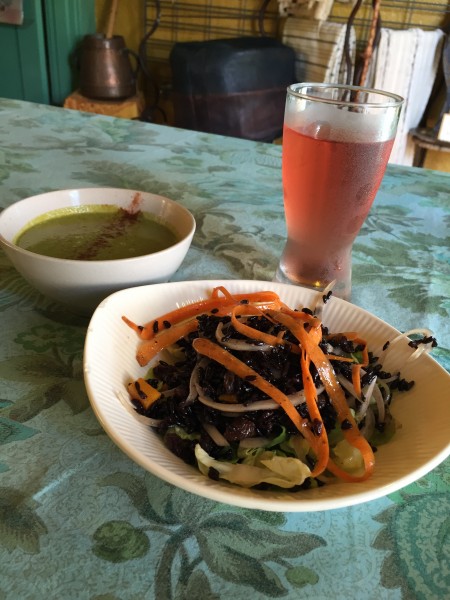 While waiting for my food, I wandered around trying to decide where to sit.  It was a sunny fall day so that gave me many options.  There is a lovely outdoor patio area, a large upstairs with various rooms, tables in the main floor entry way, and the Morrocan Room (adults only).  I decided on the Morrocan Room.
I just sat and absorbed the vibes in here while I waited for my food.  The restaurant was filled with laughter and meaningful conversation.  It reminded me of college life.  There is a communal feeling to this place — an open door for poets, dreamers, astrologers, tarot card readers, seekers.  Everyone is a friend and all will be nourished — body, mind, and spirit.  Then, my food arrived.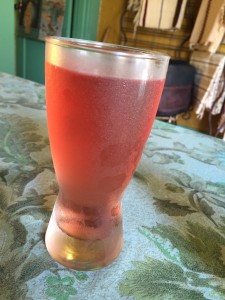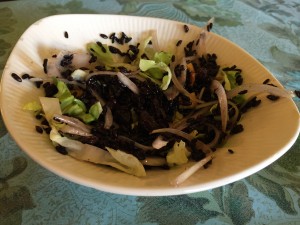 The housemade kombucha was made with a gunpowder tea.  It was vingarey and fruity with a bit of berry and honey flavor.  It had a pretty blush color and a bit of effervescence. The Thai Forbidden Rice salad had meaty grains of Thai Forbidden Rice with crispy ribbons of carrots, onion, and butter lettuce.  The onion ribbons were sweet with just a bit of an onion tang.  My guess is that the onion was rinsed in cold water to lower its oniony flavor.  The maple balsamic vinegar was a nice mix of vinegar flavor and sweetness.  It paired nicely with the rice and the vegetables. There are also small chunks of cooked squash and some moist raisins to add some chewiness and sweetness to the salad.  And, then came the soup.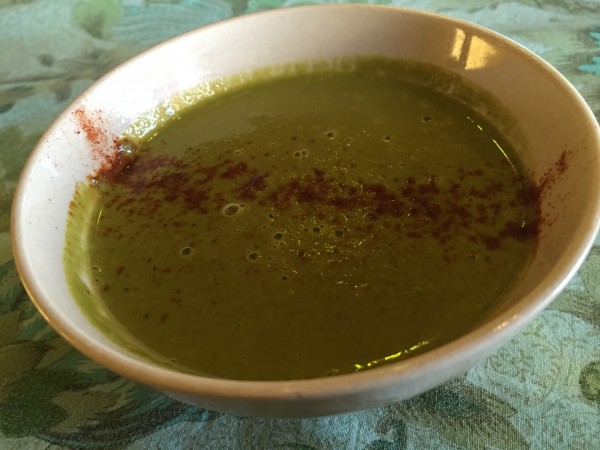 This soup was amazing.  I forgot how good fresh, local vegetables can taste (I need to join a CSA box next year).  The soup was made of greens, peas, and squash carefully cooked with coconut milk and curry.  The soup is then pureed so that it tastes almost whipped and has a foamy consistency; then, it is dusted with smoked paprika.  It tastes creamy and fresh.  The squash and peas add notes of sweetness.  The curry adds a bit of spice and complexity.  The paprika has a clear, smokey and spicy flavor that tickles your tongue at the end.  This paprika is much brighter, clearer, and spicier than the paprika I have at home. It reminded me how magical this spice can be.
After finishing my meal and chilling out, I reluctantly left Mint Tea — I could seriously just move in to the Morrocan room for a week.  I left feeling refreshed and nourished.  In an age obsessed with pork, lard, biscuits, and culinary excess — it is nice find a sanctuary where you can replenish body, mind, and spirit.
Mint Tea is located at 2014 Main Street in Vancouver.  They are open Tuesday – Friday 10am to 5pm and Saturday – Sunday 9am to 4pm.