Latte Da Coffeehouse and Wine Bar offers nostalgia and comfort for the soul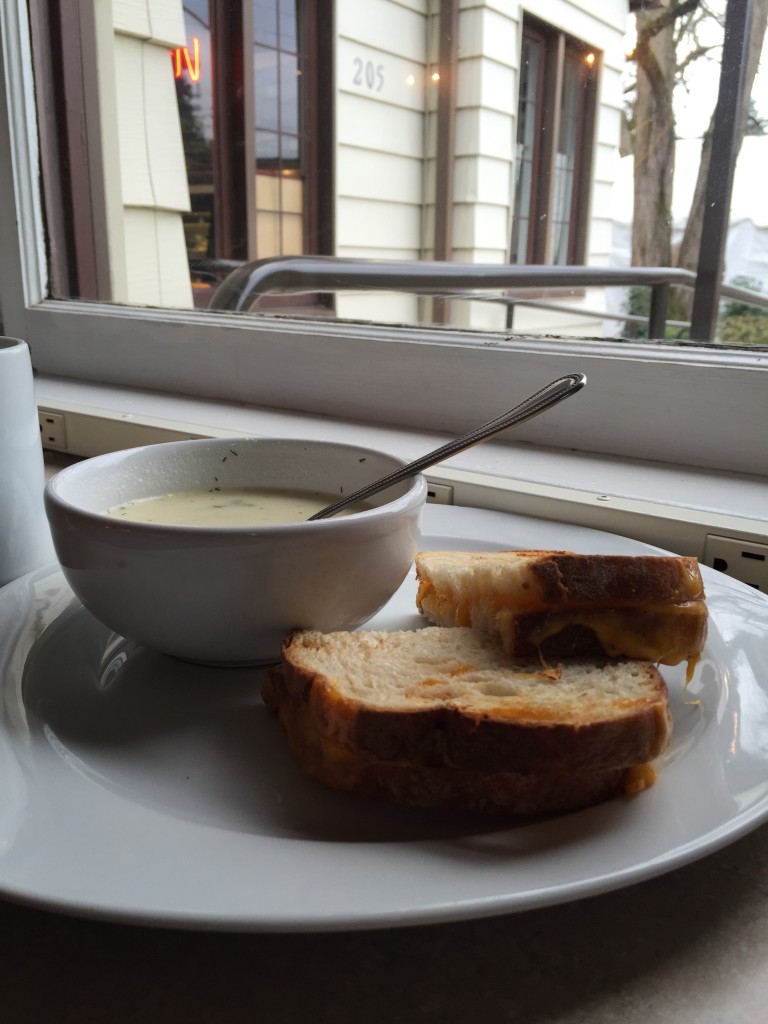 It was a cold and rainy day and I was looking for a warm spot to get a hot bowl of soup and read. I did some research on local cafes and found the website for Latte Da Coffeehouse and Wine Bar. Latte Da is located on east 39th Street near Main Street in a charming mixed business and residential area.
The cafe is an old craftsman home remade into a friendly community meeting place. The first thing you see are trees and a community board framed by hand-painted tiles with fliers tacked on it for art classes, poetry readings, non-profit benefits. The house is divided into a main room and a wine bar in the back. The walls are a warm cream color, there are well worn wood floors, small round tables, and some big comfy armchairs. The owners, Scott and Sarah Flury, lived in the neighborhood for 14 years when they noticed the empty house. Scott left his corporate job to create a gathering place for the neighborhood – a place to sit, relax, and enjoy conversation. He wanted a place for business meetings, events, community gatherings. The events that take place are a mix of the wine tastings, art classes, and community events mostly based on ideas brought to the owners by their customers.
Scott originally envisioned offering coffee, wine, and beer. Latte Da began offering breakfast, lunch, and dinner based on what the customers wanted. Being in an old home, on a cold day, around lunch time made me crave the type of lunch my Mom would make us on a snow day. I chose a bowl of the soup of the day (potato leek) and grilled cheese (sourdough bread with cheddar cheese).
The potato leek soup was luscious and flavorful with tender cubes of potato and flecks of leek. The broth was light with just the right amount of salt. The grilled cheese was made on a spongy sourdough bread with a crisp crust and lightly toasted to melt the medium-sharp cheddar cheese inside it. This was exactly the meal I wanted.
Latte Da reminds me of the early days of the coffeeshop renaissance in the early 1990s. A time when a coffee shop was a cool neighborhood spot with its own vibe and rhythms. Each coffeeshop had a clear sense of place and was stamped with the owner's quirky personality and the energy and eccentricities of its regulars. It was an innocent time when Starbuck was a character from Moby Dick or Battlestar Gallactica, the words half-cap no whip would draw a blank stare, and tall meant a large drink.
It wasn't a perfect time; but, it was a perfect time for coffeehouses. Latte Da is a time capsule from that era – there are poetry readings, art classes, community get togethers. There is a box in the front to collect presents for families at the local domestic violence shelter, art work from local artist — Julieth Maya Buri on the walls, and fliers encouraging support of local businesses. This is a warm, comfortable place to curl up with a book and a bowl of soup. It is the ideal place to hibernate for the winter.
Latte da Coffeehouse and Wine Bar is located at 205 East 39th Street in Vancouver.  Their hours are Monday – Friday 6:30 am – 8:00 pm, Saturday 7:00 am – 8:00 pm, and Sunday 7:00 am – 5:00 pm.  Updated hours and information about events can be found on their Facebook page.