Thorns win big at home 7-1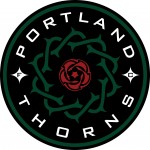 The Thorns have added a 4th goal against FC Kansas City at home.  Portland lead 3-1 at half on goals from Vero Boquette, Alex Morgan, and Ally Long.
watch the game live on http://www.timbers.com/thorns-live
Ally long earned her second of the day in the second half bringing her season total to 8.
The introduction of Amber Brooks as a true holding center midfielder has allowed Long to join Boquette and Tobin Heath in moving forward and join Christine Sinclair and Alex Morgan in the attack.
Update 74th minute 5-1 Vero Boquette gets her second goal of the day, converting a penalty after Tobin Heath had been wrapped up and pulled to the ground in the box.
Update 80th minute 6-1. Vero plays server this time as she whips in a right footed cross that was met at the near post by Christine Sinclair
Update 7-1,  Mana Shim comes on as a substitute and turns provider for Amber Brooks.  Shim was on the left side of the field and curled a left footed ball in toward the near post in a kind of mirror image of the Boquette Sinclair link up for goal #6