Merwin kokanee on Black Friday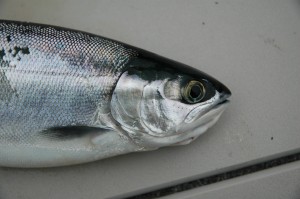 ARIEL — Hearing there had been a decent kokanee bite at Merwin Reservoir recently, but not really believing it, I decided to check it out on Black Friday.
Normally, I stop fishing Merwin in late July and shift to fall chinook in the Columbia. I've caught kokanee in Merwin as late as Dec. 2, but that was one fish one time many years ago.
To make a long day short, I caught two kokanee, measured at 11 and 12 inches, and one small chinook, which I'd guess was 10.5 inches. My fishing partner caught one kokanee. We fished five hours with two rods each.
Two of our kokanee came on orange-green-copper spinners and one on a silver Smile Blade spinner. The Smile Blade was fished 55 pulls behind the boat with .5 ounce. The tricolor spinners were fished at 2 ounces and 35 pulls. The Smile Blade also caught the small chinook. I lost one kokanee at the net while using a pink hoochie.
The water temperature was 52.3 degrees. There were six to eight other boats on the reservoir. I chatted with one boat (three rods) who had five fish and single angler (two rods) with one kokanee.
Four rods fished five hours for four fish isn't much, but it did show that it's possible to catch some kokanee almost a year before they spawn.