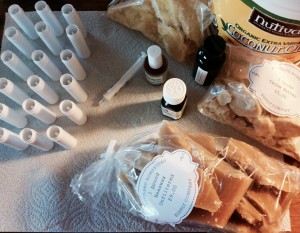 It is darn cold out lately. I have been gathering supplies to make homemade Christmas gifts with, and so when I woke up this morning and read the temperature on our outdoor thermometer I decided that today was a great day to stay inside and put those supplies to use!
Today's homemade gift is peppermint lip balm. It took all of 20 minutes to make 16 tubes of lip-nourishing goodness.
You can find many lip balm recipes online, so I threw together my own and it turned out very well. I used a gram scale to measure out ingredients, but this isn't entirely necessary. This recipe is one part beeswax, two parts shea butter, and two parts coconut oil. My full ingredients list: 11 grams beeswax, 22 grams shea butter, 22 grams coconut oil, ~ 2.5 ml sweet almond oil, ~ 1/2 teaspoon vitamin E oil, and 15 drops peppermint essential oil.
I put about an inch of water in a small pot, placed a small glass jar into the pot (a 4oz mason jar would work), added beeswax, shea butter, coconut oil, and almond oil into the glass jar. The burner was set to medium heat and the ingredients were allowed to melt. Once melted, I turned off the burner (but left the pot on burner to keep ingredients warm), added vitamin E oil and peppermint essential oil, and stirred. *Make sure none of the water from the pot gets into the glass jar*
You can use a dropper or syringe to fill up the lip balm tubes. As the mixture cools, it will settle and you can then add a little more to top off the tubes.
Allow lip balm to harden and then apply it to your poor, chapped lips.
I have some cocoa butter that I may try in my next batch instead of shea butter, just to see what it'll be like. I also have other essential oils that I would like to try. And this project would be great for small children to be involved with. After they've made the lip gloss they could decorate the tubes with stickers!
You can find lip balm tubes and tins on Amazon. I purchased the shea butter, cocoa butter, beeswax and essential oils from Portland Homestead Supply.