Sand and sea: the original Dog Beach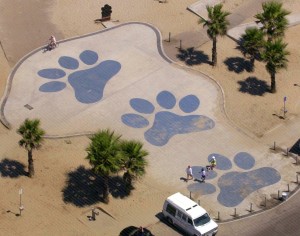 We flew into San Diego and over the original Dog Beach, the first leash-free beach in America. From the air, you can see huge dog paw prints from sidewalk to sand, surrounded by palm trees. All over those big cement paws, you can see a sea of "ants" –  dogs, dog people surfers and swimmers of all species — sharing this magical Mecca of sand and sea.
I couldn't wait to get my paws on Dog Beach. I am Doodle, a Vancouver doxie, just coming of age, just learning to surf.
The original Dog Beach is the first stop – our family's original home beach, and where our legacy lives on in bronze. This is where my namesakes Howdy Doody and Dude caught their first waves. Grandpa Howdy was one of the original surf hounds 20 years ago and helped transform Dog Beach into the remarkable place it is today. As fourth generation Ayers family surf hound, it's time for me to step up to the nose of the board and carry on the tradition of our non-traditional surf species.
Next stop, in one of the last true beach towns of SoCal, is, of course, getting a custom made dinky doxie wetsuit at Surf 'n Sea in Ocean Beach. Where they hand made my All American Doodle dandy logo in neoprene.
And now we're off on a surfing safari – to a secret spot – hours from the coast, on an inland river in the middle of the California/Arizona desert. There, like here in the Couv, a historic river forms the state boundary, then leaves the US for another country. In this case, Mexico, all the way at the other end of I-5.
Next, you'll be on board for my first surf dog rides on the Colorado River! I have one of those GoPro waterproof cameras – so stay tuned to this dog blog.
–       Barb Ayers, surf dog mom
The post Sand and sea: the original Dog Beach appeared first on Dog's Eye View.