As per doxie Doodle:
Here we are, at PDX. Dogs are few and far between but the people watching is interesting.  I'm Doodle, a Vancouver mini surf doxie. I'm a little over a year old (in human years.) I grew up as a pound pup but then I rescued a family of surfers. One of those surfers is  human. This will be my first experience – at an airport, flying, as a carry-on bag dog, on a road trip, riding waves, behind a ski boat and more.
I learned t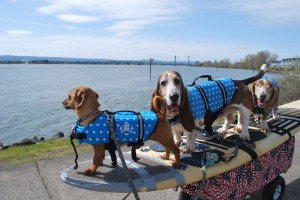 o surf here in Vancouver, riding a pup SUP (stand up paddleboard) on the Columbia in front of Wintler Park with my two dog bro's. I admit that surf is in short supply here on the Columbia, miles from the ocean, but this is our river and she is a mighty one. We surf Vancouver sidewalks, too.  Our pack of surf dogs (you know, water breeds, like bassets and doxies?) are towed by mom through Farmer's Market, past the WA State School for the Blind, along 164th – any sidewalk will do. But our absolute favorite, and yours, is the riverfront trail. Living near the Columbia River is one of the great gifts of life in Vancouver.
Now I'm a carry-on bag dog, outbound  to San Diego. On this trip, I'll be all by myself  on the nose of the board for the very first time.  I'll hang 20, and more, with those first big steps, leaving behind my own rescued past.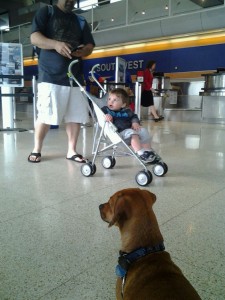 Being a carry-on bag dog has its advantages. Less baggage for mom, for me, for the world. I'll be on board as the tray tables go up, where my big dog bro's can't fit. But I promised to stay in touch via this new Columbian dog blog – stay tuned.
– Barb Ayers, surf dog mom
The post I am a carry-on bag dog appeared first on Dog's Eye View.