HANG 10 (or is it 20?) WITH A LOCAL SURF DOG – FOR A DOG'S EYE VIEW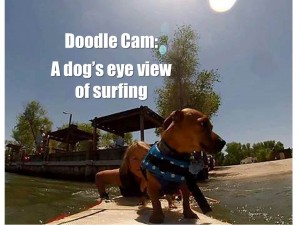 Dinky doxie Doodle takes his first river surf ride behind a waterski boat and you're on board. Doodle Cam reveals the Dog's eye view of surfing
The Vancouver doxie weighs 14 pounds – wet. He's a junior surf dog in training, rescued from a local shelter, following the paw prints of three dog bro's before him.
He surfs Vancouver sidewalks and rides a stand up paddleboard on the Columbia River with basset brothers Dude, a blind surfer who gave Doodle his name, and Elvis, a super low rider. The bro's are now 70-something, nearing retirement.
Doodle's first (river) surfin' safari, and Doodle Cam, were warm ups for the Loews Surf Dog contest June 22 in San Diego. Just add salt water and some tasty waves.
Did I mention that Doodle's first name was Mighty? Then Underdog? He will be the underdog of the contest. Believe it or not, in So Cal, hundreds of canines compete for bragging rights at annual surf contests, just for dogs.  Winning isn't everything. 90% of life is just showing up.
On June 22, please give us a "V" for the Vancouver team, wherever you are – Farmer's Market, Waterfront Trail, your favorite park or the yard.
2013 Loews Surf Dog Competition (Coronado Island)  Sat. June 22
11am     – Small Surf Dog Heat
11:45    – Large Surf Dog Heat
1pm       – Tandem Surf (human and animal)
The post HANG 10 (or is it 20?) WITH A LOCAL SURF DOG – FOR A DOG'S EYE VIEW appeared first on Dog's Eye View.