Guide Dog's eye view – Angelina "speaks" out: how dogs help people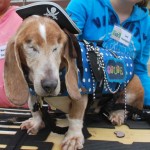 One of the places closest to our hearts -as people, dogs and dog people – and as Pac NW residents- is Washington State School for the Blind. The historic institution is right here in Vancouver, Washington.
We started volunteering here and it has changed our lives in so many ways. The students, the staff, the volunteers- and the Guide Dogs – are remarkable.
In fact, we live as close as we can to WSSB. We knew we were home when we saw the school and the feeling only grew once we met the people inside.
One of my dog "sons," Dude, lost both of his eyes to glaucoma.
We met the kids at WSSB last Halloween, as we all trick or treated in the central park neighborhood – Adrienne, their dedicated volunteer coordinator and the kids – invited us to their totally happening Halloween party. We loaded up the dog surfboard unit and rolled on down the street with our new best buds. We'll have to tell you the dog surfboard in the elevator story some time later.
Here now- is a day in the life of Guide dog for the blind — Angelina and her human partner, Jake Koch. Jake is a graduate of WSSB and works there and at Guide Dogs for the Blind, bringing people and pets, blind and sighted, all together.
A Dog's Eye View – Guide Dog Angelina – now on You Tube:
http://www.youtube.com/watch?v=gZzQuUN220Y
THANK YOU Angelina, Jake and WSSB!
The post Guide Dog's eye view – Angelina "speaks" out: how dogs help people appeared first on Dog's Eye View.