Friends in life, friends in surgery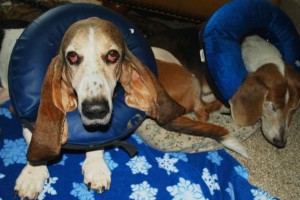 If you asked best buds Elvis and Dude about their day, they might say it was no big deal. 
Dr. Ann Brown, the country vet and Hedy, their favorite vet tech, performed back to back surgeries on the basset boys this morning. One dog watched while the other got stitched and then they swapped positions. All, in the animal OR, on the floor, at dog level, without general anesthesia, and with their mom holding them the whole time (me.)
What these kind, caring, animal experts know is that reducing procedure stress means everyone recovers more quickly.
Dude and Elvis were numbed in the surgical areas only and stayed awake the whole time – just like they do in the Nip Tuck movies. The basset boys are nearing 12 (80 in dog years,) and surgery would be more risky if they went to sleep. This nontraditional surgery is a safer, more natural and humane solution for pet patients, but it's harder on surgeons – ours worked for an hour on their knees on the cement floor.
Dude, the blind beagle, went under the knife first, to remove what looked like a gnarly melanoma on his underbelly, after years as a surfer and sun worshipper (sunscreen, everyone.)
The best way to face this situation, is as a family – we were all together on the OR floor, helping each other though. For me, waiting and wondering is the hardest part – knowing this is likely melanoma, a very aggressive skin cancer known to metastasize to other parts of the body.
Dude's tumor in this jar will be biopsied. Aren't those the longest days in life, waiting for test results?
Dude has skin cancer, lost both eyes to glaucoma, gets urinary tract infections and has had cysts removed. Elvis has a bad back and gets yeast infections.
Maybe we're more alike than we even realize.
– Surf dog mom Barb Ayers
The post Friends in life, friends in surgery appeared first on Dog's Eye View.