Kids at The Crossroads Peru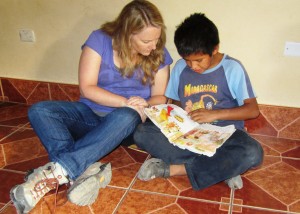 This is the third summer that I have spent volunteering here at Kids at the Crossroads Peru.
KATC is a non-profit being run by former Portlander GeGe Coleman. We provide supplemental education to 100+ children ages 4-14.  GeGe employs an all Peruvian staff of eight.  She herself draws no salary. KATC  is located high in the Andes in the town of Ayacucho, Peru. Ayacucho remains an impoverished area due to the lingering impact of The Shining Path  terrorist organization centered here in the 80s and early 90s.  During this time around 70,000 people were killed or disappeared.
We have two certificated teachers. Kids go to public schools in the morning and our program in the afternoon.
This is our homework area where kids can get help with their assignments from public school. Here Gloria helps several students.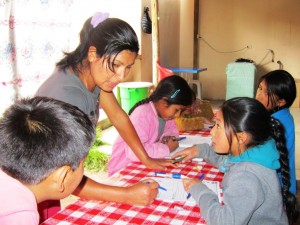 Many of our students are well below grade level and need one on one attention.  Here is Wilbur working with Jose Benjamin.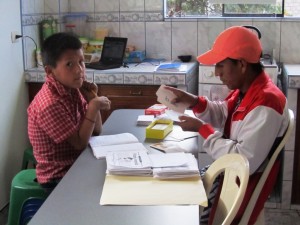 We love volunteers!  Maya is spending two months here during her break from Bowdoin College in Maine.
Kids love to play!  We try to get toys and games to help with their development.
We end our day with a hug and a snack.  For many of the children this is the only food they will have for the rest of the day.  As they leave for the day GeGe tells every child that she loves them.
I will be here until the beginning of August and hope to share a few other adventures with you.
Carrie