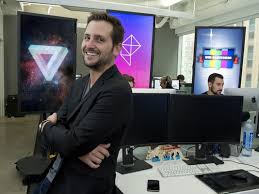 AS I REFLECTED on a KPTV transmission from Battle Ground, WA concerning a 36-year-old man who slashed his mother's throat with a 12-inch butcher knife, I could only hope that PROJECT X arrives in the Portland-Vancouver market soon. Because I've had my fill of the televised gore adorned with pleasantries that passes for "local news" around here. The VOX MEDIA site, in case you haven't heard, is supposed to be a revolutionary way of delivering the news. They also call it "exploratory journalism." It was created by Ezra Klein (PIX).
KATU, meanwhile, indicated that a 20 year-old man surrendered to authorities after knifing an acquaintance to death in Montlake Terrace. The ABC affiliate also indicated that a manhunt was underway for a 30-something, knife-wielding male who mugged a woman in the parking lot of an athletic club near Milwaukie, OR. "We'll cover topics that are important and meaningful in people's lives and make them interesting as well," the ex-Washington Post blogger explained. He maintains that traditional news outlets turn away from such information because it's considered "spinach" and is consequently not very appetizing to TV viewers. KOIN TV later broadcast "Breaking News" about a standoff in Happy Valley where a man barricaded himself after stabbing somebody to death at a party. Mr. Klein promised to employ journalists who really know their beats. To do that, VOX will be "digitally native" and use technology plus a variety of formats to figure out the best way to communicate information. It will encompass everything from agriculture to zoolatry. "We want to create the single greatest resource available for people to understand the issues that are in the news," he underscored. Reporters will be judged not based on whether they scoop the competition, but rather on how good of a job they do of sharing their understanding of the topic. KIRO TV, meanwhile, announced that police were looking for a gunman who put a bullet in a woman's buttocks as she filled her tank with gasoline at a Seattle service station. Reactionary right-wingers are so jittery about its imminent debut that they've labeled the new venture "left-wing propaganda." There's no official launch date yet for VOX, but its vision is outlined in this LINK.
The post PROJECT X appeared first on Action Commentary.