A MONUMENT TO CONSUMERISM
One nice thing about BLOGS is that you can "publish" what's been "rejected." I have a cabinet full of such material. Here's a piece from 1996, but who knows if the monument is still there:

I went to the "Groovy Grand Opening" of Ontario Mills Mall in Southern California last week. The Inland Empire Bulletin described it as a "1.7 million square-foot monster outlet." The psychedelic TV commercials said it was only 40 miles from Los Angeles. Via Interstate 10 on a Friday afternoon, however, it seemed more like 400 miles. I knew it was at the I-15 Junction but the commercials had not specified North or South. So it was a good thing that I had caught a glimpse of the Burlington Coat Factory on a recent excursion to Sin City. That recollection edged me to swerve North. But which exit? Just in the nick of time I spotted a sign advising motorists to take 4th Street which led to the front door of the Burlington Coat Factory. "Wow!" I said to myself. "This must be the biggest coat store in the world." Rather than checking out the other 200-plus outlets, I decided instead to take a look at "the first monument to the consumer" which was mentioned on the news. It was supposed to be "way cool," evocative of Pop Art. See, I was really looking for culture, not commodities. I grabbed a Marshall's shopping cart that had a tipped-over Big Gulp on the baby seat and started searching. At the newest "super-regional" specialty mall in Western America! It was only 4 p.m. but the place was already jammed a dozen buyers abreast, some bumping into the likes of Daffy Duck, Bugs Bunny and The Wolverine. I figured The Directory would point out the monument. Alas, it was not listed. I wanted to check with Security about where it was located but there were no guards around. I balked at asking my fellow shoppers where it was lest they think I was some kind of a nut. So I proceeded up the Midway, occasionally peeking into T.J. Maxx, Osh Kosh B'Gosh or AMC 30 — the largest movie theater on earth. When I came upon Starbucks, I ventured in for a cup of expresso. I skipped it because the line was 40 deep. I spun a roulette wheel that was in front of Anchor Blue. They sell adolescent attire. I won a glider. I handed it to the first kid I encountered. Ontario Mills Mall is interesting, and on several levels. The architects addressed the problem of human scale by dividing the premises into 10 "neighborhoods." Each one has its own atmosphere — like "Off Rodeo Drive," a replica of the famed Beverly Hills strip. Each environment is connected via "foot-friendly" wooden floors. Forty giant TV monitors hang above the walkways. It was the first time I found myself watching MTV-style video whilst strolling. Eventually, I came to what was dubbed "The Big Food Court." It featured everything from Wolfgang Puck to Burger King.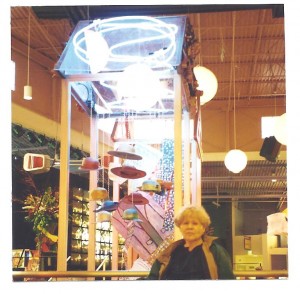 And right smack in the middle of this 1,000-seat snack bar — you guessed it — was the world's first piece of art dedicated to The Shopper! I didn't appreciate what it was right away because I happened to pause in front of it just to catch my breath. Then it dawned on me that This Was It! I pulled out my Minolta and snapped a photograph. It was an eminently appropriate work: Thirty feet high; mixed media – neon, acrylic, fabric and plenty of plastic. Although it was probably conceived in a P.R. Agency, it did bring to mind Robert Rauschenberg, an American graphic artist whose "combine" paintings incorporated objects such as soda bottles and stuffed birds. While I didn't notice any extraordinary deals at OMM and the only thing I bought was a bag of popcorn at The Sweet Factory (which doesn't have salt nor butter), taking in "The Monument to Consumers" was unquestionably worth the trip. Smogville is no longer a Cultural Desert!