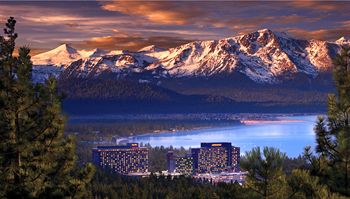 YOUR NEWS STARTS RIGHT NOW.
We took the southbound AMTRAK "Cascades" from Portland, OR at 2:25 p.m. Feb. 22. During the voyage, we were subjected to a continuous blast of frigid air blowing out of the vents in our "bedroom." The lighting didn't dim, either. At supper time we went to the Dining Car and ordered a pair of well-done sirloin steaks. They served us two medium-rare ones. Afterward, my spouse was unable to climb onto the upper bunk so she put the mattress on the floor. The blankets were so thin that we slept with our coats on. Train 11 duly arrived at Sacramento's pigeon-infested City Station the next day at 10:15 a.m., whereupon we began a four-hour wait for a bus to Stateline, NV. An article in The Bee stated that over 300 Californians have died from the H1 N1 flu virus this year … HARRAH'S assigned us a room with four burned-out light bulbs and crud underneath the sofa. The food, however, was much better than what we had on the railroad: Fatburgers, Fat Fries and Flame-Cooked Tacos at Cabo Wabo. Thanks to Gilchrist & Soames, we were treated to a pouch containing amenities like Round Aloe-Pleat Wrap Soap plus some BeeKind Shampoo, which is free of petrol-derived ingredients. We celebrated Sunday Mass at St. Theresa de Lisieux Parish where the Rev. Benedict de Leon delivered a rather intellectually challenging sermon: "I say to you, Love Your Enemies and Pray for Those Who Persecute You." As always, Lake Tahoe was fabulous and captivating. We also went to see "Son of God" at the moribund Horizon Casino & Resort. The tab for seven days came to $1111. One night was interrupted by a bloody fistfight down the hall. Two paramedics, three security guards and four deputies responded. One said the incident wasn't newsworthy. The headline in the Reno Gazette-Journal on Feb. 27 proclaimed: NEVADA FINALIST FOR TESLA PLANT; $5 BILLION PROJECT COULD BRING 6500 JOBS…
WINTER STORM "TITAN" delayed our return trip to The Couve, causing us to catch a cold. Luckily, chest X-rays proved negative. We wound up staying three nights. We took in Old Sacramento and Westfield Downtown Plaza. We also visited the exquisite Cathedral of the Blessed Sacrament, built in 1889. When we were there, a group of anti-government Venezuelans unfurled their flag in front of the Main Entrance. When we finally got a cabin it was scheduled for a 12:15 a.m. departure. Governors Inn offered us a "half-day" for $35 but it really amounted to three hours because unless you check out by 2 p.m., they charge a full day… The San Francisco Chronicle's "Sporting Green" ran an exclusive interview with Oakland A's manager Bob Melvin on March 4. He isn't worried about high-payroll free agents, like Robinson Cano of the Seattle Mariners… PLEASE SHARE YOUR IDEAS FOR IMPROVED SERVICE.
The post HOW WAS YOUR STAY? appeared first on Action Commentary.