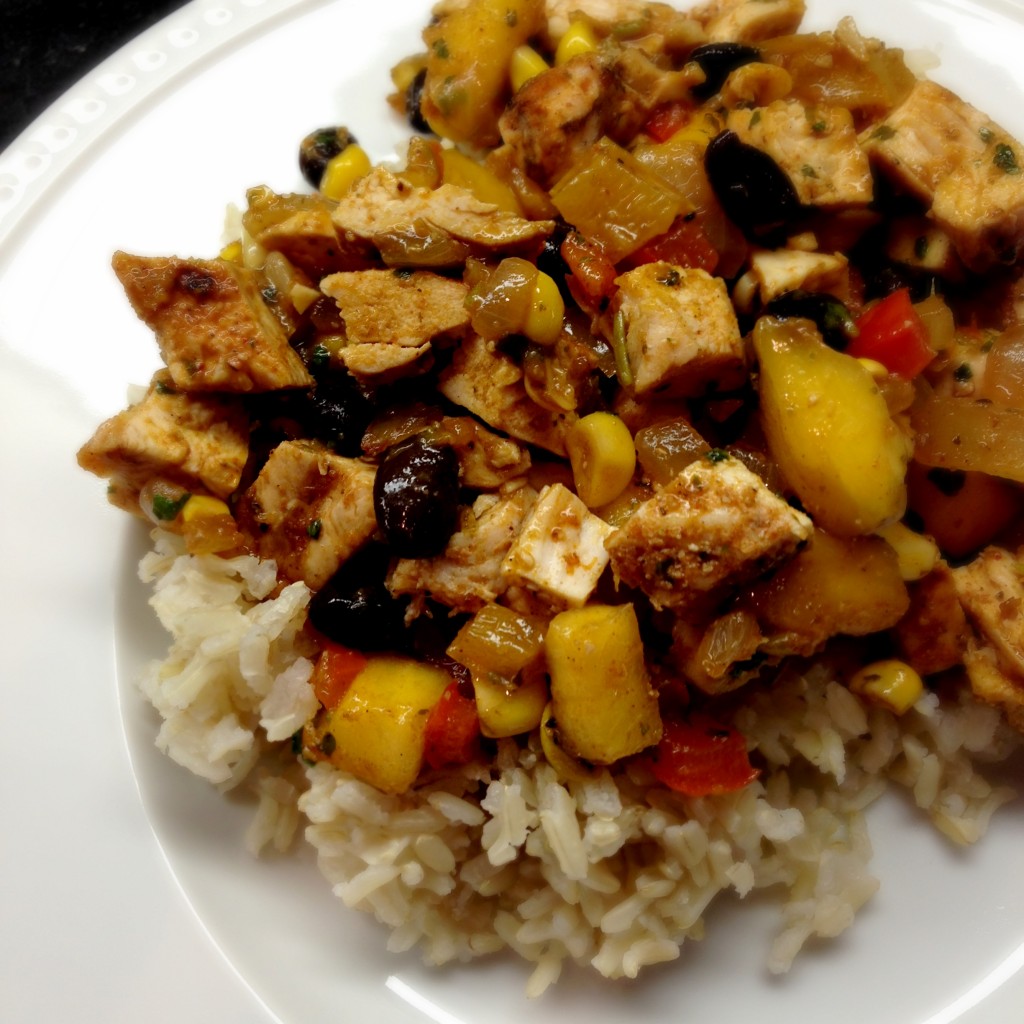 In just 11 days, I will be racing my first full marathon: The 2013 Bank of America Chicago Marathon. Logging hundreds of miles during several months of training has both mentally and physically prepared me to run 26.2 miles (hopefully!), but it has also made me hungry. During my training, I try to seek out nutrient-rich foods that give me long-lasting energy, help me recover, and keep me full. This chicken mango stir-fry recipe is adapted from Runner's World Magazine. As the magazine explains, chicken provides lean, muscle-friendly protein and the B vitamin niacin, which is essential in processing glycogen, the main fuel for exercise. Mango and peppers contributes vitamin C to fight free radicals and boost the immune system, which is temporarily weakened after a hard workout.
Runner's World suggests cooking the chicken in a fajita-like fashion, and topping the chicken with slices of creamy avocado for a dose of heart-healthy monounsaturated fat. If you want to try the recipe this way, spoon the chicken on top of warmed tortillas, and serve with avocado and sour cream. However, I enjoy eating the dish as more of a stir-fry, and serving the chicken on top of fiber-rich, satisfying brown rice. Brown rice takes 90 minutes to cook in my rice cooker, so keep timing in mind while you work!
Chicken Mango Stir-Fry
Serves 4
Ingredients:
2 tsp. smoked paprika
1 tsp. garlic powder
1 tsp. onion powder
1 tsp. cumin
1 tsp. salt
1 tsp. black pepper
2 TB olive oil
2 pounds thinly sliced or cubed chicken breast
3 Thinly sliced yellow and red peppers
2 cubed mangoes
1 can black beans, drained and rinsed
1 cup frozen corn kernels
Directions:
1.  In a small bowl, combine the spices, and set aside.
2.  Heat wok over medium-high heat. Add the oil and chicken. Cook for three minutes, or until the chicken is no longer pink. Remove from wok.
3.  Add the peppers to the wok. Cook for two minutes, stirring often.
4.  Return the chicken to the pan, add the spice mixture, cubed mangoes, and black beans. Heat for two minutes, or until the corn is no longer frozen. Serve warm.