Cranberry Chutney Infused Vodka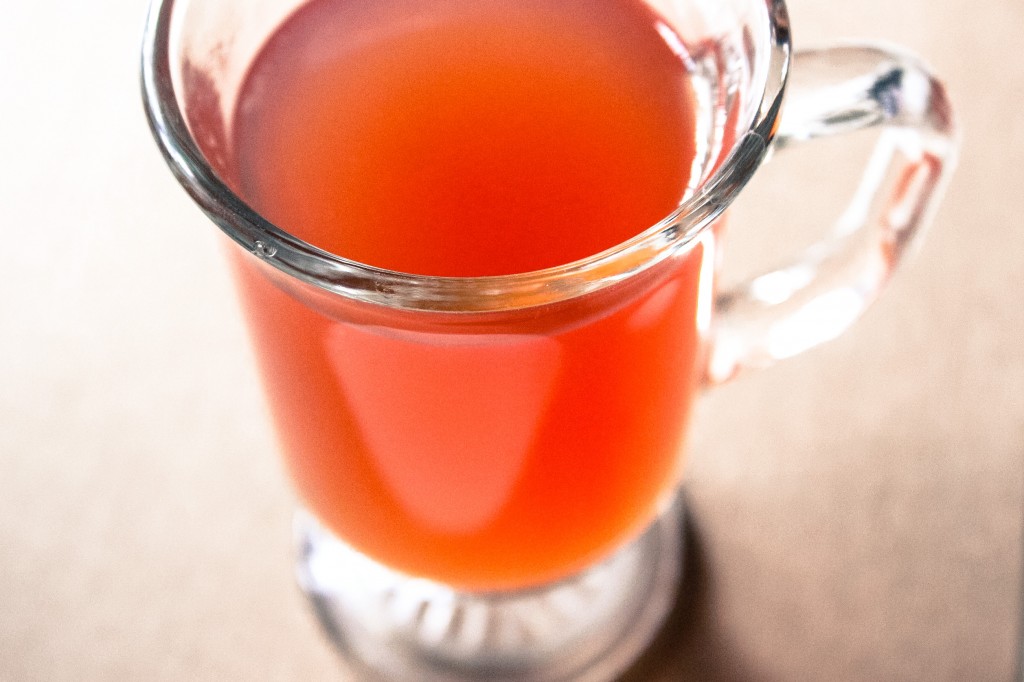 Several weeks before Thanksgiving, I looked into my garage fridge at a leftover bottle of vodka and a thawing container of homemade cranberry chutney and decided to mix the two together just to see what would happen. I imagined a cranberry chutney flavored liquor to serve as a Thanksgiving themed martini.
It didn't turn out like I expected.
When I shared a sample of the cranberry chutney infused vodka at Thanksgiving with My Kid and his lovely girlfriend, he blurted out, "This tastes like Christmas." And we all nodded in agreement.
The vodka picked up the sour pucker of the cranberries and sweet spice of the crystalized ginger and turned a beautiful shade of ruby-red. This infusion is superb added to a hot cup of cider or cold cranberry juice and seltzer for a Christmas party. What cooking experiments have you tried lately?
Hot Cider with Cranberry Infused Vodka
1 cup of hot cider
1 shot/3 tablespoons of cranberry infused vodka
Combine the two ingredients and enjoy.
Cranberry Chutney infused Vodka
1/2 cup of cranberry chutney–recipe at the bottom of the post
2 cups of good quality vodka
Combine the two ingredients in a canning jar. Place in the fridge and stir once daily for three days to a month. Taste test it along the way. Ours tasted just the way I wanted it to in a week. Then, I strained it through cheese cloth and put the ruby colored infused vodka in a clean jar. I store my infused vodka in the fridge.
Cranberry Chutney
from The Homemade Life by Molly Wizenberg
I've made this chutney with all the jam jar remnants in my fridge. The jam flavor doesn't matter so much as making sure that you sort out the bad cranberries. You can find crystallized ginger at Chucks and New Seasons. And I purchase my dried cherries at Trader Joe's or Costco. The chutney will be runny on the stove-top but it will thicken dramatically as it cools.
24 ounces apricot, strawberry, or raspberry preserves
¾ cup white distilled vinegar plus 1 ½ tsp raspberry preserves
A pinch of salt
¼ tsp ground cloves
¼ cup Grand Marnier or other orange liqueur
2 bags fresh cranberries, sorted
1/4 to ½ cup finely chopped crystallized ginger
1 ¼ cups dried tart cherries
In a medium-sized saucepan, stir together the preserves, vinegar, salt, cloves, and Grand Marnier; then place over medium high heat. Stir it regularly as it happily boils for 15 minutes until it thickens a touch. Then turn the heat down to medium and add the cranberries. Cook until you hear or see a couple of cranberries pop. Add the ginger and cherries. Stir together. Remove from heat and cool to room temperature before serving. The chutney will thicken as it cools.
Yield: 8-10 servings
Laura Heldreth
Hello! My name is Laura Heldreth and most days you can find me playing in my kitchen and vegetable garden.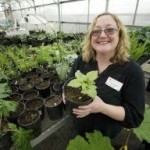 Hello! My name is Laura Heldreth and most days you can find me playing in my kitchen and vegetable garden.