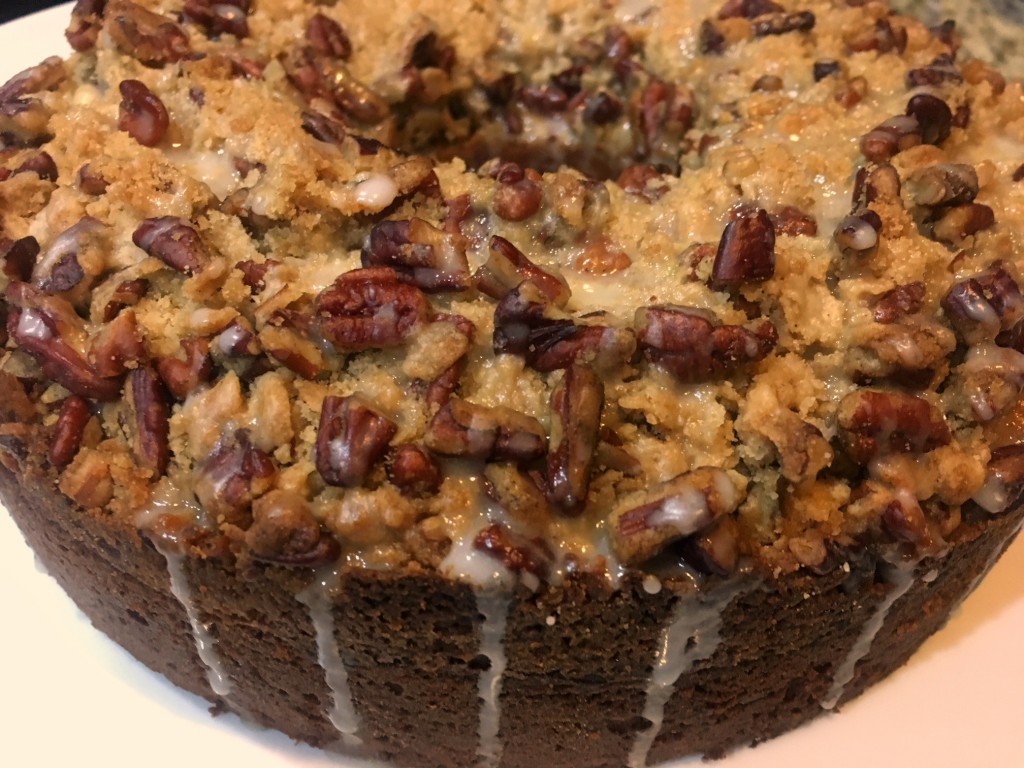 I'm a food nerd.  Completely comfortable with this title, it means I read cookbooks for fun (yes really), take pictures of everyone's food at restaurants (sorry not sorry) and take about 5 hours in any kitchen store (I told you to get a coffee and bring a book).
Food nerd status also means I love testing new ingredients.  After few weeks ago I went crazy with coconut milk powder in Creamy Coconut Cheesecake.  After the dust settled, I finally got around experimenting with lemon juice powder.  It's literally dehydrated fresh lemon juice, the idea is to pack a lot of bright, lemony punch into a small amount.  (Side note, don't try eating it directly, it's super duper sour).  Lemon juice powder is absolutely worth adding to your baking collection.
Super Lemon Coffee Cake
Serves 12
Ingredients:
Lemon Streusel
1 1/2 C flour
1/2 t cinnamon
1/4 C lemon juice powder
3/4 C (1 1/2 sticks) butter, cold
1 1/2 C pecan pieces
Lemon Coffee Cake
2 C flour
2 t baking powder
1/2 t salt
2 T lemon juice powder
1 t cinnamon
1/2 C (1 stick) butter, softened
1 t lemon extract
1 C sugar
3 eggs
1 C sour cream
Lemon Glaze
Zest of 1 medium lemon
1 T fresh squeezed lemon juice
1 C powdered sugar
Directions:
Heat oven to 350.  Carefully grease a tube pan (at least 10 C capacity).  A tube pan is another name for an angel food cake pan with a removable bottom.
To prepare lemon streusel, combine all dry ingredients except for pecans.  Cut in cold butter with a pastry cutter or a fork until mixture is coarse crumbs.  Mix in pecans.  Set aside.
To prepare lemon coffee cake, mix together flour, baking powder, salt, lemon juice powder and cinnamon.  Set aside.
Use a stand mixer to cream butter and lemon extract.  Add sugar and beat at least 2 minutes, until fluffy.  Add eggs one at a time, scrape sides if needed.  Add sour cream.
Remove bowl from stand.  Use a spatula to gently stir in dry ingredients.
Spoon about half the batter into the prepared tube pan.  Sprinkle half the lemon streusel.  Finish with batter and more streusel.  Gently tap the pan on the counter to prevent bubbles.
Bake the cake for 40-45 minutes until a cake tester comes out clean.  Allow to cool slightly and run a thin knife around the edges to loosen.  Turn the cake on to a plate and place another plate on top, flipping it over so the streusel is visible.  Allow to cool completely.
To make the glaze, mix ingredients and drizzle over cake.
Recipe modified from "Lemon Streusel Coffeecake," kingarthurflour.com