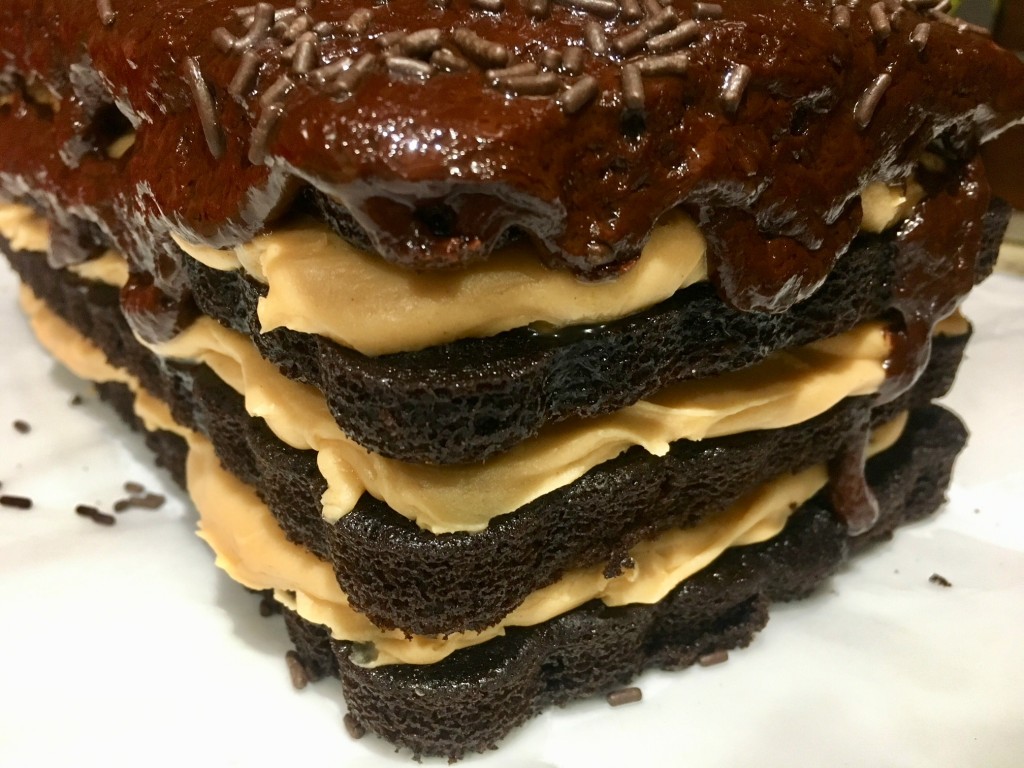 Fudge Buckeye Cake combines dense chocolate cake with sweet, squishy peanut butter filling.  A great option for Father's Day, you can substitute 9 inch round cake pans for the fancy rectangular ones.  Buckeye is a reference to a super popular treat originating from the Midwest.
Fudge Buckeye Cake
Serves 12
Ingredients:
Cake
2 C sugar
2 C flour
2 T corn starch
3/4 C dutch-process cocoa (dark if you can get it)
2 t espresso powder
1/2 baking soda
1 t salt
4 eggs
3/4 C oil
2 t vanilla
1 1/4 C water
Filling
2 C creamy peanut butter
6 C powdered sugar
1 T vanilla
1 C whole milk
Frosting
 1 1/3 C semi sweet chocolate chips or chopped semi sweet baking bars
1/2 C heavy whipping cream
2 T light corn syrup
Directions:
Heat the oven to 350.  Grease and flour the baking pans.  Be sure not to miss any spots.  You will be making 4 layers, meaning you need enough time to bake in to batches.
To make the cake, whisk together the dry ingredients.  Add eggs, oil and vanilla.  Scrape sides if needed.  Gradually add water, beat until smooth.
Pour about 1/4 batter into each pan.  Bake for 30-35 minutes or until a cake tester inserted in the center comes out clean.  Cool for 15 minutes then turn cakes out of the pans to cool on a rack.  Wash the pans and grease and flour again.  Fill with remaining batter and bake again.
To make the filling, use a stand mixer.  Combine peanut butter, powdered sugar and vanilla.  It will be crumbly.  Add milk in increments until smooth and spreadable.  It needs to be thick enough to hold its shape but soft enough to spread between the layers.
When the cake is completely cool, use a spatula to divide the peanut butter mixture into 3 even amounts.  Eyeball the 4 cake layers, if they have puffed up in the centers you may need to carefully trim with a serrated knife until it is mostly even.
Carefully set the first layer of cake on a platter.  Use an offset spatula to distribute a third of the peanut butter filling.  Start in the center and carefully push out to the edges.  Set on next layer of cake and repeat.  Leave the top later uncovered.
To make frosting, combine chocolate chips, heavy cream and corn syrup in a microwave safe bowl.  Decrease the power to 50% and carefully melt together using 30 second bursts.  You'll need about 90 seconds.  Stir until smooth.
Spread along the top of the cake, allowing it to drip down the sides.  Store in the refrigerator until chocolate frosting sets.
Recipe modified from "Peanut Butter Fudge Buckeye Cake," kingarthurflour.com