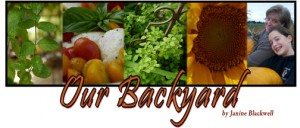 I know the holiday season is upon us when I have to make the lefsa… and this is serious- make no mistake! I am certain, that if I did not bring the lefsa to Thanksgiving or Christmas then I would not be allowed in the door to the family gathering! NO JOKE!
That's right, we're Norwegian. My mother is full Norwegian (2nd generation American) I am half and my daughter is a quarter. That's important, because it means we can still claim the heritage, not that we practice much besides a few holiday traditions anyway, but still…
I started making lefsa with my Mom and Grandma Hanson when I was very little, and when my daughter could stand on a chair, she started helping too.
Lefsa making day is a special one (we cook something very savory for dinner- to enjoy the freshly made lefsa with) and while we work we share stories of traditions, joys and hardships… lore that gets passed down keeping the connection to family alive through the generations. I look forward to it every year!
For those of you that do not know what lefsa is… it is a flat bread, not unlike a tortilla, made from flour or potatoes. It is always eaten with butter and can be rolled with cinnamon and sugar or meat. We have always used potatoes and eaten it rolled with meat (and gravy- oh yeah!)
Lefsa takes time, but it is pretty easy to make. We do not use a recipe because we have always made it… but it is the same as Julia Peterson Tufford's in her Original Scandinavian Recipes.
 5 Large potatoes
½ C Cream
3 TBS butter
1 tsp Salt
Flour- Use ½ C for each cup of mashed potatoes.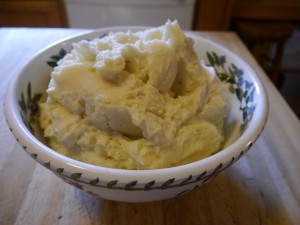 Boil and mash the potatoes. Add cream, butter and salt. Refrigerate 24 hours (Grandma said they had to "rest" and get stiff.)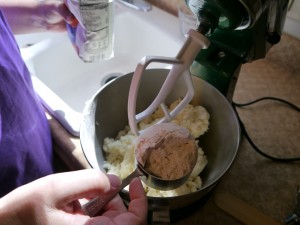 Mix in the flour and roll into a ball of dough, kneading until smooth. Form a long roll (snake) and cut into golf ball size pieces. Keep your bowl of dough covered so the dough does not dry out. Roll out each piece on a very floured surface- this part can be frustrating if it sticks- so use lots of flour! Roll out the pieces a thin as you can… like pie dough.
Cook the lefsa on a dry griddle over med-high heat.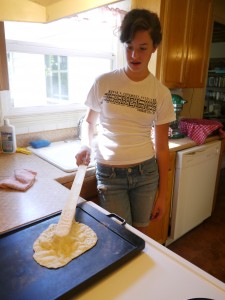 Turn frequently so it does not burn.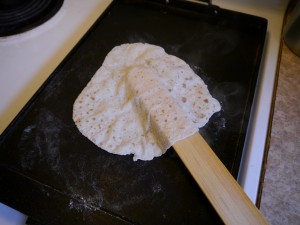 When the lefsa has a lot of little brown spots on both sides, move it to a clean cloth and cover it. Wipe the flour dust off the griddle each time.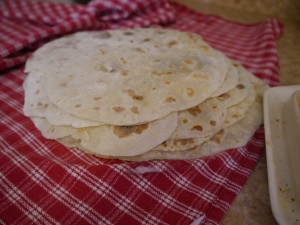 Your lefsa will be fantastic if you make the best tasting mashed potatoes that you have ever eaten!
Also, I will admit that one year we tried instant potatoes…it was a grand failure, but we got to add it to our stories!
Remember, lots of butter! Skal!