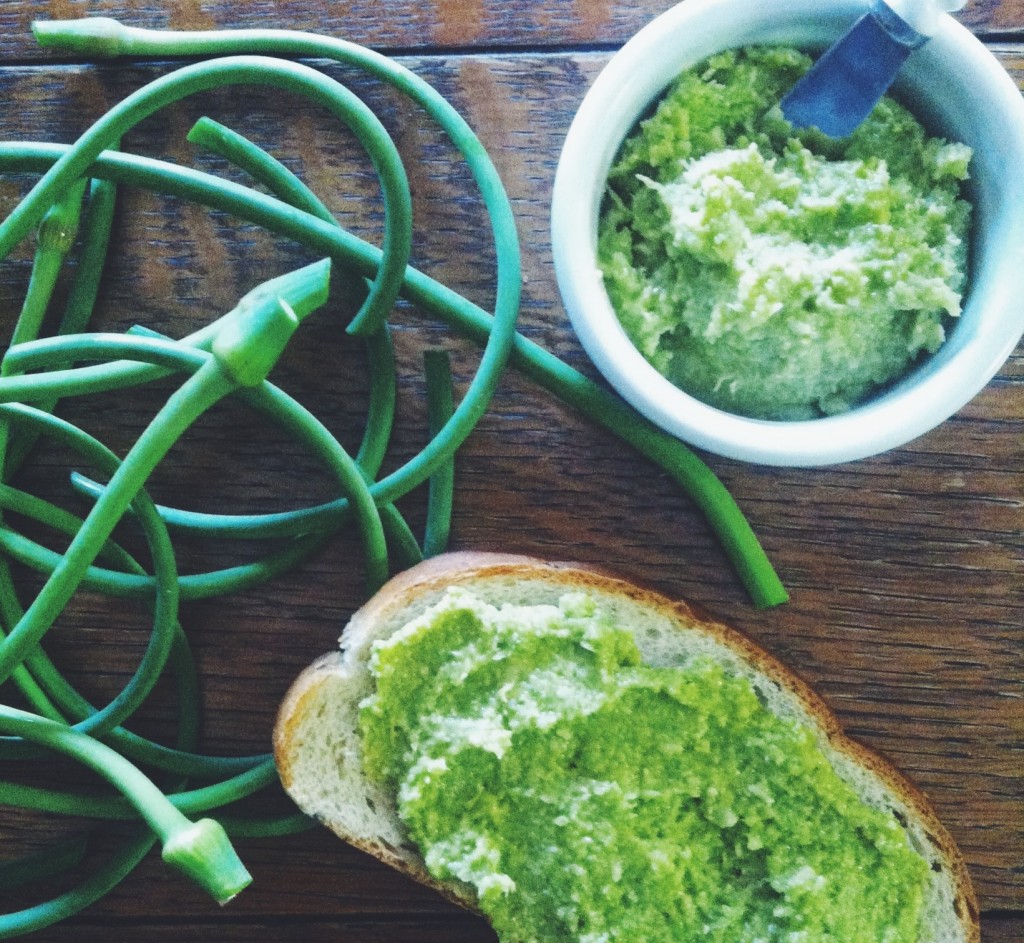 Recently my CSA box, from Hood River Organics, has been including garlic scape. Now I have to admit, even as someone who loves cooking and attends farmers markets regularly, this was my first experience with garlic scape. Have you tried it? If you love garlic — and this family loves our garlic — then this is a must.
What is garlic scape? It is the curly tops of garlic plants which are completely edible and delicious.
Now here is the big question. What do you do with garlic scape? And this is what I found out. Anything and everything. No, honestly. Garlic scape pesto. Garlic scape with white bean dip. Garlic scape vinegar. And if you have a few extra, wash and seal in a freezer proof bag for later in the year. No need to blanch them.
Next on my list, pickled garlic scape. How fantastic would that be in a bloody mary!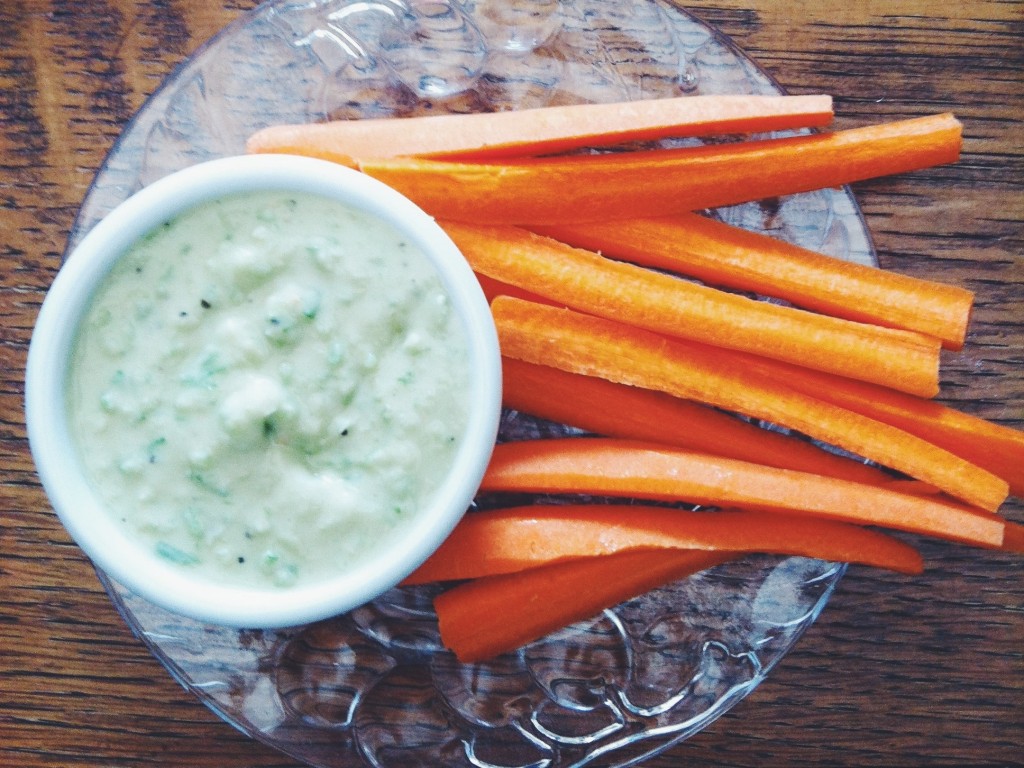 Garlic Scape with White Beans

4 garlic scapes, sliced
1, 15 oz, can of cannellini beans, rinsed and drained
1/2 teaspoon coarse sea salt
1/4 cup extra virgin olive oil
1 tablespoon freshly squeezed lemon juice
freshly ground pepper to taste
optional: lemon zest
Add garlic scapes, coarse sea salt, lemon juice and pepper to food processor and blend. Continuing blending while adding cannellini beans, puree. Slowly drizzle in olive oil. Taste, adjust seasonings.
Drizzle a little extra olive oil on top. Serve with crackers, vegetables, French bread.
Garlic Scape Pesto
1 cup of garlic scape, thinly sliced
1/4 cup of pine nuts, walnuts or thinly sliced almonds
1/2 cup of extra virgin olive oil
1/4 cup parmesan cheese
coarse sea salt
freshly ground pepper
Optional: 1-2 tablespoons of lemon juice and zest from one lemon
Combine garlic scape, nuts, parmesan cheese, salt and pepper in food processor and blend. Slowly drizzle extra virgin olive oil into processor with motor still running. Taste and adjust.
Mix with pasta. Serve with fresh vegetables. Spread on barbequed chicken. Top grilled French bread. Use on your home made pizza.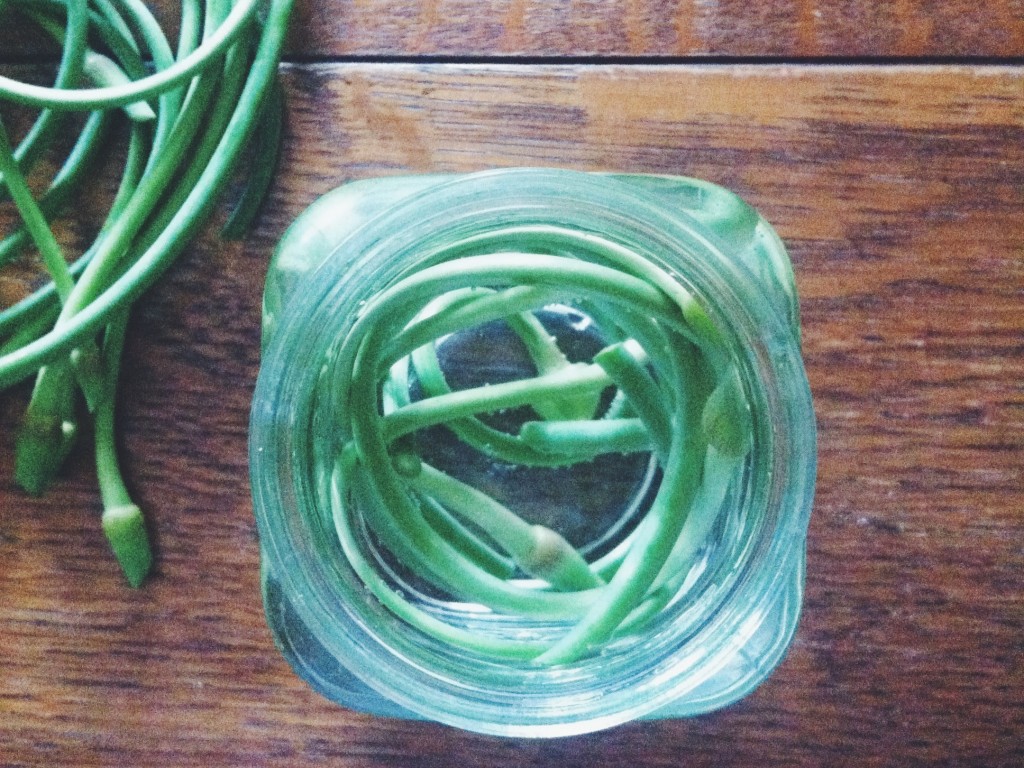 Garlic Scape Vinegar
Clean, sterilized jar (any size you want)
fill jar with garlic scapes (I used approximately five)
fill with vinegar, (I used white wine vinegar, but red wine vinegar would work great, too)
Once your jar is filled, seal, and place in a cool dark spot for two to three weeks. Enjoy.