Smoked Chicken And Noodle Stir Fry
I'm a big fan of cooking too much food. I do it on purpose so that there will be leftovers that I can work with to create another meal. This scenario played itself out last night as I BBQ'd entirely to much chicken for the smoked chicken sandwiches we enjoyed.
I also happen to be a big fan of the show Diners, Drive Ins and Dives. Please don't judge me, it's a guilty pleasure. On a recent episode, Guy was at a place called in Portland. Besides Frank seeming like a really cool dude, his food looked awesome. Unfortunately, because I'm allergic to wheat, I can't partake in Frank's awesome noodles. Alas, I tried to replicate his chicken and noodle dish with my own BBQ twist using the already cooked chicken thighs from last night. As I sit here in the beautiful sun, I will say that Frank's is probably better, but this one isn't too shabby.
6 hickory smoked chicken thighs, diced and seasoned with salt and pepper
1 green bell pepper, sliced into 1 inch strips
1 red bell pepper, sliced into 1 inch strips
1/2 head cabbage, shredded
1 cup diced pineapple
13 cloves fresh garlic, minced
1 cup diced celery
1 Tbl shredded fresh ginger
1 Tbl chili garlic sauce
1/2 cup of your favorite teriyaki sauce
16 oz cooked noodles of you choice, I use gluten free rice noodles
2 Tbl sesame oil
1/3 cup peanut oil
One would typically build this meal in a wok, but because I'm not built to run a wok, I cooked it hot and fast in a stock pot. Begin by cooking your noodles while you're chopping up your veggies. Once everything is chopped and ready to go and the noodles are drained and set aside, heat the oils on high in the same stock pot you boiled the noodles. Add your peppers and celery and toss quickly for a minutes, add your chopped chicken, cook for a little over a minute, add your garlic, ginger, chili-garlic sauce, pineapple and cabbage, toss all of this for another minute and finally add your noodles and teriyaki sauce. Bring this all together for a couple of minutes and enjoy.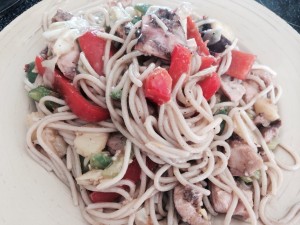 This entire recipe from start to finish only took about 30 minutes to throw together so it's great for a busy weeknight. Pre cook your chicken during your Sunday BBQ and you'll be all set for this tasty and fresh one-pot dinner. Oh yeah, and don't forget to cover it in plenty of Sriracha, because that stuff is awesome.