Gluten Free Creamy Clam Chowder……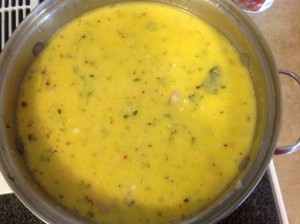 I love clam chowder; I actually consider myself an amateur connoisseur of this bivalve mollusks stew.  With friends, Kim and I have traveled the coasts of Oregon and Washington tasting the different versions that various restaurants present to their patrons.  I've had some great chowders and some that were, hmmmm how should I say this nicely, non-edible?  Yeah, that's the ticket!  When I went completely gluten free, that obviously threw a big wrench in my enjoyment  of clam chowder.  We've got a friend that makes a top notch chowder that is gluten free, so it's not quite as thick as some chowdahs, but I'd put it up against any that I've had at a restaurant.  But, like many things I've cooked, I've got to have my own version so I can cook it whenever I'd like.
Last week we decided that it was time to make a batch, so I set out on a journey to build a recipe that would be, hopefully, palatable.  I did my usual research when I'm trying to build a recipe for something.  I read lots of recipes, some articles, checked a half dozen sundials, high-fived a chrysanthemum and consulted with one person that has eaten chowder in their life.  I then threw all of that info out the window and walked around the store thinking of things that would taste good when put together with clams and large amounts of half and half.  After about an hour of wandering Safeway, and then a second trip after I wasn't happy with everything I'd garnered the first trip, this is what I came up with:
3/4 Lb apple wood smoked bacon, sliced into bite sized pieces
1/2 Lb pepper bacon, sliced into bite sized pieces
4 Lbs red potatoes, diced
2 Medium yellow onions, diced
5-6.5 oz chopped clams in juice
3-10 oz can baby clams, whole
1 C sliced carrots
1 C diced celery
6 Cloves garlic, minced
2.5 T cornstarch
1 Cup Chardonnay
4.5 Cups clam juice (use the juice from the cans of clams and supplement from there.  You'll probably need an 8 oz bottle to go along with it, maybe a hair more)
1 T fresh parsley
1 T fresh thyme
3 Bay leaves
1 T fresh dill, chopped
1 T Black pepper
1 Tsp salt
4 T butter
8 Cups half and half
1/2 tsp red chili flake
Sauté the bacon in your large chowder-cooking vessel until it's cooked, but crispy.  Remove the bacon from the pot and place your onions, celery, carrots in and cook until slightly tender.  Throw in your minced garlic and cook for a few more minutes.  At this point, toss in your cornstarch, cook for 4-5 minutes and then add your chardonnay and allow it to tighten up.  Add your taters and clam juice and cook on medium heat for 15 minutes.  I don't like to cook my potatoes completely at this step.  I actually kept them a little stiff so that over the course of the simmering time, they'd finish off and not be too mushy when it's eatin' time.  Once you've softened the potatoes a bit, add your remaining herbs, salt, pepper, butter, half and half, clams and anything else I may have listed above but have forgotten.  Simmer this entire concoction for several hours, I went 4 hours with mine, on low heat (you don't the cream to curdle) and stir regularly.
When you sit down to enjoy this, MAKE SURE YOU HAVE SOURDOUGH BREAD!  We didn't have it when we had dinner and you'd have thought my lovely, beautiful, wonderful and awesome wife had lost a puppy without it…..Just kidding honey….:)
The only feedback I got from my test subjects when they had this was that it needed more clams, so I've changed that in this iteration of the recipe.  The amount of the herbs and spices is defintely negotiable as is the amount of garlic and clams.  I thought everything worked well, despite needing more clams, in this recipe.  I hope you enjoy it and even if you don't, please post a comment below and let me know what you think.