Holly-Day Treats Part Two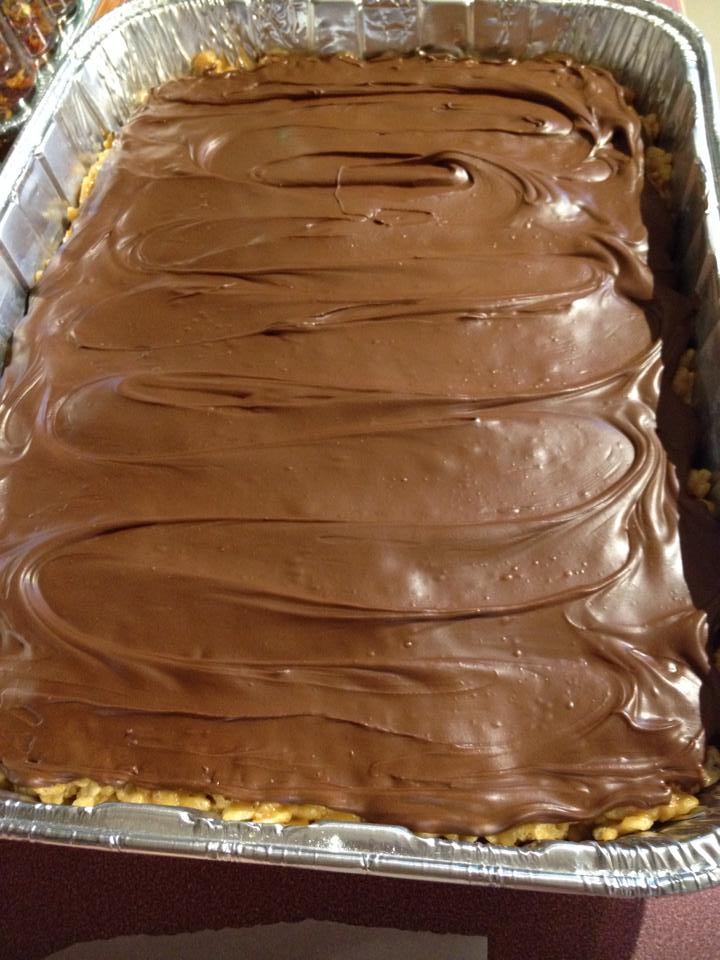 My friend Holly is back with another installment of her Holly-day treat recipes.  We hope you enjoy!!!
Five years ago, I hosted my first annual "Cookie Party."  The event was named as such in part because it's a party where we make cookies and treats all day, but also because The Sarah Silverman Program on Comedy Central featured a fictional reality show called "Cookie Party" that had a catchy as all get-out theme song I just could not stop singing (experience it for yourself here: http://www.youtube.com/watch?v=uuTTxrVnGlE).   Event title aside, it quickly became my favorite day of the year.  I pull out all of my favorite recipes from the holidays of my childhood, don an apron and a pair of slippers, and invite my friends (and their kids) over to bake and decorate all day.  It seems like every year I've added a few new recipes, but here are a couple of my tried-and-true Holly-Day Cookie Party standards: The Bars.
As a child, my Rice Krispie Treat experience was not "normal."  When I was first presented with the marshmallow-style treats, I was underwhelmed and disappointed.  "Where is the peanut butter gooeyness?  Where is the chocolate topping?"  My mother had always made us the treats that had chocolate, butterscotch, and peanut butter, and I believe that they are far superior to any other Rice Krispie Treat around.  Needless to say, the first recipe I asked for from my mother when I moved out was this one.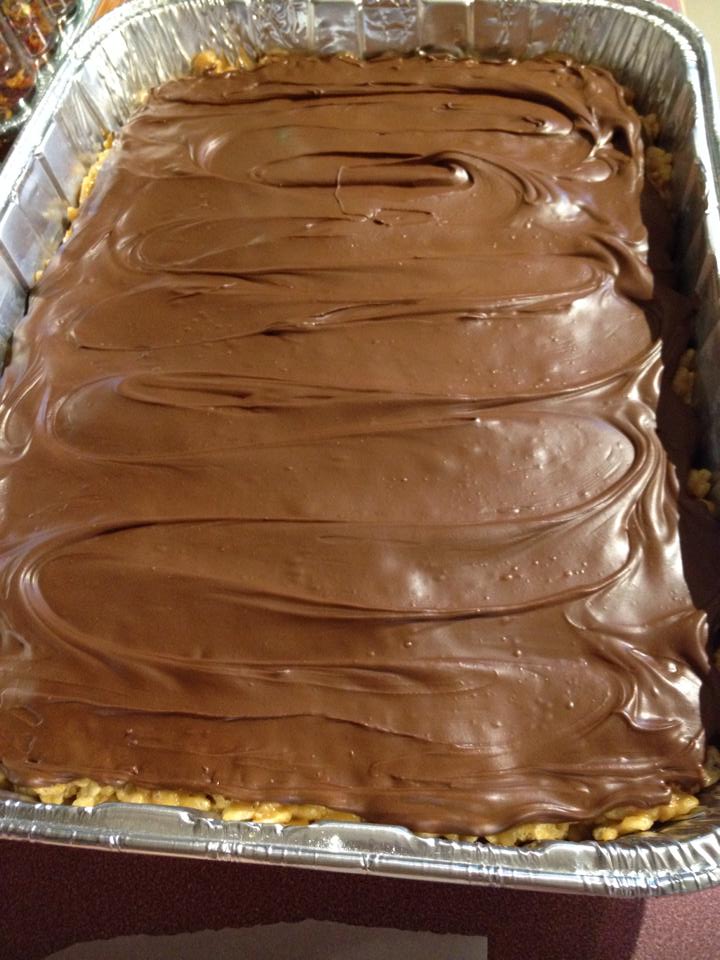 Butterscotch Chocolate Rice Krispie Treat Bars
1C light corn syrup
1C sugar
1C peanut butter
5C rice krispies
1C chocolate chips
1C butterscotch chips
Butter
Butter the bottom and sides of a 9x11x2 pan.  In a large pot, heat corn syrup, sugar, and peanut butter to a boil, stirring constantly.   Remove from heat.  Stir in rice krispies until combined.  Press into buttered pan.
Combine the chocolate chips and butterscotch chips in a glass bowl and microwave :30 at a time, stirring between increments, until melted.  Pour and spread evenly over treats.  Allow to cool at room temperature until chocolate is set.  Cut into squares.
For my first official "grown-up" Christmas, I received a treat-box from a colleague named Paula.  This box was filled with cookies, fudge, rum-balls, candies, and all sorts of delicious goodies that reminded me of home.  One treat in particular was OBSCENELY DELICOUS, and for the next five years, I looked forward to Paula's Christmas Treat Box and these little peanut butter and chocolate bars of deliciousness.  I told my boyfriend (who is now my husband) that he could eat any other treat in the box, but the peanut butter treats were MINE.  I eventually wised up and asked Paula for the recipe so that I could share my enjoyment with others.  I've modified it over the years to simplify, and now it's one of the easiest treats I make for my own Christmas treat boxes that I give to my coworkers.  That is, if I can get them into the boxes before my husband devours them all.


Peanut Butter Chocolate Treat Bars
BASE:
2 packages ready-to-bake sugar cookie dough (the rectangular packages, not the tubes)
FILLING:
1/2C butter
1/2C peanut butter
2C powdered sugar
2T milk
TOPPING:
1 and 1/2C chocolate Chips
1/4C butter
M&Ms or sprinkles (for fun)
Butter (for greasing the pan)
Butter the bottom and sides of a 9x11x2 pan. Preheat oven to 350.  Arrange cookie dough pieces into the pan so that when they bake and spread, they cover the whole pan. Bake until cookie dough starts to turn golden around the edges.  Remove and allow to cool.
Beat filling ingredients in a mixer on medium speed until well incorporated (scraping the sides of the bowl occasionally). Spread evenly over cooled cookie base.  Refrigerate while you prepare the topping.
In a glass bowl, microwave butter and chocolate chips :30 at a time, stirring between increments until completely melted.  Pour and spread evenly over refrigerated base and filling.  Sprinkle M&Ms or sprinkles on top.  Allow to cool at room temperature until chocolate is set.  Cut into squares.