Gluten Free Margherita-Style Spaghetti Bake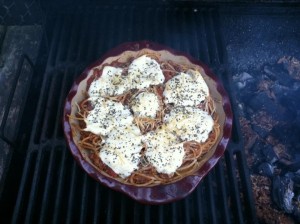 One of my favorite things I've ever made, gluten free or gluten full, is a spaghetti bake that I ended up cooking on my BBQ.  It's actually really easy and doesn't take to long to make.  Here you go:
1 16 oz Package Tinkyada Spaghetti-Style Brown Rice Pasta (Or Regular Spaghetti)
2 Jars Of Your Favorite Pasta Sauce
Cheddar Cheese, around a pound
1 Pound Hamburger
1 Roll Fresh Mozzarella
Fresh Basil Leaves
Parmesan Cheese
1 Pie Plate
Brown your hamburger and cook your noodles then incorporate those two with your sauce.  You don't have to use both jars of sauce, I really like mine saucy, so that's how I roll.  Once your mix is mingling together nicely, put a layer into the pie plate, about halfway up the side.  Cover this first layer with the cheddar cheese, liberally, and put the second layer on.  This should take all of your mix.  Now it's time to go Margherita style on this dish.  Top the pie with fresh basil and cover those with slices of the fresh mozzarella and sprinkle parmesan over everything.
The fun part is throwing this bad boy on the BBQ, but if you don't want go that route, bake it at 375 for 30 minutes.  If you do want to try the BBQ, heat up your grill with real hardwood charcoal and scoot all of the coals over to one side.  Place your pie plate over the offset side and let that baby cook for around 30 minutes, but you'll definitely want to keep an eye on it and rotate 180 degrees halfway through cooking.  Enjoy!!!!!