Heathen Brewing eyeing brewpub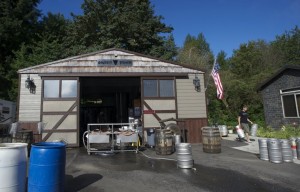 Heathen Brewing eyeing brewpub
Plans for Salmon Creek project hinge on county fee holiday
By Cami Joner, Columbian retail & real estate reporter
A local beermaker's dream of showcasing his brew in a Salmon Creek-area pub could be realized next year if his plan meets criteria for Clark County's fee holiday.
A 100 percent waiver of traffic impact and permit fees could make the project — estimated at between $1.2 million and $1.6 million — pencil out, said Sunny Parsons, owner of Vancouver's Heathen Brewing. The direct-sale brewery is one of the fastest-growing in the local craft beer industry, expanding from Parson's hobby to a three-employee operation during its first year of business.
Parsons now operates the brewery in a commercial building next to his Vancouver home. He said Heathen Brewing participates in direct sales to pubs and private parties all over the Portland-Vancouver-metro area and as far south as Eugene, Ore., and east to Bend, Ore.
"As fast as we can make beer, people are buying it," said Parsons.
Now, he also wants a restaurant setting to feature his beer. Preliminary plans call for a 9,400-square-foot building at 2311 N.E. 119th St., southeast of the Klineline Bridge. About 5,400 square feet would include space for a restaurant, bar, kitchen and brewing, with the rest considered flex space to be used by the business or leased to a tenant.
"We're hoping to add an additional 22 jobs between the restaurant and brewery workers," Parsons said.
He co-owns the project site on the south bank of Salmon Creek with his mother, Cindy Severson. The 0.58-acre tract, which cost them $400,000 in 2006, is next door to the Cascade Flooring America business, also co-owned by Severson and Parsons.
Earlier talk of developing the site never came to fruition, due to high traffic impact fees, Parsons said.
"It just didn't seem feasible," he said.
At first glance, the development meets all the requirements for exemptions, said Marty Snell, director of Clark County's Community Development Department.
Snell said the project would be eligible under the resolution to waive all fees, which can range from $25,000 to $300,000. He added that the holiday was extended in June to all commercial developments, including retail projects, which previously only qualified for a 50 percent reduction.
First adopted in 2012, the original fee holiday also stipulated that employers had to generate between 10 and 15 jobs in order to receive the fee waiver. In June, the county's three-member board of commissioners did away with the job requirement and voted to exempt all commercial projects from fees as a way to generate jobs.
"If it's a commercial or office building or if they're opening a storefront or processing facility, they would be eligible," Snell said. "Currently, there's no minimum employer number you have to hit. It's more open-ended."
Projects developed under all versions of the fee holiday so far have generated about 450 jobs and total about $58 million worth of new construction, Snell said.
Parsons said it's too early to say for sure whether the fee waiver will spur development of a restaurant and production facility for Heathen Brewing. He expects to know more after a Nov. 21 meeting with county development officials to go over his plans.
"Right now, we're more in the wish phase than we are in the breaking-ground stage," Parsons said.
The post Heathen Brewing eyeing brewpub appeared first on Brews in Clark.