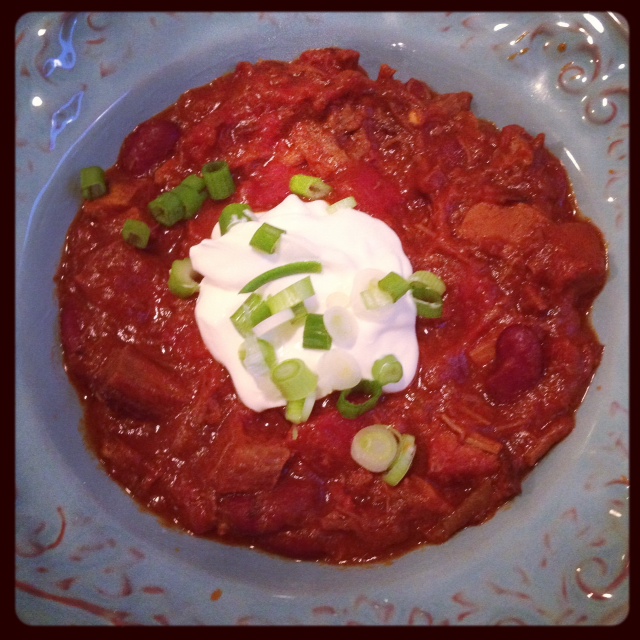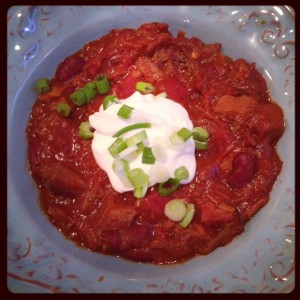 Do you add browned hamburger to your chili? Why not try smoked brisket?! The brisket brings the chili alive and imparts a rich taste that hamburger just can't touch.
The secret to this delicious recipe is not just the brisket (which my husband smoked in his Traeger Grill for 17 hours); but also the spice mix from a box of Carroll Shelby's Chili Kit. It has the perfect amount of cumin  and chili powder. I don't use the salt, cayenne or masa mix — just the large bag of spices. You can find the kit at WinCo for $1.88.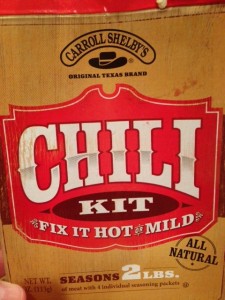 Best Ever Brisket Chili
Serves: one large crock pot or about 12 cups chili
For a heartier, more rib sticking chili: serve over cooked macaroni noodles.
  4-plus cups of smoked brisket, cubed
1 15 oz. can diced tomatoes
1 15 oz. can tomato sauce
1 15 oz. can kidney or black beans, rinsed & drained
1 onion, diced & sautéed
1 4 oz. can roasted & diced green chiles
1 package Carroll Shelby's chili spice mix
8 oz water (more if you like your chili soupy; we like it thick)
Sauté onion in butter or olive oil until translucent. Place all ingredients in a crock pot and simmer on high for 5 hours, reduce to low for one hour.  Serve with sour cream, green onions and corn bread. Enjoy!