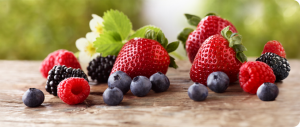 This is the best time of the year for berries. In the beautiful northwest you can pretty much find them anywhere, you just have to pull your car over… berries are so fantastic for you and they taste amazing! Eat them plain, with your oatmeal, on top of your pork chop (see recipe below), or on your Vanilla flavored frozen yogurt.
There are so many benefits to eating berries on a regular basis, it's ridiculous!
They help you out by:
Assisting in memory function
Healthy aging
Cancer and various disease preventative
Weight management
Wheww!! Not to mention they taste like desert! Here is a fabulous recipe we love:
Black Berry Pork Chops:
Here's what you're going to need:
4 pork chops
1 1/2 cups of fresh blackberries
½ teaspoon dried thyme
1 teaspoon cinnamon
a little bit of salt and pepper
½ cup balsamic vinegar
2 tablespoons water
small pinch of salt
We usually cook our pork chops on the stove with a grill-like pan. You are more than welcome to use a barbecue grill to cook the pork if you prefer. Wash your pork chops and sprinkle some salt and pepper, cinnamon, and thyme on those bad boys- but wait, don't start cooking these babies quite yet because we need to make the most important part first, the sauce. Place a small saucepan over medium heat on your stove top and add your blackberries, we like to use fresh blackberries not frozen ones, balsamic vinegar, water, and a very small, very small, pinch of salt. You really need to pay attention to the sauce because it is quick to burn.  Once the sauce is heated up, remove from heat and place sauce into a separate bowl and keep the black berries because they are a super delicious topper once we are finished here.  Use a glazing brush, or other coating weapon of choice, to glaze one side of your pork chop then place that glazed side down onto your pan or barbecue grill.  Then glaze the other side, cover grill and let cook for 6-7 minutes per side. Pork must be cooked all the way through, so make sure they are edible before taking them off the grill! This should take about 13 to 16 minutes depending on just how big they are. Once your pork chops are all done cooking, add the rest of your blackberry sauce that you didn't use and finish topping with the blackberries!!!
Enjoy!!!
Your healthy friends,
Courtney & Ryan