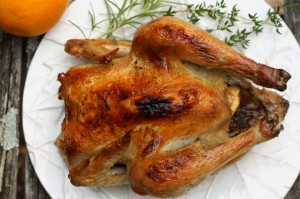 It's a bit harder this morning to get my head into a recipe for a romantic meal when it's warm—I'm at the coast where the heat wave will be 68 degrees; the romance is the sound of the ocean; the menu includes house made Ding Dongs from Blackfish Cafe in Lincoln City.
But I'll try.
What I'm suggesting today is a Crock Pot chicken. Yeah, I know. What's romantic about that phrase? And you're right. Chicken is more the what-I-eat when-I'm-trying-to-be-healtful food, not the stuff of candlelight and rose petal decorated tables. And Crock Pot? Homey and cozy, yes, romantic, no.
But stay with me for a moment or two and let me explain.
During the hot weather, coming home from work and whipping up a meal—nourishing, filling, tasty, much less romantic—can be one of the biggest challenges of the day. With this recipe you can set up the slow cooker to do the work while you're gone, keep the kitchen cool and have something for not one but two meals.  AND when you get home, you can have a few minutes with that special person to talk about your day and reconnect over a glass of lemonade or wine. And isn't that what romance really is? That connection, that sharing, that time together.
So, here's a recipe I found on Pinterest and have adapted a bit.
Crock-Pot Roasted Chicken
Two meals for 2 people or one for 4
one 3-4 lb. chicken
1 tsp coarse salt
grindings of fresh pepper to taste
2 lemons, one halved, one sliced
2 sprigs fresh rosemary
1. Rinse chicken and pat dry. Sprinkle with salt and pepper.
2. Rub outside of chicken with halved lemon. Place lemon slices in the cavity of the bird. Add rosemary.
3. Place chicken into a slow cooker bag (available in most grocery stores) or onto a sling made of heavy duty aluminum foil.
4. Cook on low for 6-7 hours. Remove from slow cooker and allow to rest for 10 minutes before slicing.
5. If you like, just before serving you can crisp the skin by broiling for about 5 minutes as the image above shows.
Now what, you're asking? Well, simply slicing the chicken and serving with a salad and bread works for simplicity and ease of serving. Or put together a sandwich on a croissant, adding tomato and lettuce and serving with chips or deli macaroni salad. You can also use the chicken to make chicken salad, mixing with onion, celery, dried cranberries and mayonnaise.
And whichever of the alternatives you pick, use another one the next night for an even faster meal. Leaving plenty of time for you to throw a few extra lemons, a candle or two and a bit of greenery onto the table where you'll be spending your quiet, hopefully romantic, evening with your partner.