Trail Mix: Blazer Opt-Outs, Draft, Free Agency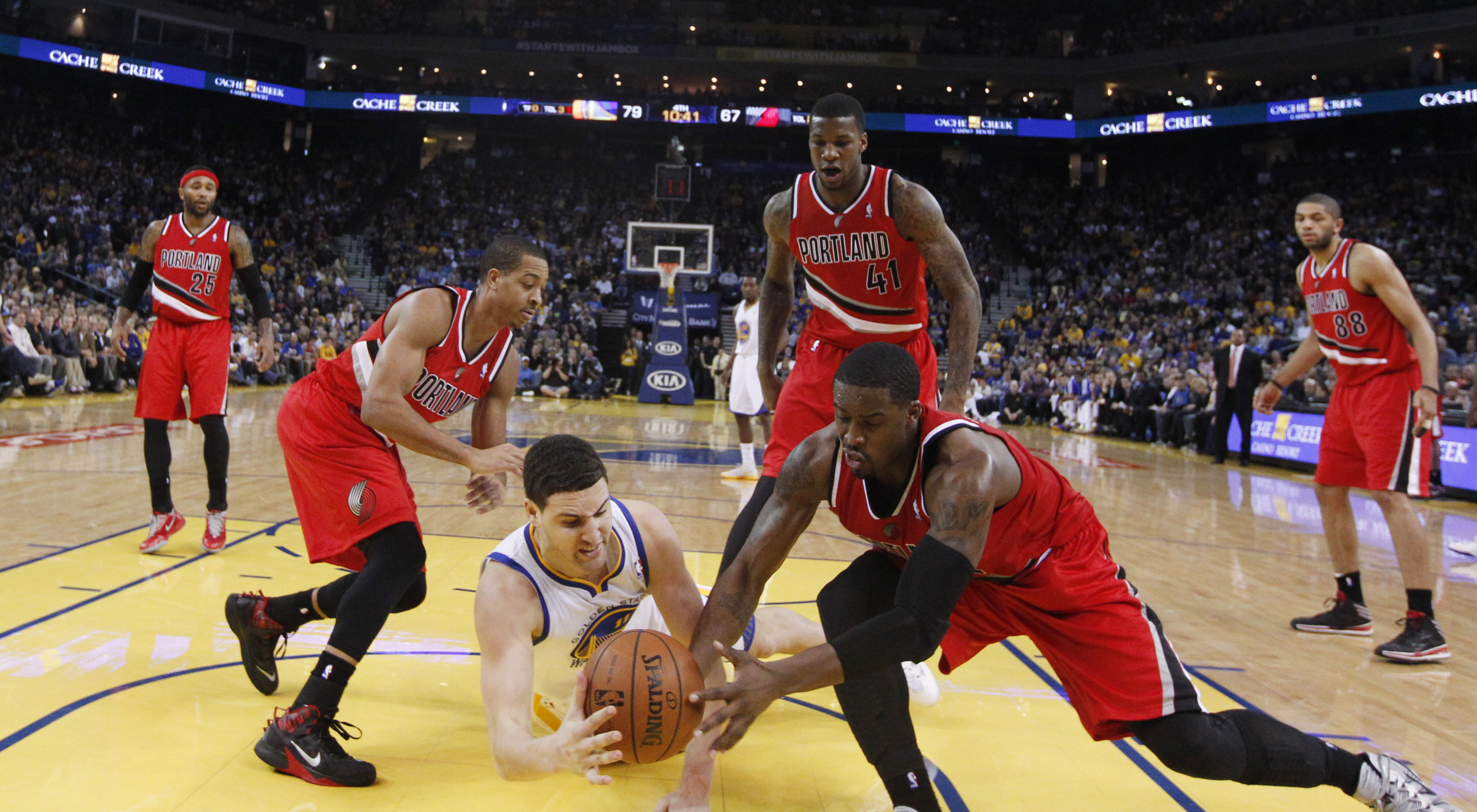 For NBA fans, yes, the season really never stops. But objectively, we aren't talking about a whole lot in the summer. I mean it seems like we've been talking about Klay Thompson on the internet since the Spurs won Game 5.
Alas, there are important dates to watch that are just around the corner.
June 26th (Thursday): 2014 NBA Draft. The Blazers have no picks in this years draft but general manager Neil Olshey has talked about the possibility of trading into the draft and don't think for a second the Blazers brass aren't prepared for the phone to ring. The draft is crazy and a lot can happen, draft picks aside.
June 30th: Player option deadline, the last day players with a player option-year can choose to opt-out of their contracts. As I'm sure you've heard, Miami's LeBron James has opted out of his contract with the Heat to become an unrestricted free-agent. Unless he's taking the midlevel exception (which of course he's not going to), he's not coming to Portland. But still, he's going to be the biggest and most-important domino (no offense to Minnesota's Kevin Love) to fall and where he go could have consequences felt in Portland. For a good look at his possible destinations, I suggest this Zach Lowe piece on Grantland.
July 1st: The first day of free agency. NBA teams are allowed to talk to any free agents. The Blazers are armed with the Midlevel Exception which could allow the Blazers to pay a player in excess of $5 million without counting against their cap. Or it could allow them to sign two players at 2.5 million, etc.
July 12th: First game for the Trail Blazers in the Las Vegas Summer League
July 28th: Team USA basketball mini-camp, where LaMarcus Aldridge and Damian Lillard are expected to compete for places on the team that will represent the United States at this summer's basketball World Cup.
With the draft around the corner, Casey Holdahl of TrailBlazers.com put together a nice little history of where every current Blazer was drafted.
Also, Portland's Damian Lillard has been nominated for two ESPY awards. Lillard is nominated for Best Breakthrough Athlete, a category which also includes Richard Sherman of the Seahawks. Lillard's series-winning shot against the Rockets is also one of 16 sports moments that are in a bracket style vote for Best Play. Hat-tip to Casey on that as well.
Lillard's shot is ranked as the number two seed, but ESPY host Drake's friend Johnny Manziel is also nominated on the same side of the bracket. Be suspicious of any upsets/rap illuminati conspiracies. You've been warned.
In other award news, Damian Lillard was selected as the NBA's Social MVP during last night's NBA Social Media Awards.
The results are in & you voted @Dame_Lillard as Social MVP! pic.twitter.com/klIqKjjV46

— NBA TV (@NBATV) June 23, 2014
Dave Deckard from Blazersedge.com put together a list of players Portland could target with their full mid-level exception.
Trevor Ariza, who had a great year for Washington but could get lost in the shuffle if theWizards use their cap space to chase a star. He can defend and shoot the three…a perfect fit for Portland's system. He'll probably be in higher demand than the Blazers can meet, but you never know.

Spencer Hawes, much-discussed at the trading deadline around here. He makes more than the MLE now and centers are always in demand, but he was lost in Philly last year and even more lost after he moved to Cleveland.

Rodney Stuckey, whose career has dipped since his early days in Detroit. He's not a three-point threat or a defender but he can play both guard positions off the bench. Stuckey's your man if you want a guy you can throw the ball to and say, "Score!" It's likely the Blazers would figure they already have a cheaper version of Stuckey in Mo Williams. But Rodney is a little younger and more apt to take it to the hole.

Andray Blatche has the body and the skills but he's a knucklehead. I've always been of the opinion that every team can absorb one loose cannon…that it might even be a good thing. I'm not sure Blatche is that good thing, but man would he bring a wrinkle or two to Portland's frontcourt. He's been making peanuts because of Washington's amnesty clause. Who knows where his salary will go now that he's back in the actual economy.

Danny Granger has tons of miles on him and has been injured. I don't believe he'll ever return to his old form but if the Blazers did, they could do worse for a bench scorer.

Jordan Hill would provide great rebounding. He's an efficient scorer too. Plus he'd be one of the only guys on this list who might be happy to have a full MLE salary instead of disappointed. Put an asterisk by his name.

Mike Miller is a veteran shooter who will probably be worth more than the MLE to somebody, but if Memphis breaks apart and nobody is picking him up…man. Can you imagine him on a team that opened up as many triple opportunities as the Blazers do?

Emeka Okafor has been injured and seems to be an afterthought at this point. If he were healthy he could bolster Robin Lopez's defense. Plus he could do most of the things Lopez does in the offense. The Blazers would make him look good. Then again, if he were healthy he might be worth more than $5 million still.
In free agent news that everybody saw coming, Jeff Goodman reported on twitter that Mo Williams has officially informed the Blazers he will opt-out of his contract on July 1st.
Mo Williams has informed Portland that he will become a free agent, agent Mark Bartelstein told ESPN.

— Jeff Goodman (@GoodmanESPN) June 23, 2014
Also, today we released another installment of our summer series "Once A Blazer," on the first Egyptian born player to ever play in the NBA, Alaa Abdelnaby.
Less than 48 hours until NBA draft craziness!