Once A Blazer: Alaa Abdelnaby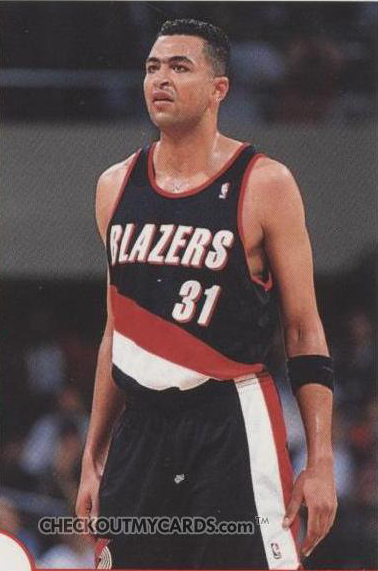 Welcome to the latest installment of Once A Blazer.
Previous installments:
Gary Gregor
Today, it's Alaa Abdelnaby.
Born in Cairo, Egypt on June 24, 1968 according to Basketball-Reference.com
OR
He was born in Alexandria, Egypt on that same day, according to Wikipedia, citing this New York Times article in 1991, which says Abdelnaby was born in Alexandria.
Either way, he ended up moving to New Jersey when he was two.
Drafted by the Portland Trail Blazers with the 25th pick of the first round in the 1990 NBA Draft out of Duke University.
Fun Facts: The first and only player of Egyptian birth to play in the NBA. He had a 4-year career at Duke after being a McDonald's HIgh School All-American in New Jersey.
How He Became A Blazer: See above
Best Blazer Performance(s): His best performance in a Blazer uniform came in defeat in the 1991-92 season when he scored 20 points and grabbed 11 rebounds in a 10-point loss to the Detroit Pistons on December 12, 1991. He scored 15 points in 15 minutes off the bench in his rookie season in a blowout against the Sacramento Kings on April 19, 1991.
How It Ended: Abdelnaby was traded by the Blazers to the Milwaukee Bucks on July 1, 1992 for Tracy Murray, who had a rather lengthy career in the league that included two stops in Portland. Abdelnaby was then traded again from the Bucks to the Celtics for Jon Barry and a 1995 second round pick that was eventually wound up being former 76er and Cavaliers point guard Eric Snow.
Abdelnaby served in the league through the 1994-95 season and finished his NBA career with the Philadelphia 76ers after a short stint with the Kings. He played in Europe and CBA until before finishing his career with the Idaho Stampede before they joined the NBA D-League.
Also, we have to thank the internet once again here at Blazer Banter. Some lovely soul made a 22 second compilation of Abel Abdelnaby dunks, enjoy:
[youtube http://www.youtube.com/watch?v=xEx5GtmKJoU&w=420&h=315]