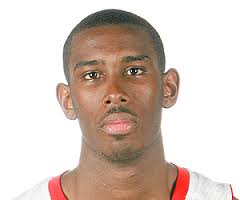 Portland Trail Blazers guard Terrel Harris will serve a five-game suspension at the start of the 2013-2014 season for violating terms of the NBA/NBPA Anti-Drug Program, the league announced on Monday.
"Harris' suspension will begin with the first game of the next NBA regular season for which he is eligible and physically able to play," the NBA press release continued.
According to NBA spokesman Tim Kuck, the league can not comment beyond the press release and on what precipitated the suspension due to the Collective Bargaining Agreement.
The NBA's Anti-Drug Program states that players are subject to "six random, unannounced drug tests during each season and off-season." Players who test positive for marijuana "will be required to submit to treatment, counseling, and aftercare testing in the Program.  A second violation will result in a $25,000 fine, and any subsequent violations will result in a suspension that is 5 games longer than the player's immediately-preceding marijuana suspension."
Harris, a 6-foot-4 shooting guard, has spent the majority of his professional career overseas and in the NBA Development League. However, Harris broke through into the NBA during the lockout-shortened 2011-2012 season with the Miami Heat. During that rookie season, Harris appeared in 22 games and scored the final point in the Heat's NBA Finals Game 5 clinching victory over the Oklahoma City.
Last month when the Blazers traded for New Orleans center Robin Lopez, Harris also came over as part of the deal. Through his brief NBA career, Harris has averaged 2.3 points, 1.8 rebounds and .8 assists.
Even before the suspension, Harris was considered a long shot to make the Blazers' roster this training camp. If the Blazers do not cut Harris before Oct. 31, then his minimum contract of $884,293 will become guaranteed.
Harris' journey through the NBA was chronicled last week in The Columbian. In the piece, Harris expressed a realistic view in his chances of making the team.
"It's not easy making the last spot on the roster," Harris said. "The thing is, I want to be in the NBA. If I have to go overseas, I will. But I'm just going to keep fighting until they kick me out or they turn out the lights."