New Blazers assistant coach Nate Tibbetts: "My job is … to try to help guys get better."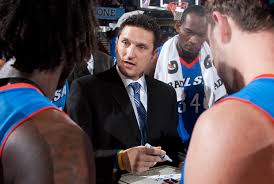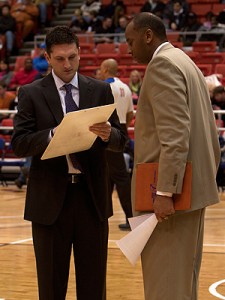 Before they were Blazers: newly-hired Trail Blazer assistant coach Nate Tibbetts and current assistant Dale Osbourne pictured together at a Tulsa 66ers game. Tibbetts was the head coach for the D-League 66ers from 2009-2011.
Nate Tibbetts spent Thursday afternoon at his house on the lake in the middle of South Dakota. And like any self-respecting basketball junkie, Tibbetts had the television tuned to the appropriate channel.
"Trying to spend a little time with some family," Tibbetts said, "and watch a little NBA combine action."
This week, the Portland Trail Blazers announced Tibbetts as the latest addition to join Terry Stotts' coaching staff. Tibbetts, who will replace Kaleb Canales, expects to arrive in town on May 29. However, even as Tibbetts gets in some last moments this spring with friends and family in his home state of South Dakota, the gym rarely leaves his mind.
"They cut in and out of drill work. It's hard to really see anything," Tibbetts said about the production of the live look-ins. "(But) I like to hear the guys talk about it."
As a coach praised for his knowledge of the game and rapport with players, Tibbetts, 36, understands the importance of strong drill work and development. The former head coach of the NBA D-League Tulsa 66ers (2009-2011), Tibbetts led the team to the playoffs each season. In 2011, three of his players earned four call-ups to the NBA – most in the league.
With the job, Tibbetts – who worked with current Blazer assistant coach Dale Osbourne in Tulsa – also had the opportunity to work with the team's NBA affiliate, the Oklahoma City Thunder. Joey James, a friend and former Univ. of South Dakota teammate of Tibbetts, now coaches at their alma mater. James remembers being in Las Vegas one summer for a recruiting trip when Tibbetts was also in town. The old friends spent some time catching up, but Tibbetts never stopped punching the clock.
"In Vegas, we stayed in the same room… and he would go and work out Kevin Durant and the other guys," James recalled. "I just think his positive energy and his ability to understand the game (helps him) be around those guys."
According to James, Tibbetts would even return to campus and help run new drills for the latest generation of Coyote players. Although Tibbetts played point guard in college, he was versatile enough to teach footwork to big men in a drill he dubbed, the "Tim Duncan Move."
"To be honest with you, I think it's more close to a traveling (call) than anything," James joked about the Timmy move. "But he just likes working guys out."
In 2011 when Tibbetts landed an assistant job with the Cleveland Cavaliers, he remained as a coach dedicated to development. Tibbetts worked with the young Cavalier players and grew a bond with All-Star point guard Kyrie Irving. The two often played physical one-on-one games and Irving even praised Tibbetts during his 2012 Rookie of the Year acceptance speech.
"Coach Tibbetts told me what to do and what not to do every single day," Irving said.
Through his 12-year coaching career, Tibbetts has been a man comfortable in working with projects – NAIA basketball, the D-League, the rising Thunder, the post-LeBron Cavaliers and now the young Blazers. Tibbetts said that during his several talks with the team, he understood the Blazer's direction in terms of development.
"I think anytime that you have younger players on your team, that's going to be very important," Tibbetts said. "I know that Kaleb (Canales) did a great job with that before and hopefully I can do just as good a job. We're going to add more young guys with the draft this year, so it's going to be important to be ready."
"My job as an assistant coach is to try to help guys get better."
Tibbetts said that he has received an influx of text messages from people telling him how much he'll enjoy Portland. But like most newbies, Tibbetts comes in with the limited knowledge but universal truth that it rains here. So, Tibbetts joked that he and his wife are moving from the city with the second most cloud cover (Cleveland) to the No. 1 spot. Still, rainy days do not affect a basketball junkie.
"The great thing about that is, the lights are always bright in the practice facility and in the Rose Garden," Tibbetts said.