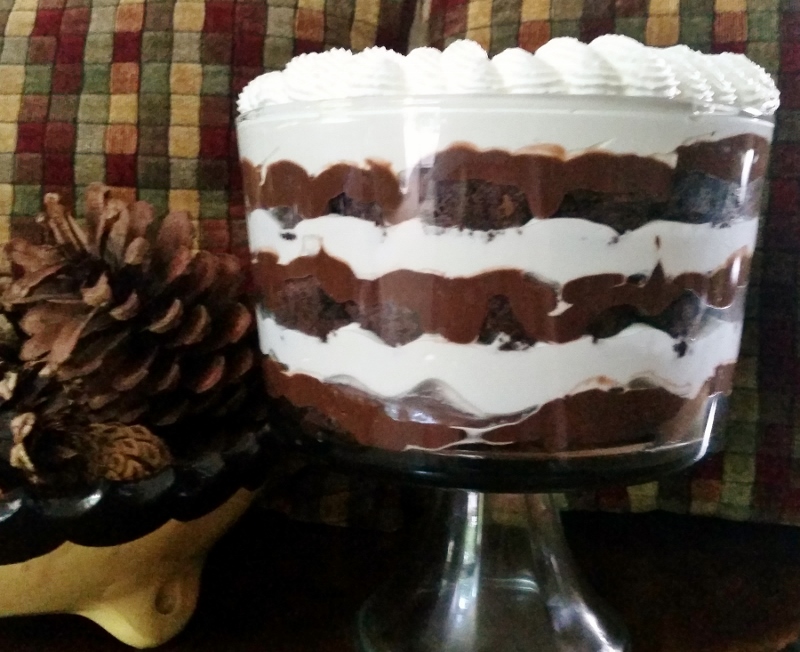 So, I figured it out. A mudslide, which can be an awful, devastating natural disaster but also makes for a very interesting title for a gooey, chocolatey dessert, is represented in the following way here: the brownies are the big rocks and boulders, the chocolate pudding is the (hello!) mud, and the whipped cream . . . hmm . . . snow? Now that I have explained the physical and metaphorical representations of this dessert, you have now likely come to realize what a heavenly, decadent creation this is. And you would be right.
Amazing confection, sad name.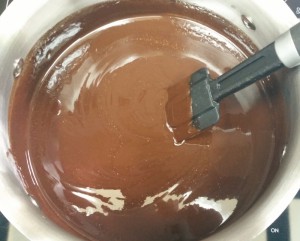 Start by making the brownies that, by themselves, just seem to make the world go round. You could always buy store-bought brownies to make it easier on yourself, but then you wouldn't have these. And you want these. So, melt a pound of butter together with a pound of semisweet chocolate chips and some unsweetened chocolate.
In a separate bowl, stir 6 eggs together with 3 tablespoons brewed coffee, vanilla, and sugar until it looks like a really weird, oddly-colored mixture thing.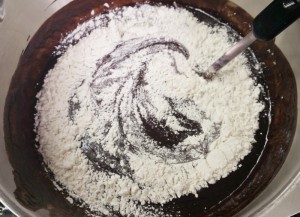 When the chocolate mixture has cooled a bit, combine 1-1/4 cups of flour with some baking powder and salt, then stir it into the chocolate mixture.
Toss in another 12 ounces of chocolate chips and mix, mix, mix. Ever wonder why brownies are usually always made by hand when everything else in the free world is made with a mixer? Even my blondies are hand-made!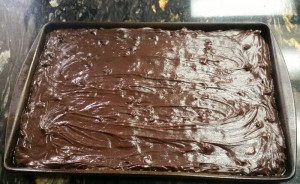 Pour the batter into a greased 12 x 18 x 1-1/2 inch sheet pan and bake at 350 for 20 minutes, then wrap the pan on the oven shelf one time to release any air bubbles and bake for 10 more minutes. Yes, it's a weird method. But it's fun to do! Especially when the loud bang of the pan startles everyone sitting in the living room and they look at you like you're a psycho.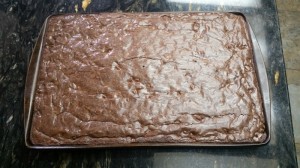 And then they come out perfect like this! Now let 'em cool to room temp.
Meanwhile, make the pudding. Now I know I forced you to make the brownies from scratch, but here we can use the boxed instant stuff. It's fast and it's lovely. So, whisk a 6 ounce box of instant chocolate pudding mix with 3 cups of cold milk for 2 minutes, then let it sit for 5 minutes until it becomes soft-set.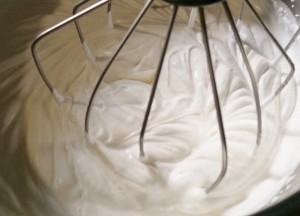 Now whip some cream. Do this by whipping 3 cups of cold whipping cream. With some sugar and vanilla. Until stiff peaks form. That was hard, huh?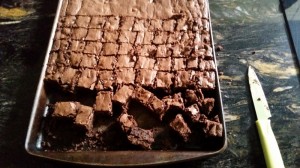 Finally, when the brownies are cool, cut them into a bunch of little 1-inch cubes. A few might land in your mouth. This is a normal side effect of working with brownies.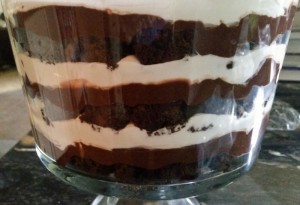 Now gather your components and a trifle dish and assemble like so: brownies, pudding, cream, brownies, pudding, cream, etc. You should have 3 layers of each when you're done. See?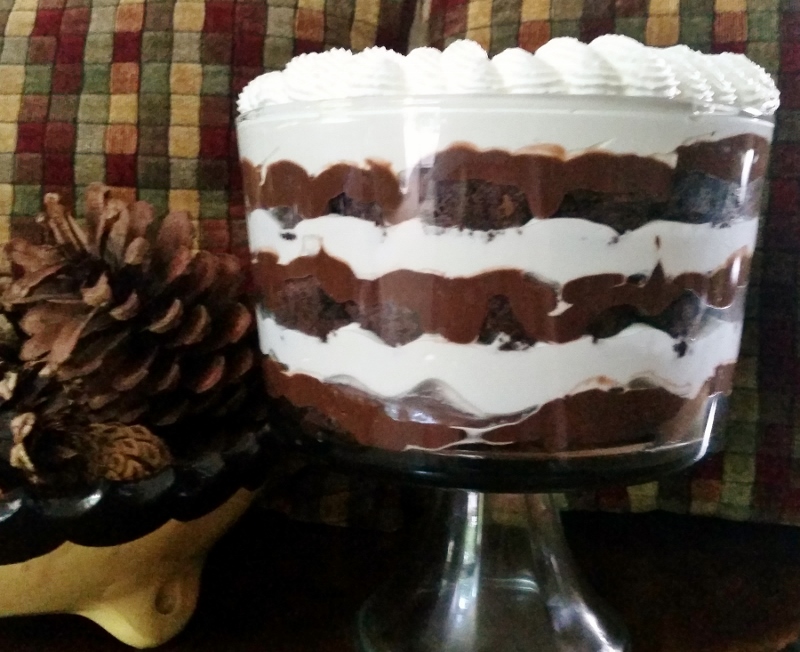 This is almost as fun to make as it is to eat. And it's almost as fun to look at as it is to make as it is to eat.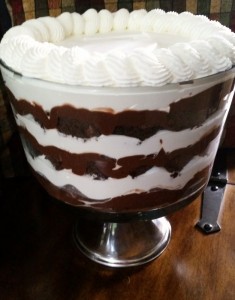 Let's recap. Fudgey brownies, luscious pudding, and creamy cream. That sounds like the definition of a perfect ending to the day. Or beginning to the next day since you know it's gonna be in your bowl again once breakfast time rolls around. At least, if you're at my house.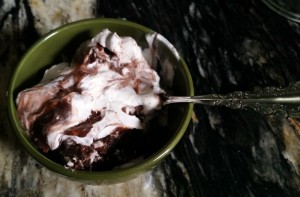 Mudslide Trifle
Source: Brownie recipe adapted from Barefoot Contessa's Peanut-Swirl Brownies
Yield: Serves 8-10
Brownies:
1 pound (4 sticks) unsalted butter
1 pound plus 12 ounces semisweet chocolate chips, divided
6 ounces unsweetened chocolate
6 eggs, at room temperature
3 tablespoons brewed coffee
2 tablespoons vanilla extract
2 1/4 cups sugar
1 1/4 cups all-purpose flour
1 tablespoon baking powder
1 teaspoon salt
Preheat the oven to 350 degrees F. Grease a 12 by 18 by 1 1/2-inch sheet pan and set aside.
Melt together the butter, 1 pound of chocolate chips, and the unsweetened chocolate in a medium bowl over simmering water. Allow to cool slightly. In a large bowl, stir (do not beat) together the eggs, coffee, vanilla, and sugar. Stir the warm chocolate mixture into the egg mixture and allow to cool to room temperature.
In a medium bowl, combine the flour, the baking powder, and salt. Add to the cooled chocolate mixture. Add the remaining 12 ounces of chocolate chips to the chocolate batter. Pour into the prepared sheet pan.
Bake for 20 minutes, then rap the baking sheet against the oven shelf to force the air to escape from between the pan and the brownie batter. Bake for about 10 to 15 minutes more or until a toothpick comes out clean. Allow to cool thoroughly.
Chocolate Pudding:
1 (6 ounce) box instant chocolate pudding mix
3 cups cold milk
Whisk the pudding mix together with the milk for 2 minutes. Let stand for 5 minutes until soft-set.
Whipped Cream:
3 cups cold whipping cream
1/4 cup sugar
2 teaspoons vanilla extract
In the bowl of an electric mixer fitted with a whisk attachment, whip the cream, sugar, and vanilla on high speed until stiff peaks form.
Assembly:
Cut the brownies into 1-inch chunks. Place the brownies in a single layer at the bottom of a trifle dish. Top the brownies with a layer of chocolate pudding, then top the pudding with a layer of whipped cream. Continue layering in this pattern until the trifle dish is filled, ending with a layer of whipped cream on top. Keep chilled.