Blackberry Limoncello Tarts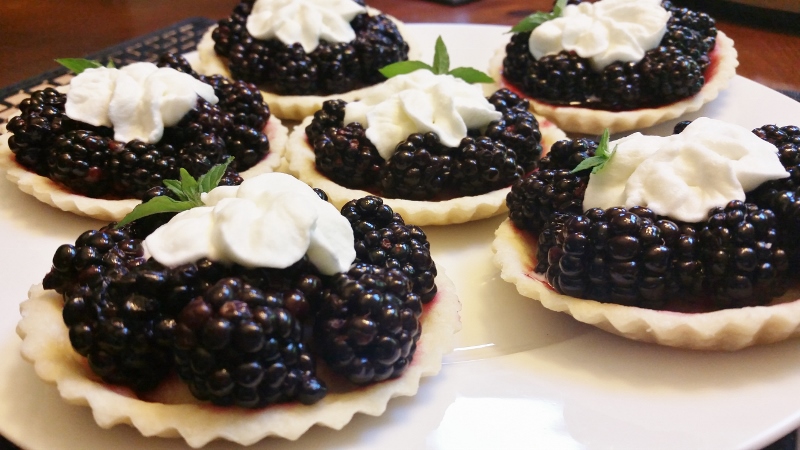 Guys, guys, guys! I went to the Portland Rose Festival last night and got to eat fried rose petals! Don't believe me? Lookey lookey right down here . . .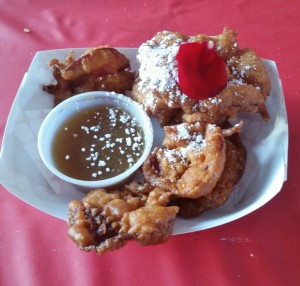 See? That's salted caramel sauce that they were served with. I can now officially say that I have eaten flowers. I don't know why but, as a foodie, I somehow feel very accomplished.
Anyway! I made some very dainty, very tasty blackberry limoncello tarts this week as well. They are so cute and fancy that I feel the need to pour English tea and raise my pinky finger sky-high as I eat them. Plus, they are phenomenally simple to make and quite extravagant if I do say so myself!
You start by making the very-crusty crust! Throw some flour, sugar, and salt into a food processor, mix, then toss in diced cold butter and shortening, pulse until crumbly, and slowly pour in ice water with the processor running. Take the dough ball, that has now formed, out and roll it out on a floured board.
 Grab some 4-inch tart pans, place them face down on the dough and cut out rounds about a 1/2 inch wider than the pans. Press them into the pans and trim off any excess.
Poke holes in the dough with a fork to prevent any unnecessary puffiness that will risk the integrity of the crust and bake at 350 for about 15-20 minutes until just barely starting to turn golden. Let them cool completely before removing the crust from the pans.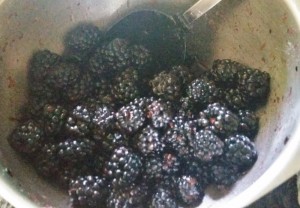 Grab some gorgeous blackberries, toss them gingerly into a bowl along with sugar, a splash of limoncello, lemon zest, and lemon juice. Then let the berry mixture sit for at least a half hour so they can become properly flavor-blended and what not.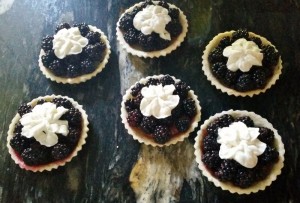 Spoon the berries into the crusty tart shells in a single layer and top with a dollop of whipped cream (which you can make by whipping together some cold heavy cream and sugar) and a sprig of mint, you know, if you have some lying around.
I seriously can't get over how adorbs these things are. I just want to keep them as a centerpiece on my table. These work amazingly for a light dessert that can be thrown together quickly and they actually keep surprisingly well for several hours! I recommend throwing a fancy-shmancy party right away so you can serve these ASAP while the berries are so ripe. Or just make them for you to eat alone since you're a fancy person all by yourself. Owning a pair of fancy pants is helpful for this.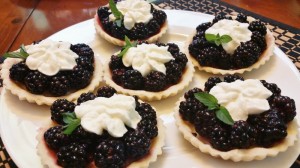 Can you tell that I think these tarts are fancy? Enjoy!
Blackberry Limoncello Tarts
Source: All Things Sweet original recipe
Yield: 6 tarts
Crust:
1 1/2 cups flour
1 1/2 tsp. sugar
1/2 tsp. salt
3/4 stick (6 tbsp.) cold unsalted butter, diced
3 tbsp. cold vegetable shortening
1/4 cup ice water
Preheat the oven to 350 degrees F.
In the bowl of a food processor, mix the flour, sugar, and salt. Add the butter and shortening and pulse until they become the side of large peas. With the processor running, slowly pour in the water until the dough forms into a ball.
Roll the dough out on a floured board. Place six 4-inch tart pans upside down on the dough and cut rounds about 1/2 an inch larger than the tart pans. Press the dough rounds into the pans, trimming any excess around the edges. Poke holes in the bottom of the dough with a fork to prevent puffing. Bake for 15-20 minutes until just starting to turn golden. Let cool completely before removing from the tart pans.
Blackberry Limoncello Filling:
3 cups fresh blackberries
3 tbsp. sugar
2 tbsp. Limoncello liqueur
Zest of one lemon
Juice of one lemon
Dash of salt
Combine all ingredients in a medium bowl and let sit for at least 30 minutes to let the flavors develop.
Whipped Cream Topping:
2/3 cup cold heavy cream
2 tbsp. sugar
1/2 tsp. vanilla extract
Place all ingredients in the bowl of an electric mixer fitted with a whisk attachment. Beat the cream on high speed until stiff peaks form. Top the tarts with a dollop of whipped cream and a sprig of mint (optional) to garnish.