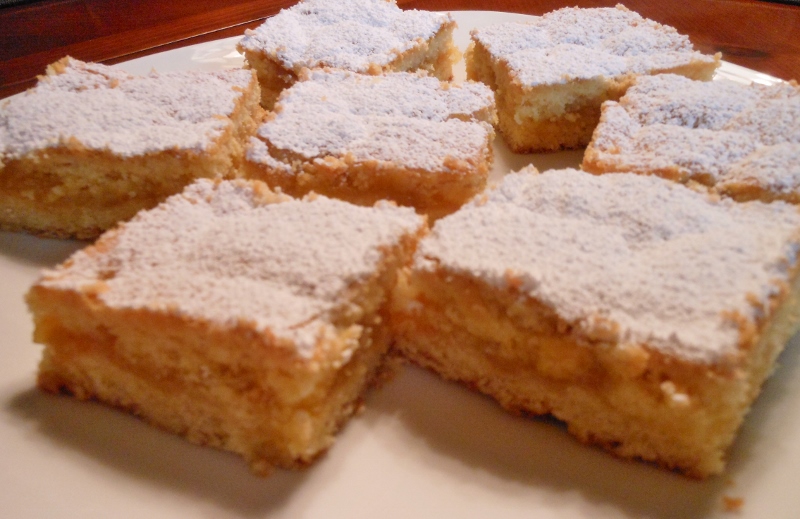 Spring is coming people! If you look outside right about now, there's a chance that you might actually see a blue sky. Imagine that! Therefore, as an act of vernal appreciation, I made some good ol' zingy yellow-y lemon bars, this time with a shortbread on the top AND bottom to make for easier eating purposes for people like me who tend to eat while driving, studying, food blog typing . . .
But anyway, these bars are a cinch to both make AND consume and they make for a great spontaneous baking venture in the middle of the day. Oh yeah, and they're super delish!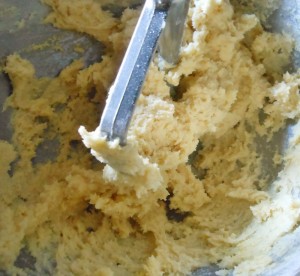 Start by making the shorty, shorty, short bread! Cream together 2 sticks of butter and a cup and a half of sugar until it's fuh-luffy. Then mix in 2 eggs and some vanilla. Finally, mix in a combo of 3 cups of flour and a teaspoon each of baking powder and salt. We're halfway there folks!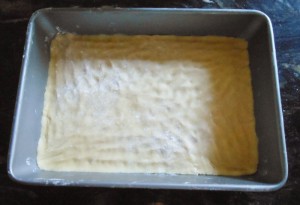 With floured hands, press about 2/3 of the shortbread into the bottom of a greased 9×13 baking pan. Does anyone else have flashbacks of Play-Doh when doing stuff with dough like this?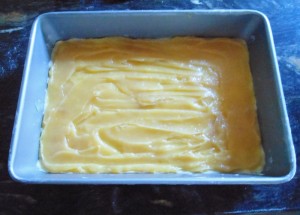 Spread about 18 ounces of prepared lemon curd over the dough. Lemme tell you sum-tin'. This stuff would be sooooo good on a toasted English muffin for breakfast! Thank you for letting me express this for a quick sec!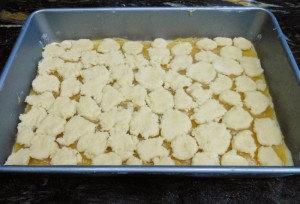 Take the remaining third of the dough and drop gobs of it all over the top of the curd. Don't worry about covering the curd completely (I didn't!) because the dough will spread out and mush together. I think it looks like cobblestones.
Bake them for 25-30 minutes, let 'em cool, dust 'em with powdered sugar, and cut 'em into bars. Done! Now what to do with the other 23.5 hours of the day?
These pack plenty of lemony punch and would be great for a spring picnic! You really just can't go wrong with anything that contains lemon, I've learned. You know what else I'm realizing right now? These bars look like little lemon curd sandwiches. This makes me love them even more!
Lemon Shortbread Bars
Source: All Things Sweet original recipe
Yield: 18 large or 24 small bars
Ingredients:
1 cup (2 sticks) unsalted butter, room temperature
1 1/2 cups granulated sugar
2 tsp. vanilla extract
2 eggs, at room temperature
3 cups all-purpose flour
1 tsp. baking powder
1 tsp. salt
18 oz. prepared lemon curd
Powdered sugar, for dusting
Preheat the oven to 350 degrees F. Grease a 9 by 13-inch baking pan. Set aside.
In the bowl of an electric mixer fitted with the paddle attachment, cream the butter and sugar on medium speed until fluffy, about 2 minutes. With the mixer on low speed, add the vanilla and eggs and mix until all ingredients are combined.
In a small bowl, mix together the flour, baking powder, and salt. With the mixer on low speed, slowly add the flour mixture to the wet mixture. Mix just until combined.
Press 2/3 of the dough into the prepared pan and spread over the bottom with floured hands. Spread the lemon curd evenly over the dough using a knife or offset spatula. Drop small globs of the remaining dough evenly over the curd. Don't worry if all the curd isn't covered; it will spread in the oven. Bake for 25-30 minutes, until golden brown. Let cool, then dust with powdered sugar and cut into squares.