Overloaded Chocolate Cookie Cake
So this past week, my mom has been bugging me nonstop to make something chocolate. If you read my post from this past Mothers' Day, then you know how she feels about the stuff. Basically, she's obsessed. Therefore, to give her (and me!) some peace of mind, I baked up one big ooey, gooey, chewy chocolate cookie into the form of a single-layer cake, frosted it with my favorite chocolate frosting and smothered it with some amazing toppings. How's that for a fix?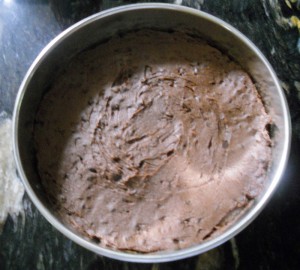 Honestly, this is one of those desserts that creates for you a whole new type of craving that specifically beckons for itself. It's such a unique, satisfying confection that you'll be dreaming of it for days after it's gone. That is, if you don't fall into a deep, morbid depression once it is gone. In which case, I suggest you promptly make another one. I could say that I'm just kidding about all that, but . . . I have been caught eating a piece in bed late at night. Just sayin'.
Anyway, I can't wait to try different variations of this in the future. I've already done a peanut butter version of this which was incredible as well. Maybe next time I'll try an oatmeal cookie? A red velvet cookie? Oh, so many ways, so little time.
By the way, I really was not kidding. You will want this cake. Bad. Exercise caution if preparing 😉
Overloaded Chocolate Cookie Cake
Yield: one 10-inch cookie; serves 14
Source: cookie base adapted from Sprinklebakes
chocolate frosting from Better Homes and Gardens New Cookbook (1981)
Prep: 1 hour 35 minutes
Cookie:
1 cup unsalted butter, at room temperature
2/3 cup granulated sugar
1/2 cup brown sugar, packed
2 eggs, at room temperature
1 tsp. vanilla extract
1 1/2 cups all-purpose flour
1/2 cup unsweetened cocoa powder
1 tsp. salt
1 tsp. cream of tartar
1 tsp. baking soda
2 cups semisweet chocolate chips
1.         Preheat oven to 350° F.  Grease a 10-inch spring form pan and line the bottom with a circle of parchment paper. Set aside.
2.         In the bowl of a stand mixer fitted with a paddle attachment, beat together butter and both sugars at medium speed until well combined. Add in eggs and vanilla extract. Beat again until well mixed.
3.         In a separate medium bowl, whisk together the flour, cocoa powder, salt, baking soda and cream of tartar. Pour flour mixture into the butter mixture and mix until a thick batter forms. Add chips and mix on the lowest setting until all the chips are evenly dispersed.
4.         Pour batter into the prepared pan and spread evenly with an off-set spatula. Bake for 20-25 minutes or until a toothpick tester comes out clean. Remove from oven and let cool in the pan for 10 minutes.  Turn cake out right side up onto a serving plate or cake stand. Let cool completely.
Chocolate Sour Cream Frosting:
1 cup semisweet chocolate chips
1/4 cup unsalted butter
1/2 cup sour cream
1 tsp. vanilla extract
1/4 tsp. salt
2 1/2 cups powdered sugar, sifted
1.         In a medium saucepan, melt chocolate and butter over low heat, stirring frequently. Pour into the bowl of an electric mixer fitted with a paddle attachment and let cool for about 10 minutes. Mix in sour cream, vanilla, and salt, then gradually add in powdered sugar and mix until smooth.
2.         Frost the sides of the cake (do not frost the top) and transfer the remaining frosting to a piping bag fitted with a large closed-star tip. Pipe rosettes around the top edge of the cookie.
Toppings:
1 cup marshmallow cream or fluff
3 tbsp. semisweet chocolate chips
15 miniature peanut butter cups
3 tbsp. M&M's
Peanut Butter topping (you can find it in the ice cream section)
1.         Spray a small bowl with cooking spray and place the 1 cup marshmallow cream in the bowl.  Heat gently in the microwave for 20-30 seconds, or until just loosened, then pour in the center of the cookie. Spread evenly over the top.
2.         Sprinkle chips, peanut butter cups, and M&M's over marshmallow cream. Drizzle with peanut butter topping.